Hi everyone! I'm so excited, Good Morning Girls has announced their next bible study for everyone!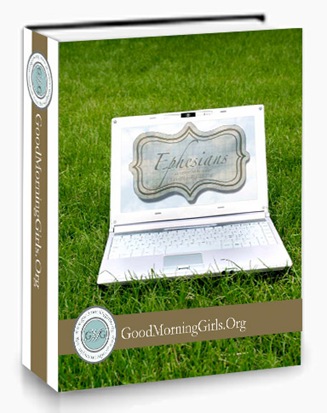 Last year I participated in the Ministry of Motherhood study they lead by Sally Clarkson and I was so blessed. When I saw this study I had one of those "Wow, that's exactly what I need!" moments. Then I ignored it. Then a friend called and said, hey, did you see that study? I'm going to do it, you should too! I took that as confirmation.
This year GMG is going through the book of Ephesians. The study starts January 15th, so there's still time to sign up!
It's a 12 week study with a reading plan and study guide to help you along. GMG also hosts a forum on their site as well if you want to get in on that.  And this time around I'm also going to host a facebook discussion group for it. Click here if you want to join in on  our group! I'm hoping it will be a place where we can give encouragement for each other, share our epiphanies, and be a place of support and accountability to persevere!
The best part is that this study is FREE! Ready to get started? Just download the Ephesians E-Book and get ready to be blessed!
The Good Morning Girls e-study guide includes:
The Ephesians SOAP reading plan for Ephesians
An explanation of the Good Morning Girls SOAP Bible reading method
12 weeks of worksheets to be filled out!
Good Morning Girls will be providing on-line resources, videos and discussions for everyone. And I will be posting on the facebook group along with blog posts as we go through the study.
Download the Ephesians E-Book

Join my facebook discussion group!
I hope to see you all there!