Hi everyone! I hope you are all doing well and being blessed by our Ephesians study! I just wanted to encourage you all to keep up the good work! I can't believe we're already done with week 5! Time flies! But it's been a huge blessing to me to spend this time in the Word and with all of you in the Facebook Discussion Group!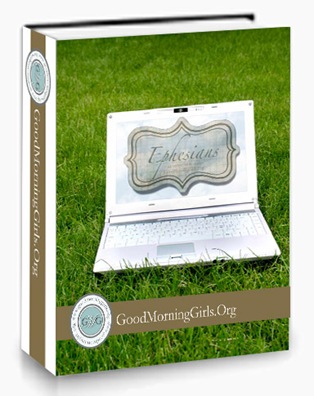 In thinking about this week, I can't help but notice how humble Paul was. He refers to himself as the "least of all the saints". I mean just think about where he's come from. All the way from getting saved on that road on his way to persecute Christians, to imprisonment for his fervent faith. What a turn around, and what a great example for our lives as well. I'm sure many of you have great testimonies of what God has done in your lives!
I've been so abundantly blessed by all that God has done in my life, but yet somehow it's easy to forget and get discouraged in the daily grind. I think about where Paul came from, and what he's endured for his faith and my trials are NOTHING compared to that! But then still I can get overwhelmed and down-trodden anyway. If I'm not in the Word and in prayer regularly, I forget to live boldly for my faith, and ultimately begin to doubt God's plan for me! These verses remind me that whatever our trials are, we can overcome them because He has given His life for us,  paid our ransom, and bears all of our burdens.
For my yoke is easy, and my burden is light. ~ Matthew 11:30
Therefore I ask that you do not lose heart at my tribulations for you, which is your glory. ~ Ephesians 3:13
Cast your cares on the LORD and He will sustain you; He will never let the righteous be shaken.  ~ Psalm 55:22
The mystery revealed in this weeks reading is really no mystery at all, its just hard for some to accept. We feel unworthy, that we could never measure up. Let me tell you that on your own you can't measure up. BUT thankfully we aren't expected to be enough on our own! We were given a savior! Jesus loves you, He died for you, and He will cleanse you from all unrighteousness if you just seek Him.
Think back to Paul and the direction he had chosen for his life. He was literally persecuting Christians and in turn Jesus. It doesn't get much worse then that, yet the Lord saved him, then used him greatly! And Paul was humble enough to repent, seek forgiveness, and then be open to be used mightily!  My beloved, that is our encouragement to continue on, and persevere!
So no matter where we may find ourselves today… "let us lay aside every weight, and the sin which so easily ensnares us, and let us run with endurance the race that is set before us, looking unto Jesus, the author and finisher of our faith, who for the joy that was set before Him endured the cross, despising the shame, and has sat down at the right hand of the throne of God." ~ Hebrews 12:1-2
The Mystery Revealed

3 For this reason I, Paul, the prisoner of Christ Jesus for you Gentiles— 2 if indeed you have heard of the dispensation of the grace of God which was given to me for you, 3 how that by revelation He made known to me the mystery (as I have briefly written already, 4 by which, when you read, you may understand my knowledge in the mystery of Christ), 5 which in other ages was not made known to the sons of men, as it has now been revealed by the Spirit to His holy apostles and prophets: 6 that the Gentiles should be fellow heirs, of the same body, and partakers of His promise in Christ through the gospel, 7 of which I became a minister according to the gift of the grace of God given to me by the effective working of His power.

Purpose of the Mystery

8 To me, who am less than the least of all the saints, this grace was given, that I should preach among the Gentiles the unsearchable riches of Christ, 9 and to make all see what is the fellowship of the mystery, which from the beginning of the ages has been hidden in God who created all things through Jesus Christ; 10 to the intent that now the manifold wisdom of God might be made known by the church to the principalities and powers in the heavenly places, 11 according to the eternal purpose which He accomplished in Christ Jesus our Lord, 12 in whom we have boldness and access with confidence through faith in Him. 13 Therefore I ask that you do not lose heart at my tribulations for you, which is your glory.
If you haven't started the study yet, it's not too late! You've just read the 5th week of verses above, so start fresh this week and commit to spend time in the Word each day! You will be blessed for any time you give to the Lord, so don't sell yourself short, or condemn yourself for not keeping up! Each day is a new opportunity to start fresh and dig into the Word to see what God has for you!

Download the GMG Ephesians Study Guide
Join our Facebook Discussion Group
Sign up for the Good Morning Girls email list so you can stay in touch!