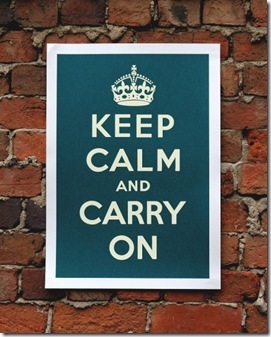 I've seen this statement all over lately, and at this point, I'm taking it as a sign and adopting it as my 2012 motto!  It was either this one, or the "Keep calm and eat cupcakes" poster. And that just wouldn't jive with my weight watchers plan.
Did you know the poster was first created back in 1939 by the British government at the beginning of WWII to raise the morale of the British public in the event of an invasion?  In light of the chaos a homeschooling family can face, I thought it was a perfect motto for the year!
I love the crown on this one as well because it reminds me to keep my focus on my King and that if I'm walking in the Spirit I can remain calm! It's when I start walking in my flesh that sparks start to fly. Awhile back I memorized James 1:20
"for the wrath of man [mom] does not produce the righteousness of God".
(If you haven't memorized this verse yet, I challenge you to try it! I think  you'll find that God is good to pop this verse into your head at the most opportune times!)
Speaking of yearly mottos…
I really desire to live my life purposefully. To be deliberate in my parenting, teaching, and care for our home. It's so easy to get caught up in the daily grind, and to view our homemaking as a chore instead of a blessing. I really don't  want my children to remember their mama as being tired, crabby and dissatisfied with all the blessings that God has given her.
So this year, I'm resolving to be deliberate in my actions! To live life in a purposeful manner, to be present and thankful in each day!
That means prayerfully considering commitments, and even having the courage to say no to some things.
I'm not sure if I've told you or not, but I'm a "yes" person. It kills me to say no to people, and with the increase in my blog traffic, it's been something that I've had to start doing. I'd love to make everything for everyone, but it's just not possible. Not without sacrificing something else. Namely my time with my family.
So this year I'm focusing on priorities, I'm keeping God first, and family close behind.
With that said, I thought it would be a great idea to come up with a plan for our whole family! I'm sure they're thrilled that I pull them into all my crazy notions. Since I'm not one to re-create the wheel, I found something that really spoke to my heart at Hither to and Hence Forth. So with a little modifications, I present to you…
The Confessions Family Mission Statement:
Being blessed ourselves, we will pray for those who do not have a Bible to read, food to eat, clothes to wear, or toys to play with.
We will encourage, respect, and honor one another by speaking in a gentle and kind manner.
We will practice gratitude by taking care of our belongings and being thankful in all circumstances.
We will strive to be peacemakers in all situations and be quick to apologize and forgive one another.
And finally, we commit to replacing the toilet paper roll if found empty.
Our family verse:
Therefore, as God's chosen people, holy and dearly loved, clothe yourselves with compassion, kindness, humility, gentleness and patience. Bear with each other and forgive one another if any of you has a grievance against someone. Forgive as the Lord forgave you. And over all these virtues put on love, which binds them all together in perfect unity.
Colossians 3:12-14
Just because I like to have visible reminders…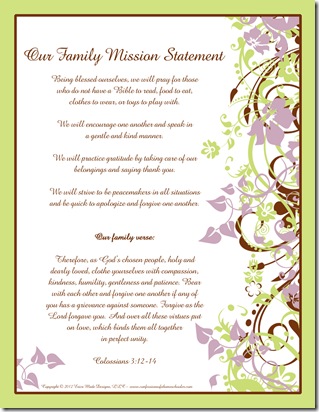 I created this printable of our family mission statement. In the event you'd like to share this with your family, I've made it available as a free download for you!
(Don't worry, the toilet paper bit isn't on the printable version, that probably just happens at our house.)
(Download trouble? Try to RIGHT click on the download link and select "SAVE LINK AS". You will be prompted to save the file to your computer!)