Welcome to our World's Greatest Artists study on Claude Monet! We are having so much fun with these units this year, the kids have been really getting into it and they're doing a great job!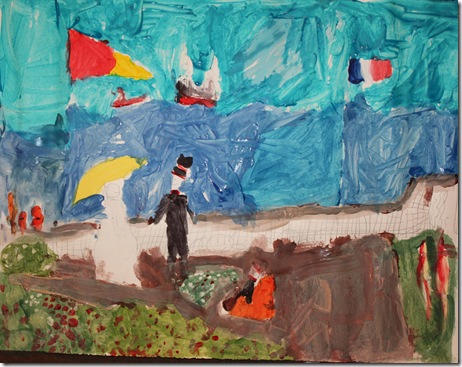 Claude Monet was born in Paris, France on November 14,1840. He is known as the founder of French Impressionist painting. Claude's painting titled Impression-Sunrise, is what gave the Impressionist movement its name.  Characteristics of impressionism include small, thin brushstrokes, open composition and an emphasis on accurate depiction of light in its changing qualities. Monet typically worked on large canvases painting mostly natural landscapes, although he sometimes included human figures in his paintings. He was very particular about his paintings and was known to refuse to paint unless the light of the sun was reflecting exactly as he wanted it to.
If you haven't seen the previous posts, this year for art we are studying 8 different world famous artists. We have chosen to do art twice a week, and we'll cover one artist each month. We're currently using my World's Greatest Artists Vol. 1 curriculum!
We took a few lessons and discussions to read through the Claude Monet World's Greatest Artist series by Mike Venezia. We talked about all the different styles that he was known for, and took lots of time to familiarize ourselves with and critically assess his works of art.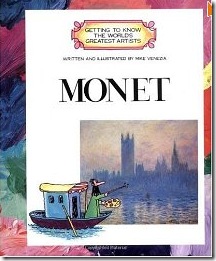 As we learn how to critically assess a piece of artwork, here are some of the things we discussed for each painting:
Describe what we see in this work of art.
How do they think the artist was feeling when they created it? Why?
How it makes your student feel looking at it?
Does the use of color help convey mood?
Is there something unusual or unique about the piece of art?
What is going on in the work, is there a story that can be told about it? (Each of them had a few minutes to share their version of what they thought was going on in the story with us.)
What kind of style and medium did the artist use in this work?
Overall do you like the painting, if so yes, why? If no why not?
Strawberry Shortcake has been "deemed" official writer of artist flashcards it seems. She has the best handwriting and we're actually doing one artist lap book, so they all share in putting it together. Looking back I probably should have let them each do their own lap book, and maybe I still will.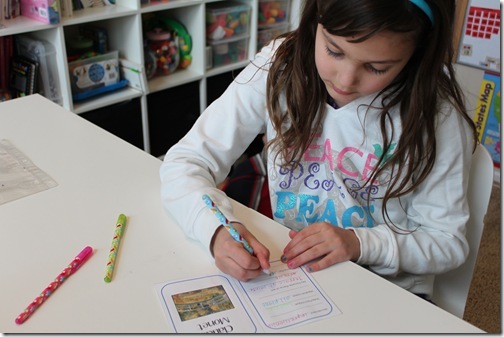 Once our card is filled out, we add it in with our other cards in our lap book.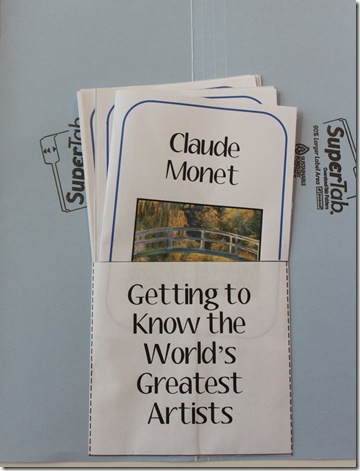 I used Xyron 900 Magnetic Laminate to turn our artist puzzles into a magnetic puzzle just for fun. The kids like doing these, again I only printed one per artist, so they just take turns.
After going over all of Claude Monet's works in the book, we put the paintings into the mini-book, then added our mini-book to our World's Greatest Artists lap book.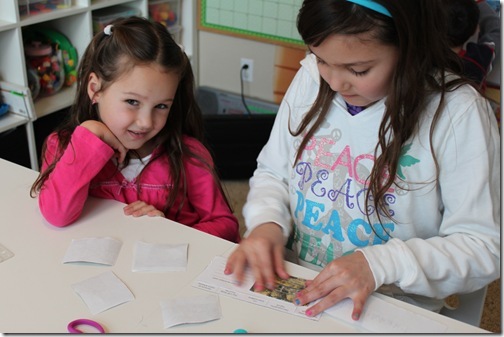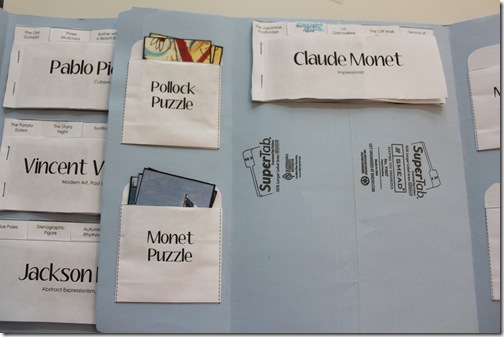 We also tried our hand at painting like Monet. This proved more difficult than expected for the kiddos. To try and make it a little easier I had them draw the scene in pencil first, then paint it.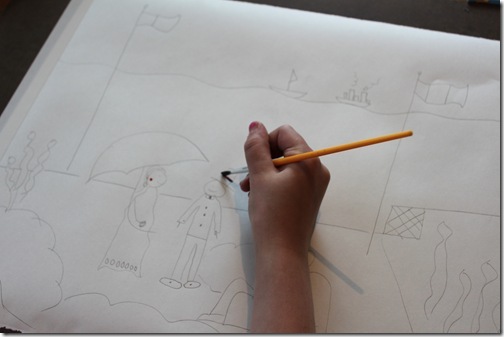 They chose Terrace at Sainte-Adresse.  It was a difficult selection, but they did a great job.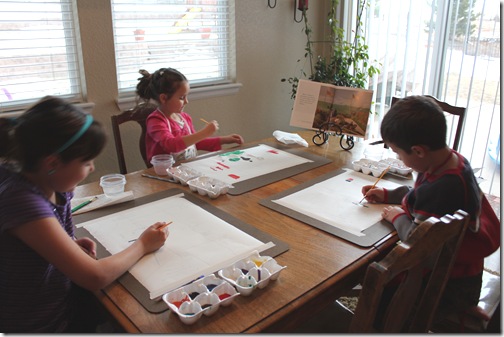 I always put the real image up for them to see as they paint for frame of reference.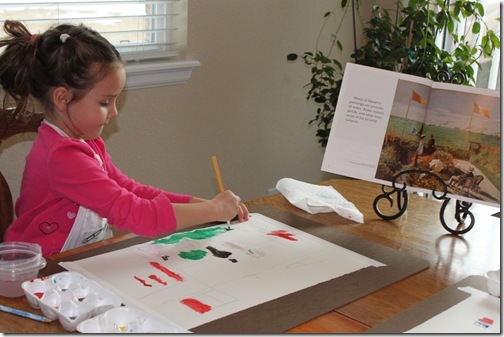 Turbo was quite into detail today. He was really trying to use small brush strokes and get every detail in.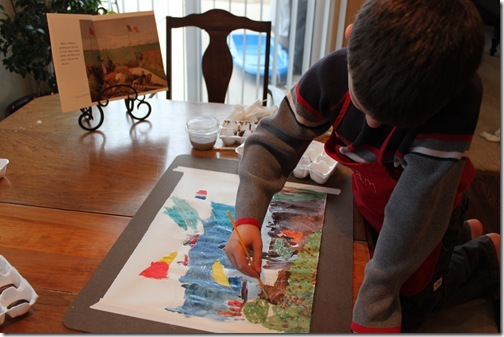 Here are some of our finished works, this is Strawberry Shortcake's painting.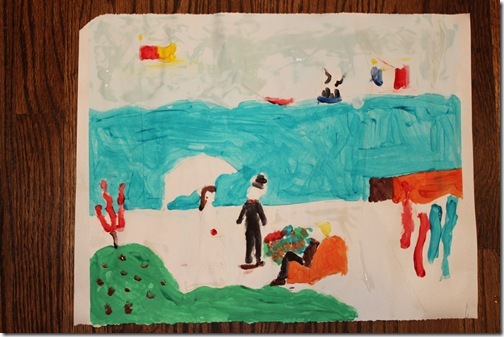 Here was Turbo's final piece. I asked why he didn't paint in the fence after all that and he said it was because he didn't want to mix another color of brown! By the way, he's an expert color mixer. Really.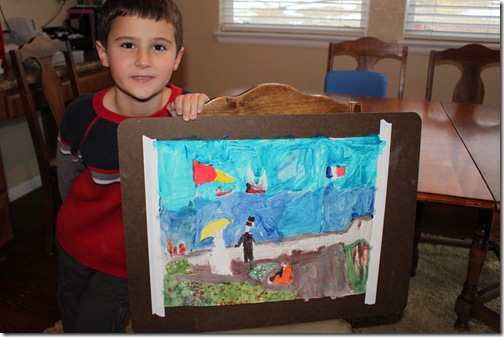 And here is Tinker Bell's art.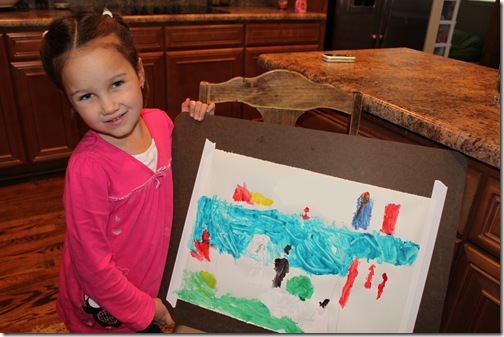 And that concludes our study of Claude Monet! I hope you enjoyed it. You can click here to see the other World's Greatest Artists that we've covered so far!
Have some great Monet ideas to share? Make sure to link up below!
Click here to get The World's Greatest Artists Vol. 1