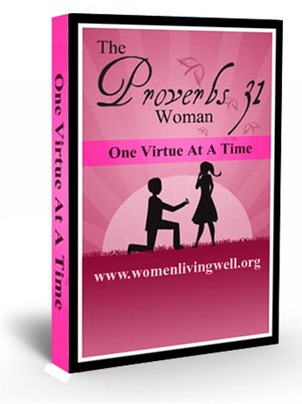 Good morning! We had such a great response from the Ephesians Study last session, that I've decided to host a group for their next study, The Proverbs 31 Woman! This will be my 3rd online study through Good Morning Girls, and I'm so excited to be going through Courtney's eBook! I downloaded it awhile ago, so I've had a little time to look through it and I know it will be a blessing to many!
Good Morning Girls will be providing SOAP Bible study readings along with videos and challenges to go along with Courtney's eBook for this study.
Who can join in? Anyone!
Why do a study online? To help hold each other accountable, and encourage one another to be in God's Word daily! Also, doing a study from the comforts of your own home can really help those of us who have a hard time committing to things outside our home, while still providing us with the love and support from other women.
What are the details? This study will run from May 14th – August 17th. I will be posting weekly blog posts on the study as we go along as well as facilitating group discussions in my Proverbs 31 Facebook Group.
What is the commitment? This study is a 3 month commitment, running May 14- August 17th.  I'd really like to encourage you all to continue posting in our group as the study goes on. It's easy to fizzle out, or get discouraged, and having sisters come along side one another and lift each other up is a great way to stay encouraged and motivated to finish what we've started!
How do you get started?
Click here to Join my Facebook Group, (once on facebook click "Join Group" then I'll add you in!) We will use this group as our means of discussing the study, sharing prayer requests, and encourage and lift one another up!
Download the Proverbs 31 Woman eBook (Free)
Download the Proverbs 31 S.O.A.P. Study Guide (Free)
Download the study in Spanish or German!
Sign up for Good Morning Girls emails.
Download the Proverbs 31 Reading Plan.
Summer Session Info:
Summer sign-ups run from: April 16th-May 14th
Summer session dates: May 14th-August 17th
You can see my previous GMG online study posts by clicking the links below: