Good morning to all you kindergarten teachers out there! I have another fun free kindergarten printable worksheet for you today! To help Tinker Bell with her number writing practice, I created some blank printable seasonal calendar worksheets.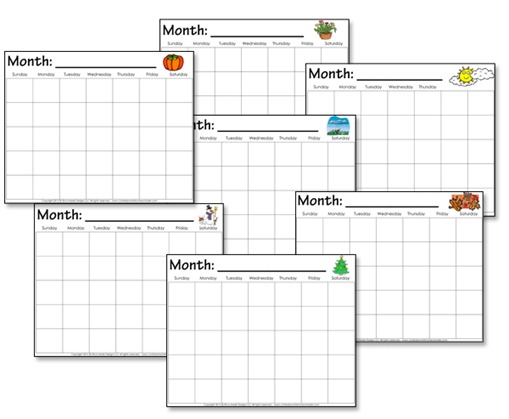 –> Click here to download the Kindergarten Monthly Calendar Worksheets <–
(Downloading: If you have troubles downloading, RIGHT click on the download link and select "SAVE LINK AS". You will then be prompted to save the file to your computer.)
I only show a few calendars above, but this download includes 17 different calendar choices!  While I am located in the United States, I know I have several international followers as well so I created calendar themes that will fit the needs of everyone no matter your location. (Or at least I tried to anyway! Let me know if you need a different image and I'll try to accommodate.)
How do you use the Monthly Calendar Printables?
Each month I pick a new Calendar based on our season, and have her write in the number for each day. I keep the calendar worksheet in her math workbox and so she just adds a new number every morning. On Mondays she adds the numbers for the prior Saturday and Sunday to her page. When that month is completed, we pull out a new month worksheet and start all over!
These monthly calendar worksheets great practice writing numbers, counting, and also helps them get used to seeing a calendar, and noting what day today is, what yesterday was, and what tomorrow will be. And even what month of the year it is.
I hope you enjoy the Kindergarten Monthly Calendar Worksheets!
These activities are part of my K4 Curriculum geared towards kindergartners. If you have a preschooler you might want to check out my Letter of the Week Curriculum, click on the images below to see more activities.