Ahh! Products Bean bag chairs for kids…the name is appropriate as that's typically the sound that is made when my kids sit in their new AHH! Bean bag chair!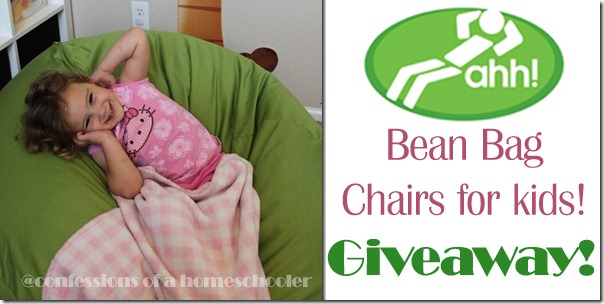 Today we received a box. A very large box. It was stuffed full with a HUGE fluffy AHH Bean Bag! The kids absolutely LOVE LOVE LOVE their new gift! We received one a couple years back and it was great to get another one…you know…reduce the fighting over the one we had before. I think someone's been sitting in it since it got here, so I feel safe saying it's passed the "Confessions" stress test! And the one from a couple years ago? Looks EXACTLY like it did the day we received it! I was surprised at how well it's stood up over the years.
I have to say these bean bag chairs make a great incentive for reading time! WOW! What a difference this has made! Now they can't wait for reading time, before it was kind of an "ugh, I have to read?" attitude. I know, all homeschoolers are supposed to love reading…apparently no one told that to my children!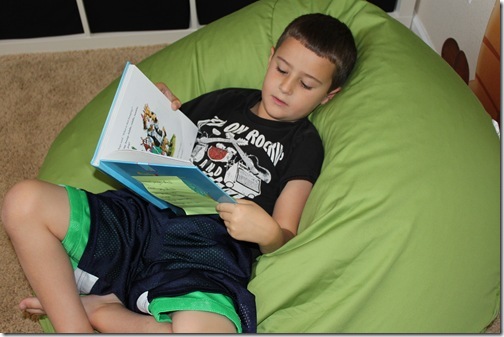 I love that the bags are super comfy, easy to move around, and nice and soft! Plus I like that ours is a Hypoallergenic-Organic Bag, we received the 37 inch Lime Organic Cotton. I think they're a great size for kids and they don't take up a huge amount of room.
Now I find them reading, cuddling, playing, and relaxing in our new bean bag all the time, and I'm totally fine with that!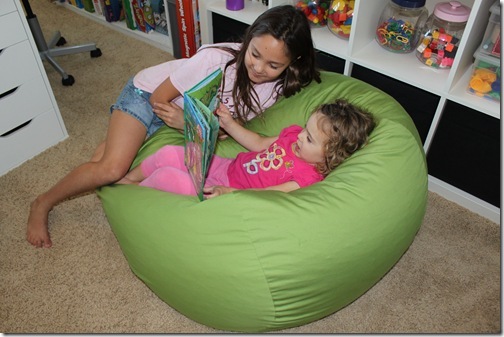 The AHH Bean Bags also have a double-stitched seam on the covers and liners, so there won't be any leaking of little balls all over the place.  And each bag comes with a 10 year warranty and a 365 day no-hassle return policy! Can't really beat that in my opinion.
I think these would be a great idea for holiday gifts, or as an incentive if you have not so enthusiastic readers! They carry four different sizes and a ton of different fabric selections to choose from.
Can't wait? Use coupon code: Homeschool5  for 5% off – even sale items!
Coupon expires Dec 21
And just because the Ahh! Products company is super nice, they're offering a $50 Gift Card towards one of their bean bags for one of my readers! Just enter using the rafflecopter below!
Disclosure: AHH! Bean Bags provided me with a free bean bag for review purposes. I do not have to return the product to the vendor and I was not paid for this post. All opinions expressed in this post are my own.