Hi everyone! Welcome to the Teeny Tot Tuesday post! School is back in swing, and we're picking up where we left off at the end of last year. This week the Teeny Tot is working on the Letter H for Hippo. For more printables and ideas, visit my Letter H preschool post!
Hippos are totally cute, and these activities were one of her favorites. Here she is working on size sorting. I instructed her to sort them from smallest to largest, then we reviewed all of the colors.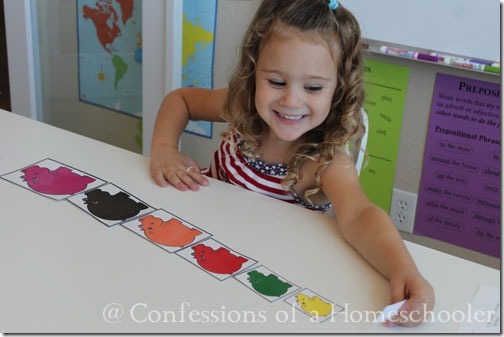 Next we did some fine-motor skill activities with our Jumbo Push Pins and Letter H Poke Page. I have her carefully poke holes all along the letter outlines, then we hold it up to the window to see our letters shine through.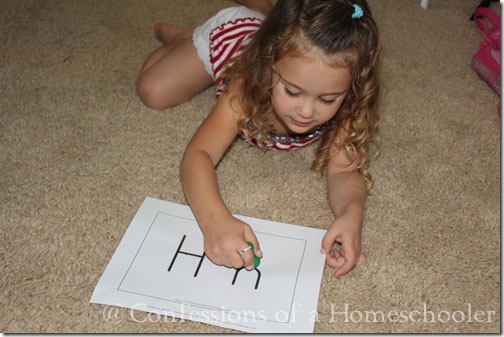 Next we did some cutting and pasting. She cut out all of the hippo parts, then assembled them using glue on a piece of construction paper.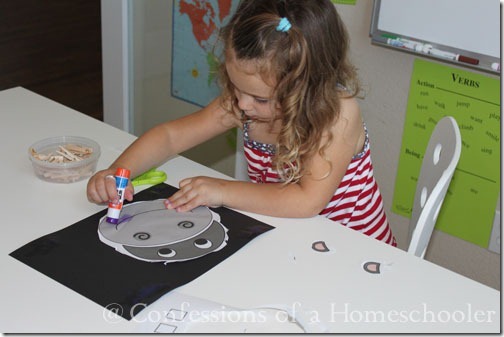 I believe Tinker Bell might have helped her add some embellishments here…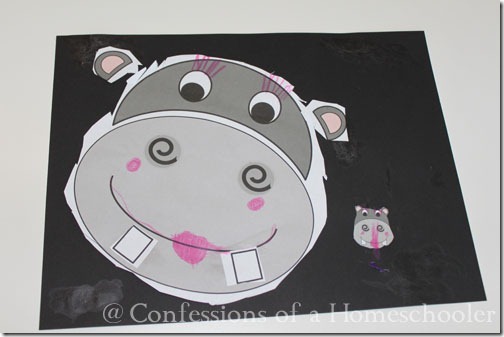 She also did some Hippo coloring, great for fine-motor skill practice as well to get ready for handwriting.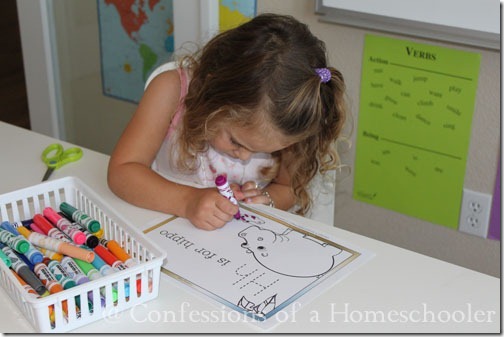 Of course we coudln't  skip her favorite Do-A-Dot activities. We use these Do-A-Dot art markers, but you can also use regular bingo dabbers too.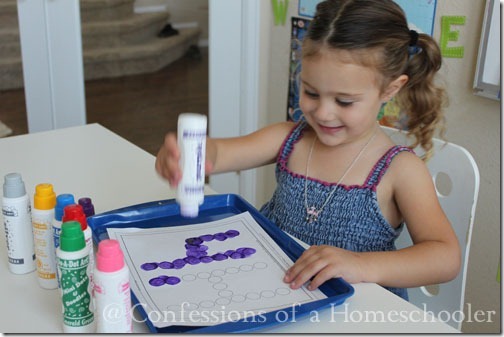 Next up she did a pom-pom transferring activity. I found some bamboo toaster tongs at Bed, Bath, & Beyond, plus a few cute ice cube trays. And I always have a bag of fluffy pom-poms around (craft section of Wal-m*rt). I put exactly enough poms in a small bowl and then she is responsible for putting one pom in each ice cube hole. Then when she's done, I have her transfer them back to the original bowl. Great for working her hand muscles to get ready for writing!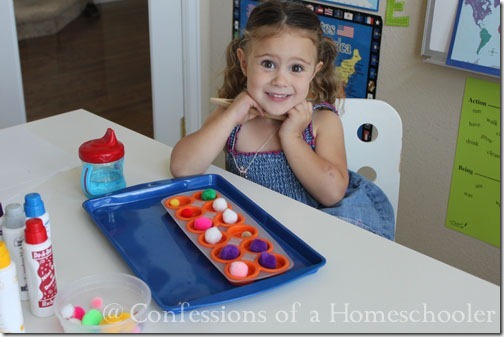 Next she pulled out our Alphabet Alley puzzles to work on. I love these puzzles, the pieces are large and very thick and durable. Great for a starter puzzle.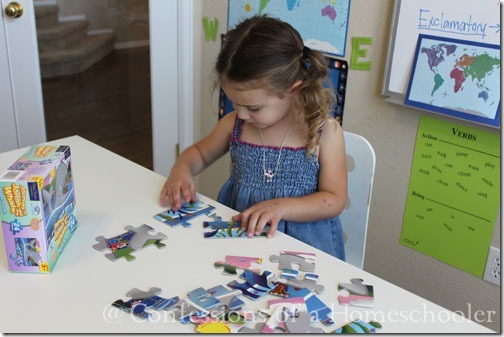 Next was one of her favorites, the lacing puzzle. I use a colorful shoelace and punch holes every inch or so along the shape. Then just to help her until she's a little older, I tie one end to the hippo so it doesn't pull all the way through. Next it's her turn to sew her hippo!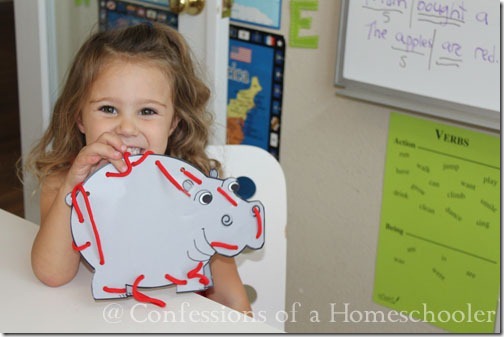 Next up we did our Hippo large floor number practice. She's still working on number recognition, so I usually have to help her out by telling her which color the number is on. Either way it's great practice for both colors and numbers! It's also good to get them up and moving around!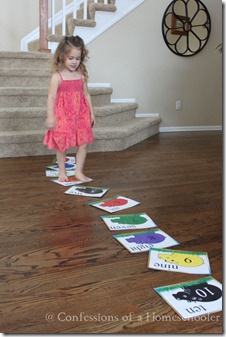 This has been a highly requested activity as of late. I'm not sure why, but she absolutely LOVES to cut stuff. It usually starts with her cutting along the lines, then ends up with her cutting all of the pieces into tiny little unrecognizable pieces that go all over the floor. But she loves it, and it's great for fine-motor work, and hand-eye coordination! Also, good for developing a habit of cleaning up ones messes.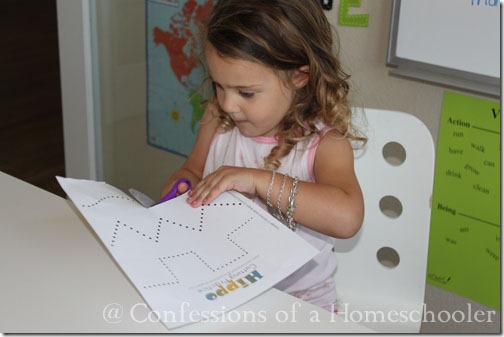 This is the first time I brought out our lacing letters and it went pretty well. I gave her a card with the word "hippo" on it, then the correct letters for her to copy the card. It's great to help with letter recognition, fine-motor skills, and hand-eye coordination as well.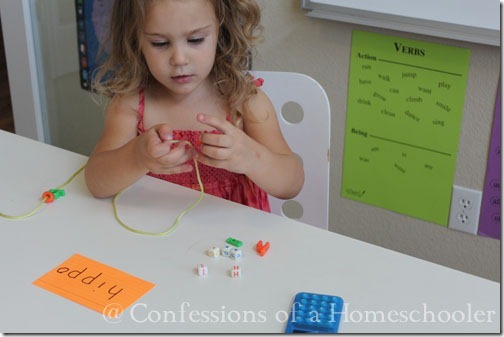 We also worked on our hippo letter matching activity. For now she's matching lowercase disks with uppercase, but later on I'll start to mix it and have her match uppercase disks to the lowercase card and visa versa. For instructions and downloads for making the letter disks click here.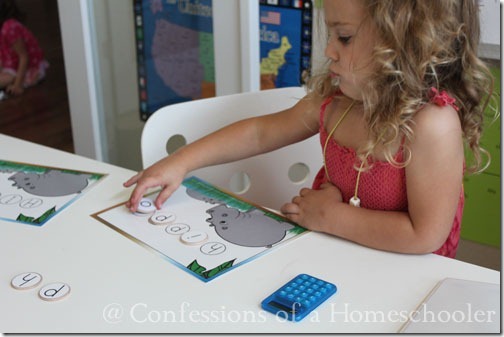 Next we did a little counting. I gave her hippos with numbers 1-5 on them, then had her add the correct amount of mini-clothes pins (craft section of Wal-m*rt) to each card based on it's number.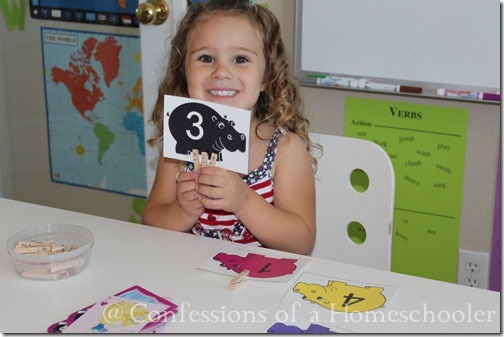 And that was it for this week! There are a lot more letter H activities and ideas on my Letter of the Week Letter H post!
If you don't already know, all of these activities are part of my Letter of the Week Preschool Curriculum.  Need something more advanced? Click the below link to check out the K4 Kindergarten Curriculum too!