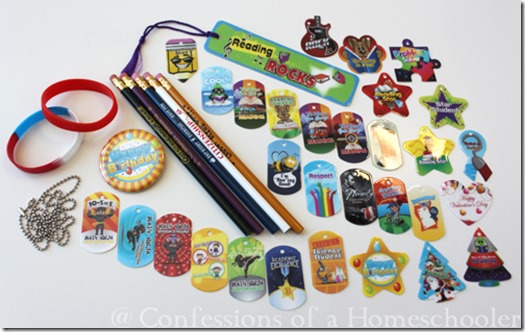 Hi everyone! Awhile back I put up a post on our new Reading Incentive Program involving some super fun and colorful brag tags from ImageStuff. I think I also mentioned that they were working on putting together a homeschooling packet just for us!
So, after some fun phone calls and hard work with the folks at ImageStuff they've finally created a wonderful homeschooling packet full of goodies! Since some of their quantities and tags are geared more towards traditional schools, they've specially designed this packet just for the needs of homeschoolers!
So what's included in this new pack? Each homeschooling packet includes 41 items for your kiddos for just $19.95.
5 inscribed pencils
1 Happy Birthday Pin (We'll just re-use this on their birthdays!)
2 fun bracelets
1 Reading Rocks bookmark
1 – 24" necklace chain
1 Key Chain
Holiday Tags
Character tags
Subject tags
Here is a close up of the character tags that are included. Each student receives a "Bee"ing Good, Respect, Honest, Good Work, and Improvement Award.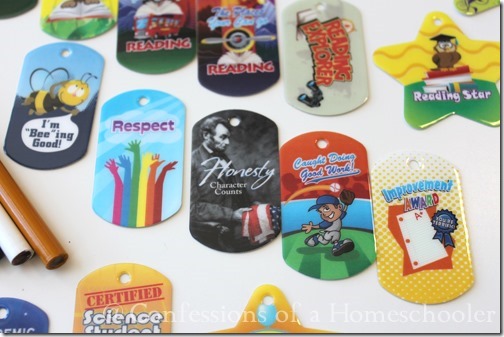 There are also a variety of math tags, reading tags, and a few science tags.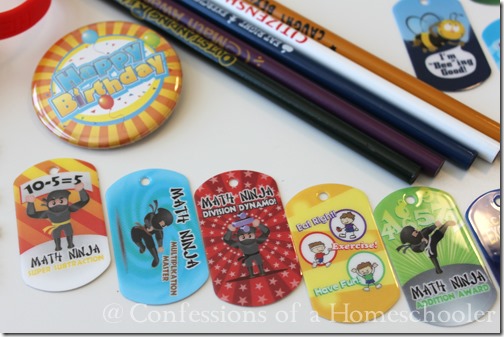 Along with plenty of reading tags, there are also some special holiday tags as well as a birthday tag to help celebrate that special day!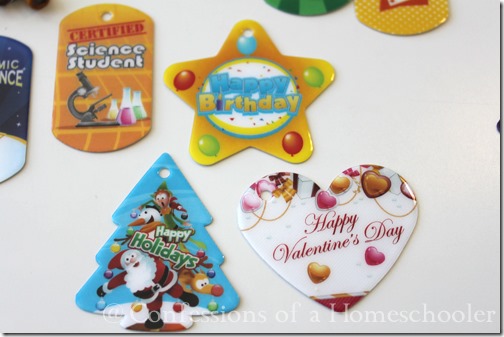 As you may have read my students can trade in 10 beads for one of these special tags. Turbo was super excited to change in some of his beads for these fun rubber bracelets.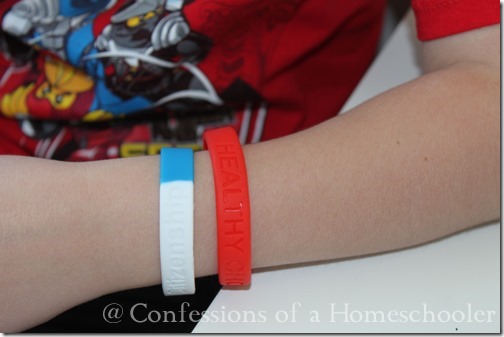 And Strawberry Shortcake went for some of the more fun shaped tags like the Reading Star, and puzzle piece.
If you missed my previous post on the reading incentives, here is our cork board that we keep the chains on. Every now and then my kiddos will wear their necklaces around, but mostly we keep them on the board so people can see their work.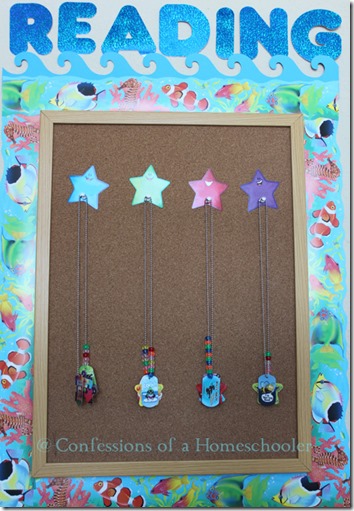 As you can see the new shapes and variety of tags quickly found their way onto our reading necklaces!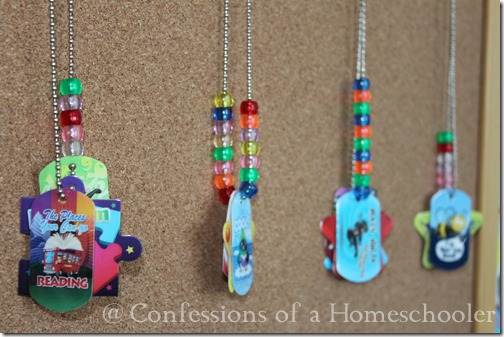 I'm so excited that ImageStuff took the time to make a homeschooling packet for all of us. I think they did a great job on the packet and they made it very affordable for us to get ahold of as well at just $19.95/pack.
So now onto the fun stuff! I have 4 homeschool packs to giveaway today!
Simply fill out the rafflecopter below to enter to win!