Good morning!
Are you homeschooling in the state of Colorado?
Not sure what the laws are, or how to get started?
For all of you fellow Colorado homeschoolers out there I have created an eBook on homeschooling in the state of Colorado that I wanted to share.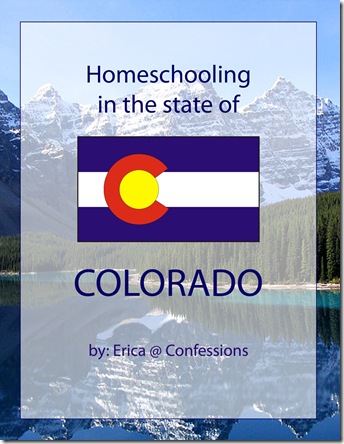 I know that homeschooling in general can be a very daunting task. All of the curriculum choices, lesson planning, learning styles, and self-doubt that surround us as we start out can be discouraging. It is my vision to help make the process of homeschooling a little bit easier and take some of the "mystery" and stress out of homeschooling.
So let's get started with homeschooling in Colorado…
Homeschooling in Colorado eBook includes things like:
Standardized testing
State laws
Attendance requirements
Subject requirements
Record Keeping
Reporting
Educational field trip ideas
Homeschooling support groups
Conventions & Fairs
Teacher Supply Stores
–> Download the Colorado Homeschooling eBook here!
I pray you find this book a blessing to your homeschooling journey, and if you're ever in my area, make sure to stop and say "hi" if we ever run into each other!
** I'm sorry, for those of you living in other states, unfortunately I will not be creating individual state eBooks.
Disclosure: I am not a legal advisor and any information in this document is not to be taken as official legal advice in any way. Please contact www.hslda.org for legal advice on on homeschooling in your state.
SPOILER ALERT!!!
Stay tuned next week for a free Unit Study on the state of Colorado!