Hi everyone! As you may have seen on a recent Facebook post, we added a couple new feathered friends to our homeschool room!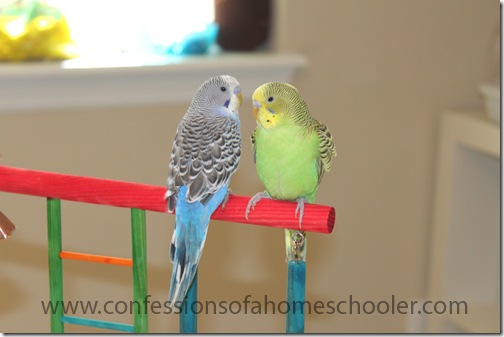 So today I'd like you to introduce you to Kiwi and Remi!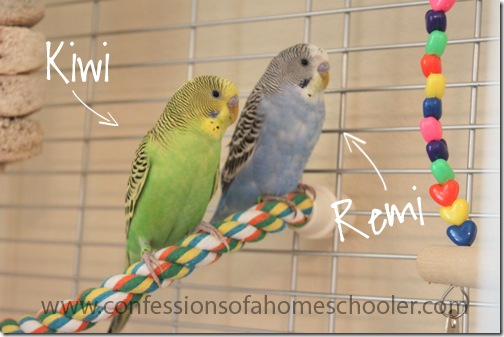 We've had them for about 2 weeks now and they're doing great. Kiwi was definitely more hesitant with us at first, but his love for millet won out over his fear of us.
We're working on the "Step Up" technique. This comes in especially handy if one takes off, and you have to get them back to their cage. if they don't trust you and are not used to stepping up onto your finger it can be very difficult to get them back into their cage!
Watch a video of Remi & Kiwi practicing the "Step Up" technique!
Here is their cage. Since we got two birds (they keep each other company) we went with a big larger cage. It gives them more room to cruise around and as you can see, my husband went a little crazy with the toys for them.
We purchased the Vision Bird Cage L12. It's a great size for them and the clear plastic seed catcher has kept any mess that normally accompanies birdies to a minimum!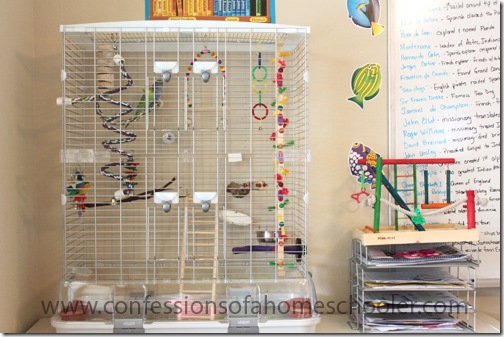 Also having two birds means it takes a bit longer for them to bond with you because they have each other. But don't give up, they love each other now, and get excited to see us as well!
Here they are on their little play gym. They don't really play on it yet, but we're still working with them. They've recently been hanging out on the gym while I work in there and talk to them.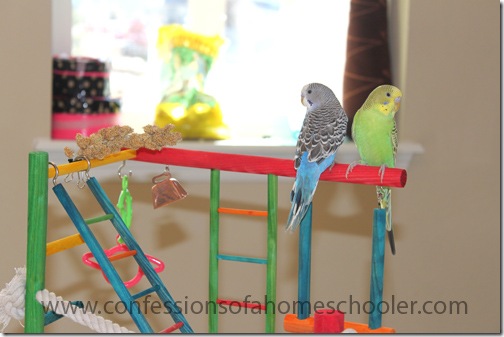 We're taking it slow so they know it's okay to come out of their cage, and that they aren't going to die or anything crazy.
As you can see, they just kind of hang out while I work in the background. They've moved clear over to the edge because they don't love the camera. Actually I'm amazed that I was able to get this many pictures of them. Usually the "click" freaks them out and they go flying back to the safety of their cage.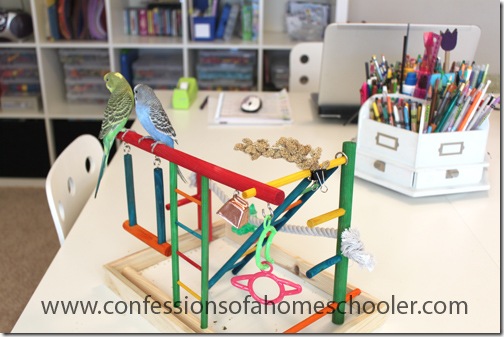 We've been working with them daily on hand taming them. It's a slow process with these little guys, but like I said, their love of millet has helped tremendously.
On day one we just stood by the cage frequently and talked to them. Then day two we started placing just our hand in the cage and leaving it there to get them more familiar with us.
On day three we started feeding them millet from our hand. They were a little reluctant at first, but they LOVE millet, so their desire for yummy food won out over their fear.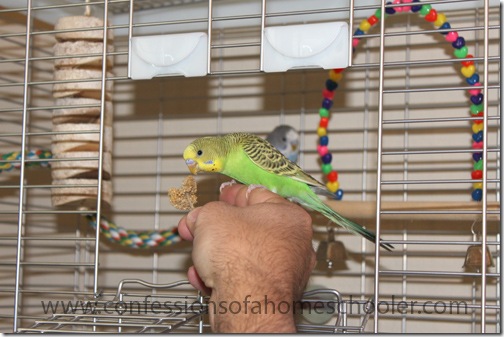 We started the hand-feeding in their cage, then slowly moved them further and farther outside the cage until they were comfortable enough to get on their play gym.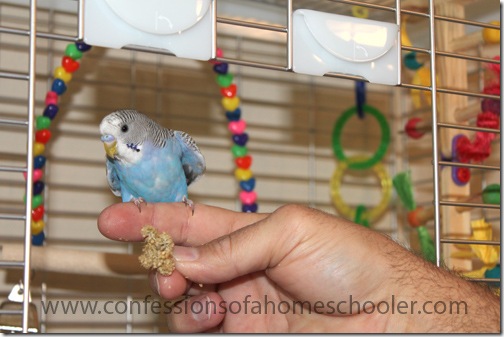 After about 2 weeks we started taking them out of the cage and placing them on their play gym for their snack time. This was a slow process, but we kept at it and now they hang out on their gym all of the time. (And yes, it has a nice little base that catches any birdie doo-doo!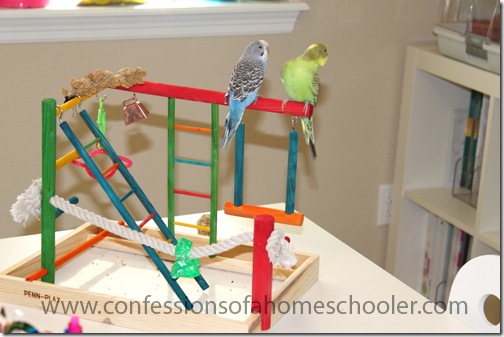 Now we're in full swing of our "Hand Taming". That is just getting them used to us, and our hands. Birds are pretty skittish, so if they see a large hand coming towards them, their normal "flight" response kicks in.
And here they are, back in the safety of their cage swinging together just like BFFs.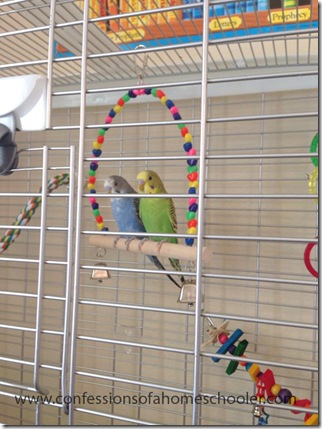 I hope you enjoyed meeting our new friends! We're having a great time with them!