Hi everyone! I have a super fun, slightly messy, Valentine's treat for you today! It's a DIY Body Butter tutorial!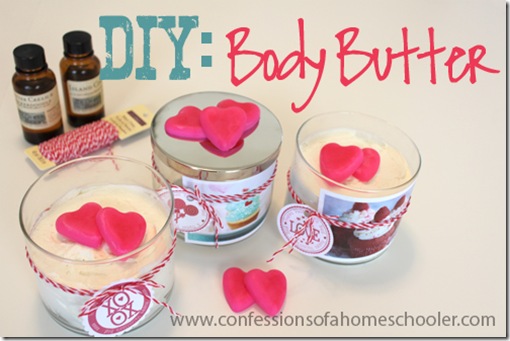 I first want to mention that I found this super cute idea on Youtube and just had to try it out! Since it worked well for us of course I'm sharing it with you all as well :o) I hope you enjoy it!
Edited: the body butter recipe turned out a bit more "firm" than I would like, but it is still quite moisturizing!
This butter is so great to use during this time of year when dry skin is rampant. It's light weight, natural, and doesn't leave a sticky feeling on your skin. It can look at tad oily at first, but if you're skin is dry like mine, this stuff will just absorb right in! And since we're making this ourselves, we don't have any of those yucky chemicals in it that come with store bought products!
WHAT YOU'LL NEED:
I love using these natural oils as they carry great benefits such as fading scars, as well as renewing and healing common skin irritations. They are also packed with Vitamin E, an amazing antioxidant, which helps protect and repair your skin.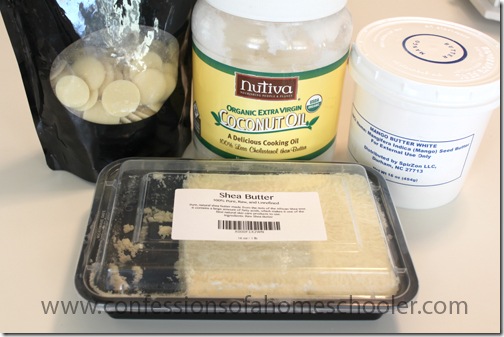 For my containers, I reused Bath & Body Works candle containers. Simply place the used candle in the freezer for about 15-20 minutes, then using a knife, carefully pry out the old wax. Wipe the insides, then wash with warm soapy water to get out any residue.
You can also find some cute glass and plastic containers at your local craft store.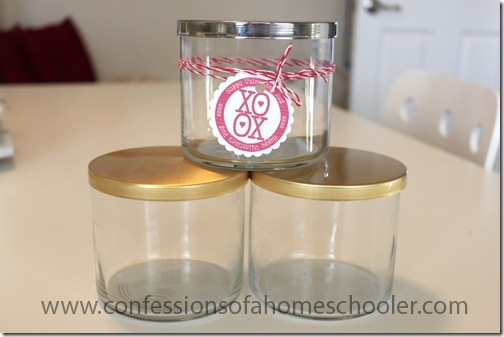 I purchased some fragrance scents online at Bramble Berry. I used the Butter Cream & Snicker doodle, and I also tried the Island Coconut. They also sent me a Dark Rich Chocolate sample, but it was super strong, and not really something I wanted to schmear all over my body. So I skipped that one. But the other two smelled great!
LETS GET STARTED!
So the first thing you'll need is 4 cups of your natural oils. I mixed 1/3 of each cocoa butter, mango butter, and shea butter. I eyeballed it, so my measuring cup looked something like this…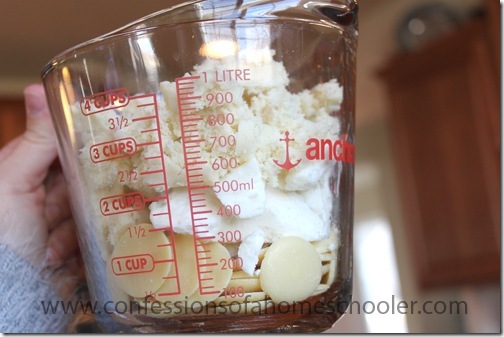 Next I added 2 Tablespoons of extra virgin coconut oil, and 2 Tablespoons of extra virgin olive oil.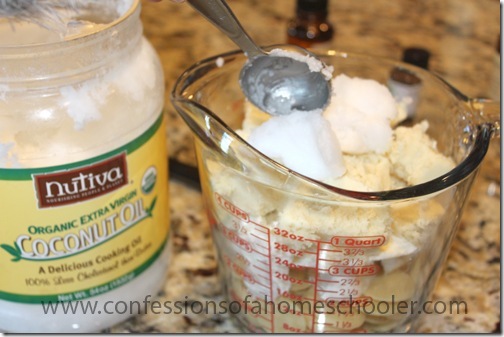 Next place your measuring cup into a pot of water and heat to a boil. Stir frequently until your butter melts completely.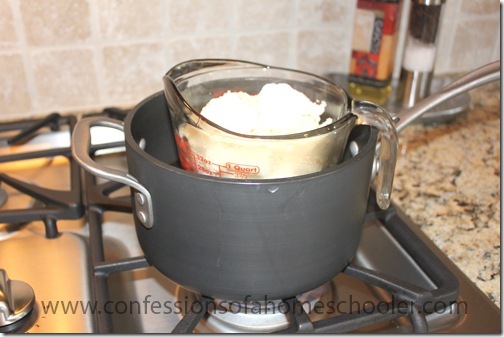 Once your butters are all melted, place the mixture into a glass bowl, and then into your freezer for about 15 minutes or so.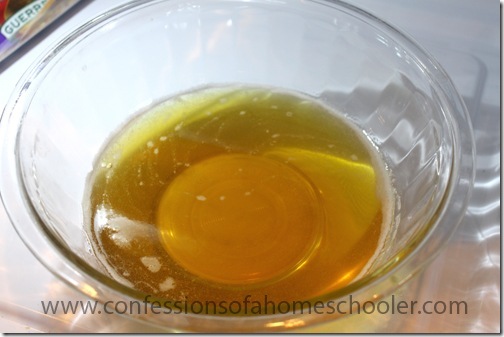 Check your mix about every 15 minutes or so. Each time try dipping your finger tip into the mix until it presses in easily. The mixture should be about the consistency of cake frosting. If you forget about it like I did, and it freezes solid, just re-heat it a little until you get it to the correct consistency.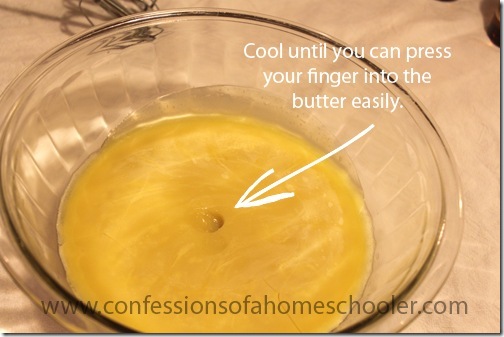 Next using a beater whip the body butter until it's a nice fluffy consistency. Kind of like whipped crème.
But don't eat it.
Even though it looks like you can.
Also remind your kids that you're not making cake batter.
Mine wanted to "lick the beaters".
That is no bueno.
Once your mixture is nice and fluffy, add in 1-2 Tablespoons of your fragrance. Then whip again to incorporate the scent well.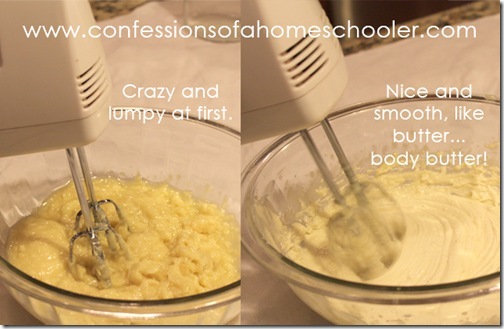 Next, spoon the mixture into your clean container. Whip off any excess that may spill along the rim to give it a clean look.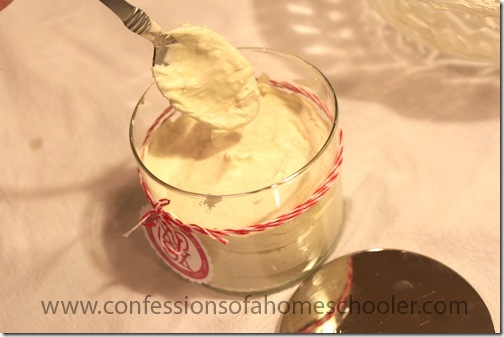 Now, add a cute little Valentine's Day Tag using bakers twine!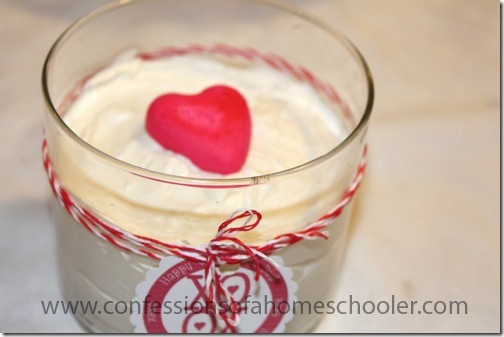 I also Googled and printed some cute cupcake labels just to make them even more pretty. Cuz' I like pretty things. And the buttercream scent smelled like cupcakes.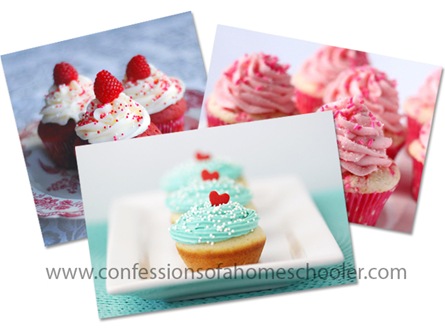 I also added some massage hearts to the top to decorate the body butter. These little hearts were created using pure Mango Butter, and a little bit of oil based food coloring in pink. I simply melted the mango butter, added a very SMALL amount of pink food coloring. Its important to use an oil based food coloring here, regular water based coloring will not mix with all of your natural oils. I used Wilton Oil Based Candy Colors.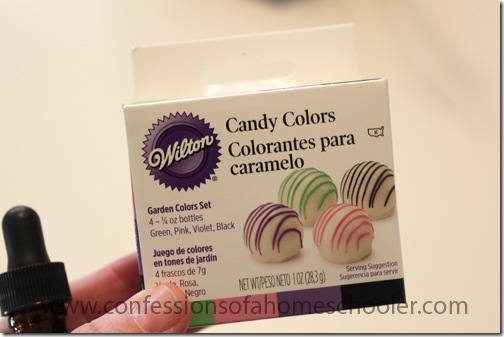 Once melted, I poured the mixture into a silicone heart mold (found at local craft stores). I placed them in the freezer to help them harden quicker.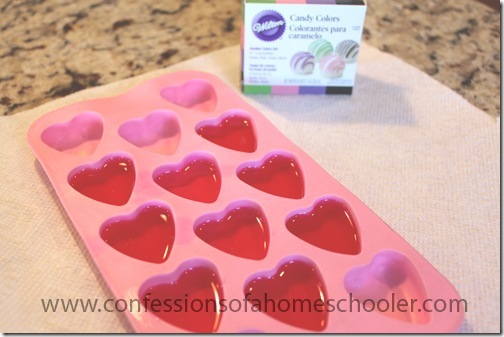 Next I carefully popped them out of the mold, and placed them on top of my body butter as decoration!
Aren't they so cute! They're like little miniature mango butter massage bars! Great for Valentine's day ladies ;o)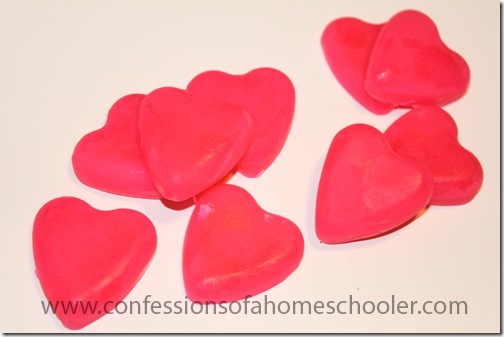 (Please note, if you choose to do pink hearts, the food coloring can stain your fingers.)
And here are my finished body butters. They look great, smell great, and feel great on your skin!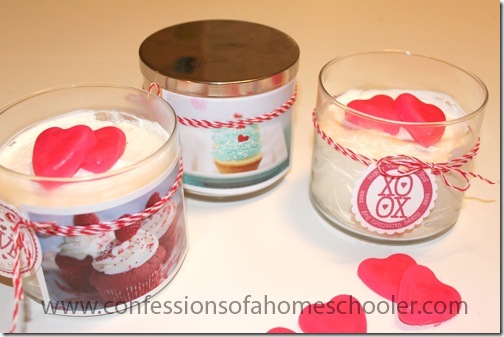 CLEAN UP!
Now, I'm not gonna lie. Cleanup for this project is…um…not fun. My suggestion would be to reheat your empty bowls in the microwave for about 20-30 seconds or until the butter re-melts. Then wipe them out with a paper towel. Once most of the butter is out, you can then wash your bowls in warm soapy water.
Since you can't put the beaters into your microwave, I just used a paper towel to wipe of as much of the butter as I could, then washed it in warm soapy water. Not too bad, but still, oil isn't ever my favorite thing to clean up. But these butters are so cute, it was worth it!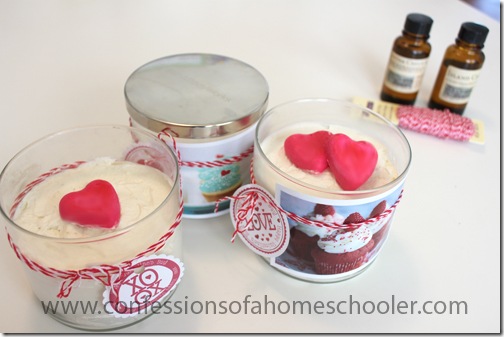 Hope you enjoy the DIY Body Butter tutorial, and may your friends be well moisturized this Valentine season!