Good morning readers! Today I have a special product to share along with a discount to pass along! I'm sure most of you have heard of Spielgaben by now, but it is new to our homeschool. And I have to say that we are loving this product!
For those of you who don't know, Spielgaben is a company that produces environmentally sustainable and non-toxic child friendly materials. The Spielgaben set comes with all of the colorful materials you see below, including the 3 wooden trays and a chessboard that store all of the materials together. The set also comes with learning resources that include learning activities, user guides, over 30 sets of interactive worksheets, 65 inspiration cards, and more!
The materials are good quality, durable, colorful, and everything has a place in the storage unit which makes clean up and organizing it all a synch!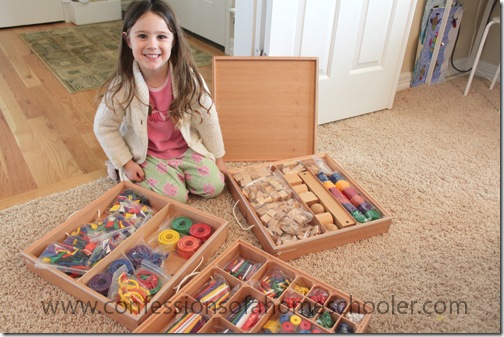 "There are 8 to 12 years worth of learning activities and lessons including full color digital format of 4 user guides, over 30 sets interactive worksheets, 65 inspiration cards and many many more…In short, your child is presented with limitless opportunities for play and learning for many years to come."  ~ Spielgaben
The set is recommended for children between the ages of 3 and 12.
What are some of the benefits of using Spielgaben?
Teaches your child to think deeply about mathematics at an early age Spielgaben gives children a deep, intuitive understanding of the principles of geometry and arithmetic. They will actually understand math instead of just memorizing it.
Improves your child's creativity and thinking skills Playing with Spielgaben helps children think creatively, come up with new ways of expressing their ideas, and thinking for themselves.
Enhances natural gifts of your child Spielgaben helps take children's areas of interest "to the next level." For example, if a child loves to draw, the Spielgaben encourages him or her to see shapes in nature and apply them to drawing.
Right away she wanted to play with it, so I printed off my Letter R color by number sheet and had her use the small disks to create her rainbow. She was very careful taking time to do this right which was quite impressive with her short attention span.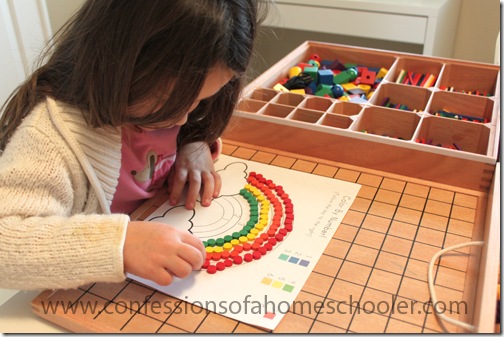 As soon as this arrived, the Teeny Tot was all over it! I explained right away that this was her new school kit and she was in charge of making sure things were put back in the proper place and well taken care of. I have to say she's been VERY diligent in her task to keep this all organized!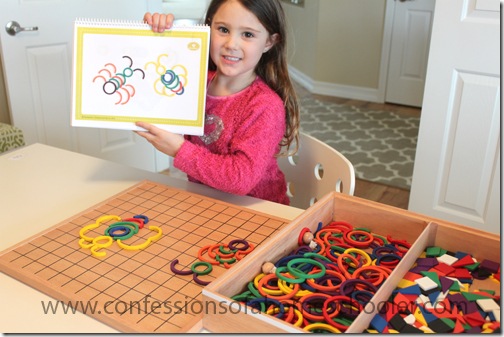 The Teeny Tot has really been loving her "play time" with this set. Her favorite are the inspiration cards. You do have to print all of the worksheets, teacher's manuals, and cards yourself, but I just printed and had them spiral bound with a clear cover added on so it was easier to keep them organized and in good condition. You can see the spiral in the photo below…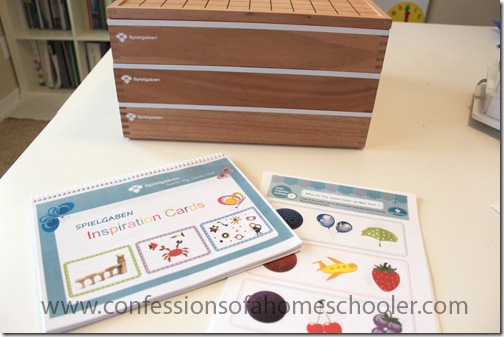 Here is one of her castles from the inspiration cards…and yes, she was able to build this all by herself. I helped her a bit with the roofline, but I just showed her how it should go, then she completed it on her own.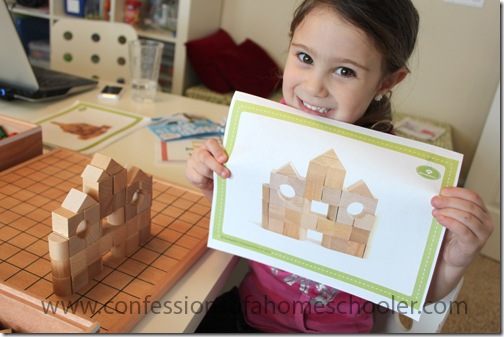 And her is another one, she absolutely loves doing these as well as creating her own.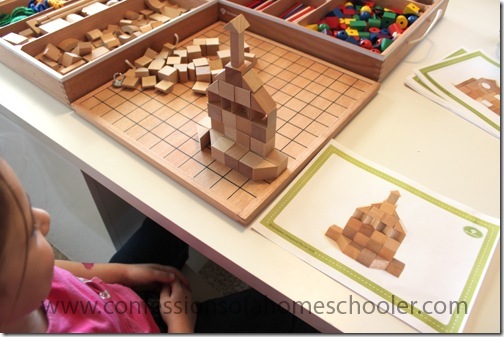 The next challenge were to work with some of the sticks and re-create the images on the card.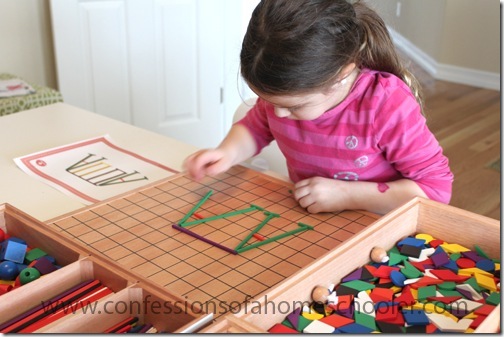 She has been doing a great job using this kit, and she's been excited to have something new and fun to add into her school day!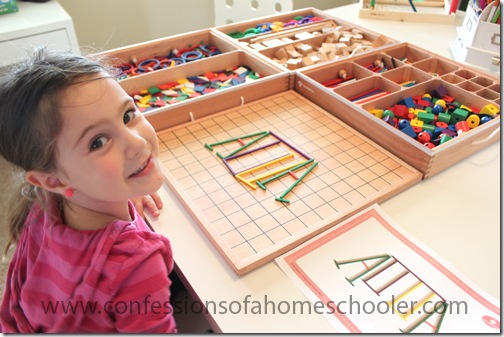 Of course the second the Teeny Tot walked away, her older sister took over coming up with her own creation using all of the various pieces. I believe she said this was a house with a yard outside. You can see the kitchen to the top side and then a bedroom on the bottom of the photo. The living room is in the center area with the semi-circle pieces.
I think my favorite thing is that my children don't really think of this activity as "school", they think they're getting to play, but it really is a wonderful educational tool. Not only do children learn important math and logical thinking concepts, but the set also inspires creativity as they experiment with the materials.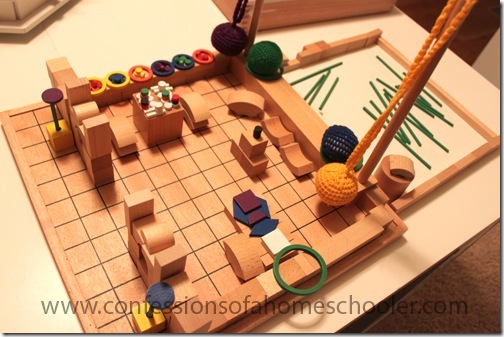 We look forward to more fun as we incorporate the lessons into our homeschooling!
How much does it cost?
The entire set including all of the materials, teacher manuals, inspiration cards, and worksheets is $368.55,
But Spielgaben is giving a very special deal right now to Confessions of Homeschooler readers. Including shipping, the Spielgaben complete set will be as follows:
US | UK | AU at USD $320 | GBP 195 | AUD 360
The offer is valid until April 30, 2014. To get the discount visit the Spielgaben Contact Form and send Spielgaben an email mentioning Homeschooler Confessions. You will be contacted by Spielgaben with instruction how to apply discount coupon code accordingly.
And you will receive:
13 sequential Spielgaben sets made of environmentally sustainable and non-toxic children friendly materials.
3 wooden multi-set trays with chessboard lid that stores all of the 13 sets neatly and efficiently and help children pack and unpack effortlessly.
Learning Resources: Years worth of learning activities and lessons that are open-ended, hands-on and student driven based on age and ability levels.
Want more information?
Make sure to follow Spielgaben's social media for more ideas and inspiration!