I'm back today with another helpful Homeschooling 101 post.  We've talked all about getting started, choosing and gathering curriculum, homeschooling through various grade levels, and today we're talking about homeschooling on a budget.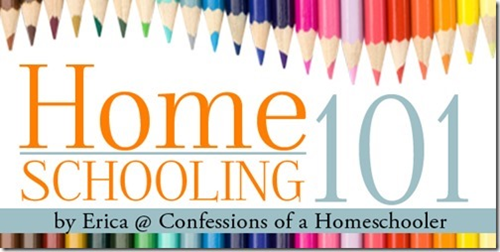 Homeschooling is flexible in so many ways, and that includes budgetary concerns. There are many options for homeschooling on a budget. Here are some things to consider when creating a homeschooling budget:
Curriculum (most likely the greatest expense)
Testing Fees
Printing or Copying Costs
Building a Home Library
School Supplies
Extracurricular activities or lessons
Annual State Conventions
Technology Aids
There are so many ways to save money and homeschool successfully. Below I've listed a few ideas to help get you started!
Use your library
Not only does the library have an expansive selection of materials, it can be successfully used to build an entire curriculum if you take the time. Along with books, libraries also include videos, audio resources, discussion groups, lectures, and topical classes as well. With inter-library loans you can really get ahold of almost any resources you may need.
Field trips: A hands on learning tool
Chances are there are several educational opportunities within the rich resources of your local community. A little research can go a long way to creating memorable hands on educational trips for your students. As you create your schedule for the year, make a list of field trips that will enhance your learning. Before showing up, contact the coordinator for the site. Many places offer a discount for homeschooling families or groups.
Homeschooling groups and co-ops
Homeschooling co-ops are a great way to meet other homeschoolers, as well as pool resources. Many offer activities like spelling bees, presentation days, and geography and science fairs. Some even offer a variety of classes where students are able to use a more expensive curriculum at a discounted rate. And still others offer things like computer classes and science labs that would otherwise be too expensive for one family to afford. By making use of a co-op you can also draw on the expertise of other homeschooling parents, create opportunities for new friendships among students, and parents alike. See chapter 18 for some group and co-op ideas.
Buy used
Regardless of our income, we all want to get a good deal on school materials. Whenever possible we purchase used teacher's manuals, student text books, and supplies. Not only does buying used save money, but it also makes parting with materials that aren't working for your family less painful!
Use free resources
Along with the local library, the internet can be a very valuable tool for homeschooling on a budget. Not only can you research just about anything you want to for free, there are also several blogs and websites that offer free printables for a variety of topics.
Borrow & Trade
One of the least expensive ways to acquire homeschooling materials is to trade with other homeschoolers. Ask your friends to see if they're willing to loan out some of their unused curriculum for the year and offer to trade with them in return. If you do borrow items from others, be diligent to keep them in good condition and return the materials immediately upon completion, or an agreed upon time.
If you loan out your materials, make sure to make a list of items borrowed, and write your name inside all of your items as well. It's easy for materials to get mixed in with everything else once school starts, so making sure you have labeled your items well is helpful.
Have a good plan
If you've laid out your curriculum plan as directed in previous chapters, you will be much less likely to waste your money on spur of the moment purchases. Once you decide on your curriculum stick to that plan and don't veer off unless you really decide it's worth it.
Re-use & Recycle
This goes for clothes, curriculum, storage containers, and anything else we can re-purpose. We pass down most of the curriculum from our oldest to the younger students as they get there. That way each year we are only purchasing materials for our oldest student and consumables for the younger ones.
Sell used curriculum
Selling old curriculum, school supplies, etc. is a wonderful way to re-coop some of the money you have spent along the way. It's also a great way to help other homeschoolers who are just starting out. The practice of swapping curriculum is a common one and can benefit both sides.
For more detailed information on homeschooling on a budget check out my Homeschooling 101: A guide to getting started!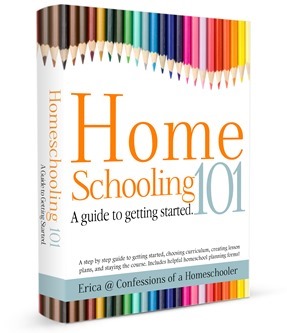 If you've missed my previous posts make sure to check them out!