Hi everyone! If you live in the United States, TOMORROW is Election Day! Even though it isn't a Presidential election year, I thought I'd make some fun activities for you to do with your kids to include them in the voting process.
I thought it would be fun to have my kiddos learn a bit about our election process by registering to vote, as well as filling out a mock ballot. I've also included election day vocabulary, word search worksheets, and "I voted!" stickers to help you get your kids in the voting mood too!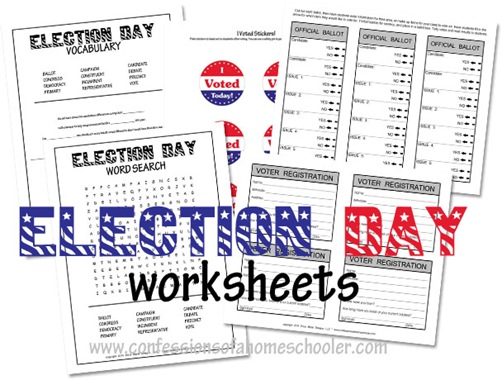 –> Download the Election Day Worksheets here! <–
Election Day:
Election Day in the United States of America is always the Tuesday following the first Monday in November. It is the day when voters across the nation gather to elect public officials, and cast their vote on ballot issues.
Presidential elections are held every four years, where voters elect the President and Vice President. Both the President and Vice President serve four year terms, and in accordance with the twenty-second Amendment, a president may not be elected more than twice.
Elections for the House of Representatives and Senate seats are held every two years, and all Representatives serve two-year terms, while Senators serve six-year terms.
Here are some more fun ideas to incorporate into your class:
Create a voting booth for your students to cast their votes (i.e. cardboard divider with a curtain)
Create a ballot box for students to drop ballots into. A shoebox with a slit in top works great.
List ballot issues that pertain to your class or family on the ballots. Here are a few ideas you can vote on at home:
Give 2 dinner choices for members to vote on. (i.e. Pizza or Hamburgers)
List 2 dessert choices for members to vote on. (Ice Cream Sundae or Strawberry Shortcake)
Vote for best family member to be in charge of something in your home for 1 week. (i.e. Feeding animal, or in charge of turning off lights.)
Hold mock campaigns, have students create flyers for their candidacy.
Add in ballot issues from your local ballot, simplify for age appropriateness.
Add in actual candidates for office in your area. Discuss party affiliation, and discuss why you would vote for/against the candidates.
And don't forget to discuss the importance of voting with your students!
I hope you enjoy these, and make sure to get out and vote!
Want some more ideas? Check out my Election Day for Kids pinterest board!
Have some fun Election Day ideas? Leave a comment below to share your ideas with others!