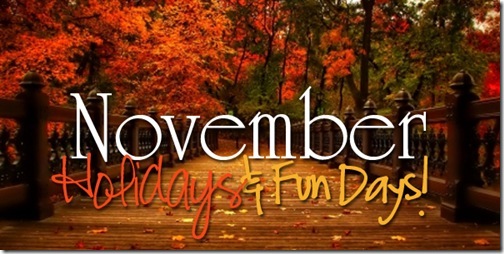 Good morning readers! It's almost November.
Did you hear me?
I said N.O.V.E.M.B.E.R!
Okay, despite the fact that I have no clue what happened to 2014, I will say that November is one of my favorite months of the year and here are the top 3 reasons why:
It's my birthday month. And yes, we celebrate all month, why not right?
It's also the Teeny Tot's birthday Nov. 20th, and my husband's birthday Nov. 25th. They get one day to celebrate since I've taken over the rest.
It's the month before Christmas which means I can be festive without people thinking I'm too weird.
It's Thanksgiving, and we get together with family and friends!
Okay, so that said, you're probably wondering what else is going on in November besides Erica's birthday? Right? I know, it's mostly all about my birthday, but still I feel the need to share a few other random things going on this month.
So let's get on with it! Here are the November holidays and fun days for all of you awesome homeschoolers out there!
Holidays:
November 1 All Saint's Day
November 10 Erica's Birthday (I believe this was just made a national holiday.)
November 11 Veteran's Day
November 27 Thanksgiving – Be thankful!
Fun Days:
November 3 Housewife's Day
I know a lot of housewives out there, so husbands and kids, this is your chance to show your mama some appreciation! Make a fun card or gift for her!
November 3 Sandwich Day
This is probably Turbo's favorite day. He loves sandwiches! Make your favorite sandwich for lunch or dinner today! I'll be making a BLT with avocado on toasted bread. Yum!
November 4 U.S. Election Day – (First Tuesday following the first Monday of the month)
If you're a US citizen, make sure to get out and vote!
November 4 King Tut Day
Check out this link on King Tut to teach your kiddos a little bit of Ancient Egyptian history today!
If your local museum has an exhibit, take a field trip to see some real live mummies. Who doesn't love those?
November 7 Book Lovers Day – first Saturday of the month
I've recently become a reader, before that I just didn't seem to be interested. I know, I'm a homeschooler and we're supposed to be all studious and into books. But now I am and I have a few great ones to get you started!
November 11 Young Readers Day (second Tuesday of month)
Encourage your kiddos to get into books too! I've noticed the more that my kids see me reading, the more they seem to be interested in books. Take a trip to your library and pick out a few books for each of them. We're loving the Kingdom Series by Chuck Black.
November 13 World Kindness Day
Have your kiddos make a handmade card or gift for a neighbor or friend.
Help a friend in need, or just lift up their spirits with some unsolicited help around the yard, house, or with a surprise Starbucks drink delivered to their door!
Call around to local charities to see if they need any volunteers for the day.
November 15 Clean Your Refrigerator Day (Is this really only once a year?)
Okay, get out those gloves and get that refrigerator cleaned out! Sounds like fun, no?
November 15 America Recycles Day
We recycle all year long, but make sure to do it today too! Bust out a wagon and head door to door to see if your neighbors have any recycling they'd like picked up.
Teach your children: Reduce=less garbage, Reuse=use an item more than once, Recycle=turn an item into another useful item. Discuss which items can be recycled and which are waste. Discuss ways to save on waste, reuse items, and recycle them.
Check out these fun recycling lesson plans from PBS Kids!
November 15 National Philanthropy Day
Teach your children about philanthropy and seek out service projects in your community! Here is a list of 35 service projects for kids from kids World Citizen to help you get started!
November 17 Homemade Bread Day
Yummy! I love homemade bread! Here are a couple of my favorite homemade bread recipes:
November 25 National Parfait Day
Okay, this might be my favorite day now! Parfait is just a fancy word for a sundae. So in keeping with the spirit of November, make your own parfaits after dinner tonight. Or head out to your local DQ and get one to go!
Parfait Ingredients: Ice Cream or frozen yogurt, whipped cream, chocolate syrup, strawberry syrup, fruit (such as strawberries and bananas), and a fancy glass.
Directions: Layer ingredients in your glass starting with the ice cream, then syrup, fruit, and a little syrup. Repeat layers then top with whipped cream and a cherry of course!
Or try this Pumpkin, cream cheese, cheesecake, salted caramel, Trifle parfait! WOW!
November 28 Black Friday – Friday after Thanksgiving.
Is this really a holiday now? All I know is last time I participated I got a riding Jeep dropped on my head. the big kind, for kids to ride. It hurt. Do you all get into Black Friday, or stay home and chill where it's warm? I like to start decorating for Christmas that night, so yeah, I'll be home with a cup of hot chocolate!
For more fun fall ideas check out my Fall Recipes pinterest page!
And that's it for our November holidays and fun days! Have a fun November tradition in your home? Make sure to leave a comment below.