I don't know about you all, but I like to get my Christmas gifts going early so I'm not feeling rushed in December.
Enter my calendar page templates! Each year each year I make printable calendars for our family as Christmas gifts. And of course, I share them with you all in the event you're looking for something easy, fun, and cute for your family as well!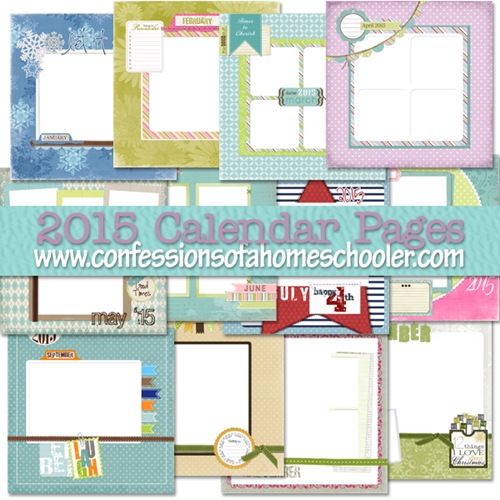 What's included?
8×8 – 12 Monthly Quick Pages in .png format and .jpg formats (January – December) (Can be re-sized to 12×12)
All files are 300dpi .png & .jpg images.
NOTE: You will need a software program that can open .png or .jpg files to edit these templates. Or you can just print the .jpg files and then add your photos to them using archival safe glue strips.
Click below to download: (Sorry the files are large, so I split them into smaller downloads)
Options:
1. Using your favorite editing software, all you have to do is open the file, insert your pictures and a little journaling and voila! You're done!
2. Print the templates, then cut and paste on  your favorite photos. You can even take the completed pages to an office supply store and have color copies made so you can create several copies quickly and easily.
What to do with your finished creations?
1. Print and put them in a scrapbook
2. Upload them to a photo website and create calendar pages with them as gifts.
3. Cut up your used calendar pages once the year's done, and insert them into an 8×8 scrapbook to create a wonderful keepsake!
Can't print at home? Here are some of my favorite places that you can upload your finished images and turn them into holiday gifts!
Click below for some more fun templates!
Note: These templates work with any photo editing software that can read .png files. I typically suggest Adobe Photoshop Elements for digital scrapbooking. It has the most flexibility and ability to read various image formats. It is also really easy to work with and inexpensive! Don't forget to use your student/teacher discount if you're a homeschooler or teacher.
Not sure how to do digital scrapbooking? Here is a post on getting started with digital scrapbooking if you have questions.
Visit Erica Made Designs to see all of my digital scrapbooking supplies!