Hi everyone! I've been busy over here creating some more fun digital scrapbooking calendar templates you! I'm calling this the 2013 Calendar Templates, but there aren't actual years printed on them, so you can really use them for any year!
Sorry I'm a little  late getting these out, but hopefully you still have time to create something wonderful!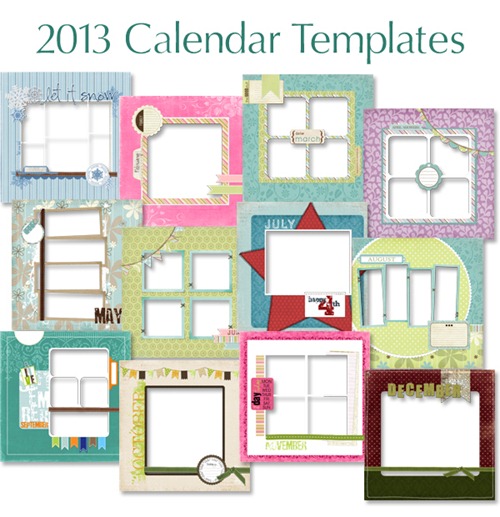 For those of you who don't know, each year I make printable calendars for our family as Christmas gifts. And of course, I share them with you all in the event you're looking for something easy, fun, and cute for your family as well! Since last year I did the 12 days of Christmas posts, this year I'm going to give the calendar away for FREE!
Click here to download: (Sorry the files are large, so I split them into 2 downloads)
What's included?
8×8 – 12 Month Quick Pages in .png format (January – December) (Can be re-sized to 12×12)
Details: All files are 300dpi .png quick pages. This means that all you have to do is open the file, and insert your pictures and a little journaling if you desire and voila! You're done! (NOTE: You will need a software program that can open .png files to use these templates.)
What to do with your finished creations?
I either print at home, or upload to my favorite printing shop to turn them into a calendar for family. And once the year's done, I cut the calendar pages apart and insert them into an 8×8 scrapbook to create a wonderful keepsake!
Today I'm featuring the HP ENVY 120 Printer as a great printer to get things done with high quality! And guess what? With the help of HP and the Pin the Halls program, I have an HP ENVY 120 printer to GIVEAWAY in a few weeks, so make sure to stay tuned…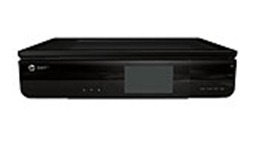 The new HP ENVY120 e-All-in-One printer is a stylish, sleek Web-connected printer perfect to fit in any room in the house. Designed with the living room in mind this all-in-one features an incredibly slim and compact design as well as whisper-quiet operation and a large, adjustable touchscreen that retracts after printing to maintain its streamlined appearance when not in use.
Some of the features:
Print from your PC, smartphone or tablet from virtually anywhere with HP ePrint.
Charge your USB compatible mobile devices from the easy-access front USB port optimized to power your smartphone.
Use HP wireless direct for a convenient walk-up-and-print experience from wireless devices without a network or router.
Scan straight to your email account and preview your scans with the convenient transparent scan lid.
Expected to be available in the United States in December with a starting price of $249.99.
Can't print at home? Here are some of my favorite places that you can upload your finished images and turn them into holiday gifts!
Click here for some more fun templates for you!
For more great holiday ideas visit the HP Holiday Headquarters and the HP Creative Studio! There are some great ideas, printables, and more that HP has for you!
Meanwhile, I've been busy trying to pin some great ideas on my Christmas boards as well, and they have links to some of the products I have coming up! Check out my pinterest boards here:
Happy Holidays!
Note: These templates work with any photo editing software that can read .png files. I typically suggest Adobe Photoshop Elements for digital scrapbookers. It has the most flexibility and ability to read various image formats. It is also really easy to work with and inexpensive! Don't forget to use your student/teacher discount if you're a homeschooler or teacher!
Not sure how to do digital scrapbooking? Here is a post on getting started with digital scrapbooking if you have questions.
Visit Erica Made Designs to see all of my digital scrapbooking supplies!
Disclosure: This post is part of the HP Pin the Holidays blog program!