Hi everyone! This summer we took a fun trip to South Dakota and I just found the pictures when I was browsing around my computer. And in the spirit of blogging, I thought it would be fun to share our adventures today!  If you haven't had a chance to visit, there are definitely some things worth seeing there!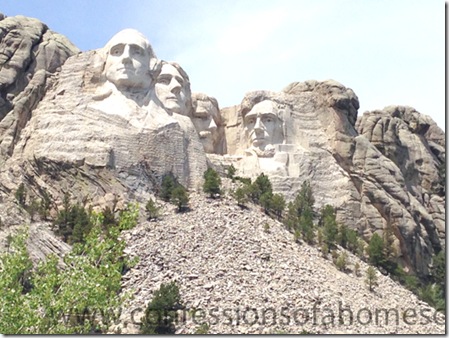 Mount Rushmore
For example…Mount Rushmore is located in South Dakota. The Mount Rushmore National Memorial is an absolutely breath taking sculpture carved into granite on the side of the mountain. The construction begin in 1927 and features 60-foot sculptures of the heads of four of the United States presidents: George Washington, Thomas Jefferson, Theodore Roosevelt, and Abraham Lincoln.
The park offers a beautiful trail hike where you can get even better views of the mountain as well as an indoor museum and lots of historical information on the creation of this magnificent memorial.
Although we've probably all seen photos of the memorial, it's truly remarkable to see in person.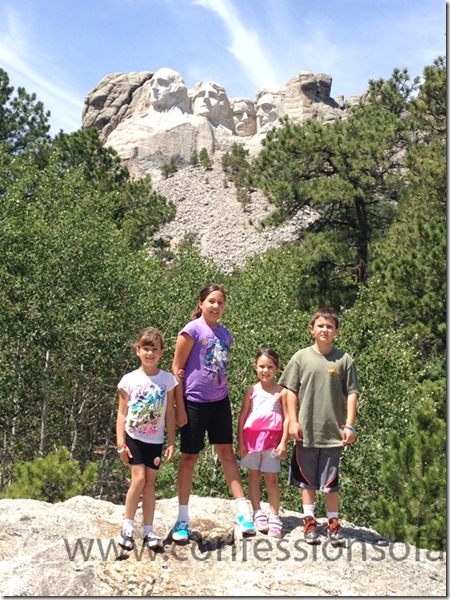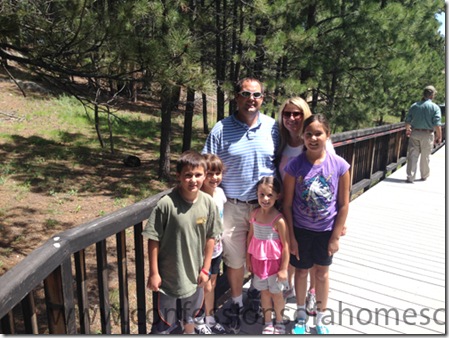 Storybook Island
We almost skipped this activity, but in a last minute decision we ventured over to Storybook Island and were pleasantly surprised. It's a free admission theme park filled with donated sculptures depicting various children's stories, fables, and nursery rhymes. Everyone enjoyed roaming around all of the sculptures, even the big kids!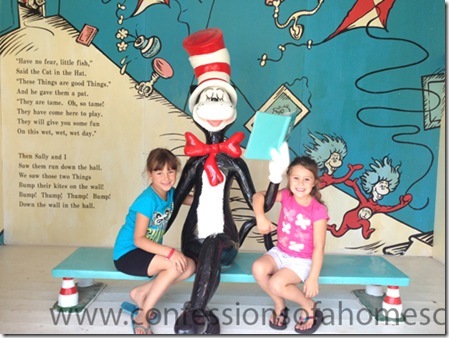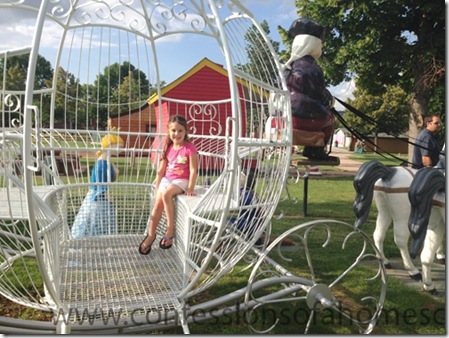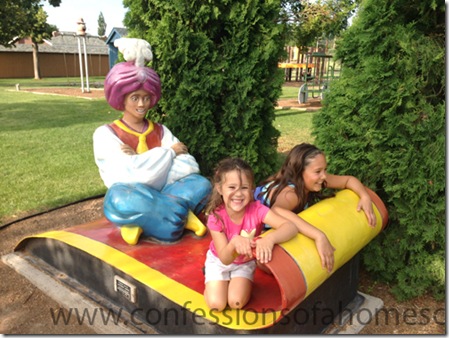 Cosmos Mystery Area
I have to say that this was probably our kids favorite adventure…and my least favorite! If you're at all prone to motion sickness, I would not recommend this tour! But if you're up for things like that, then this is for you! Cosmos Mystery area is a strange experience and built on the side of a very steep mountain.
There are some unusual occurrences that mess with one's sense of balance and feelings of normalcy happening there!  They have a few little fun but weird activities they bring you through like in the photo below. The cement blocks Turbo and Tinker Bell are standing on are level with one another. But as you can see in the image below, Turbo appears taller in the photo on the right, and a bit shorter in the photo on the left. It was more apparent in person.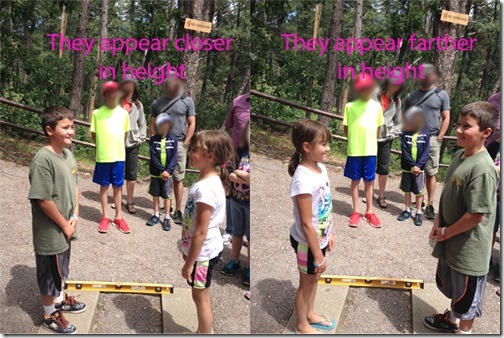 I can't reveal too much because that would take away from the mystery of it all, but as you can see below my family is attempting to stand vertically even though it is very difficult. You'll have to experience it yourself to understand why!  The tour continues on where we experienced visually interesting things like balls rolling uphill and water running uphill.
Mommy didn't make it in the house because the slant of the area made me so motion sick that I almost barfed right there in front of about 20 fellow tourists. No bueno. Eventually Strawberry Shortcake came out as well feeling sick, but the rest made it through the tour unscathed.
Reptile Gardens
I highly recommend a visit to Reptile Gardens, this was definitely cool to see. They have an indoor rainforest that you can walk through with animals roaming freely. They also have an alligator show, a bird show, a snake show, and several other impressive animals roaming the property.
Bear Country
Of course we visited Bear Country too. Bear Country is an outdoor park where you drive through various animal exhibits. They have caribou, deer, goats, wolves, buffalo, mountain lions, and of course bears. Lots and lots of bears! The bears were so fun, they literally walk right up to the cars driving through. It is a bit intimidating, but they're amazing to see up close, and very used to cars driving through their area.
My only piece of advice is to bring your camera, and make sure you go to the bathroom before you enter! The tour took us about 45 minutes, but would've probably been longer had we not had to rush out to get one of our kiddos to the bathroom.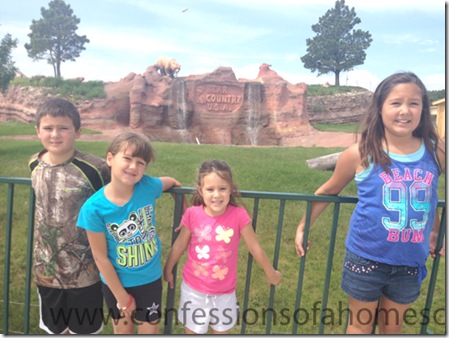 I did film a little bit of video of the animals, it's not the best, but here's a little vlog of our time at Bear Country.
Here's one chap who walked with us for quite awhile.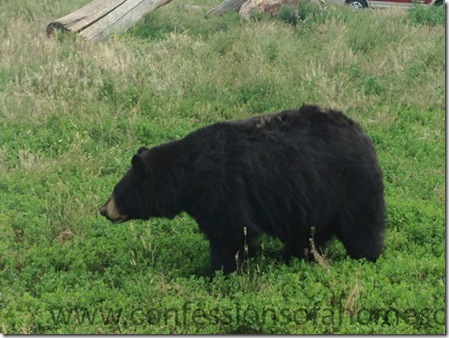 And a very relaxed caribou.
And lots of bears chillin' on the rocks and in the grasses.
Air and Space Museum
Our last stop was the South Dakota Air and Space Museum. This is probably a little more exciting for adults, our kids liked to look around at all of the airplanes up close. But there is also an inside museum full of interesting historical information, facts, and artifacts that was quite interesting. However the younger ones in our party weren't as impressed as my husband and I were!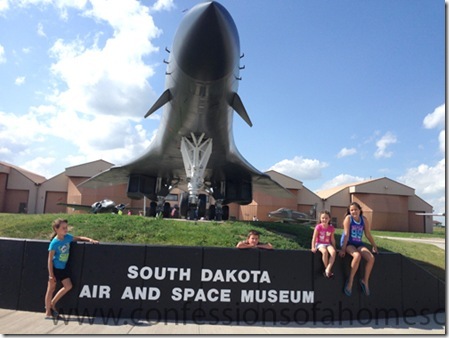 We stayed near Rapid City so that we could check out the town, visit some local shops, and found that there were really cool sculptures on every street corner. But there was also a quaint little mountain town called Keystone that I would've loved to stay in! It had some great restaurants, fun activities like zip-lining, a U.S. President wax museum, and a variety of local shops.
All in all out venture to South Dakota was a success. Everyone had a good time and we saw some cool stuff. I would definitely recommend it to anyone in the area. We did see license plates from all over the United States, and I'm not sure I would've drove all the way across the country for it. But Colorado is a short jaunt to South Dakota, so for us, it was a perfect mini-vacation!