Good morning! Or afternoon. Or whatever time it is you're reading this. Good day!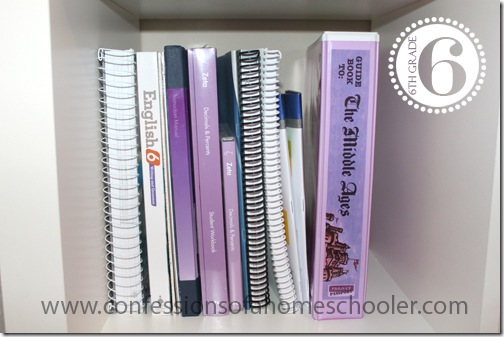 Today I'm sharing our 6th grade homeschool schedule. This is basically an outline of our day and things do change up a bit here and there. But for the most part, this is the schedule that Strawberry Shortcake is following this year. She has had the pleasure of completing a photography class so she's excited about that, and I think I'll allow everyone to pick one elective next year since this one went so well.
Strawberry Shortcake is currently 12 years old, and in the 6th grade. She definitely has a filled schedule this year, but she's doing great and enjoying school!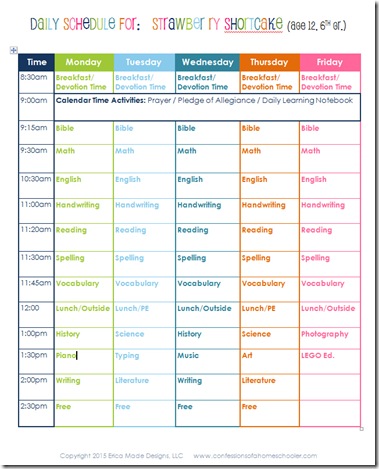 Download a copy:
Here is our basic 6th Grade Schedule:
8:30am – Breakfast / Family Devotions
9:00am – Daily Learning Notebook
9:15am – Bible
9:30am – Math
10:30am – English
11:00am – Handwriting
11:20am – Reading
11:30am – Spelling
11:45am – Vocabulary
12:00 – Lunch/PE
1:00pm – History / Science
1:30pm – Fine arts
2:00pm – Writing / Literature (2x per week)
2:30pm – Free
4pm – Swimming
As you'll probably notice, Strawberry Shortcake's schedule is virtually identical to Turbo's. I find it works well to keep their schedule's in line with one another. That way neither feel that they're doing more or less work even though the work level is different. Since they're only 1 grade apart it makes it easier to teach them together as well.
As I mentioned we are currently doing Bible, History, Science, and Literature as a group which makes it a bit easier on me. And this year Tinker Bell, Turbo, and Strawberry Shortcake all do IEW writing together too.
I received several comments on when we do chores. We mostly do chores in the afternoon after school. Since we have sports almost everyday, we each do one thing between 2:30-4. So for example Turbo will empty the top of the dishwasher, Teeny Tot will empty the bottom, Strawberry Shortcake and Tinker Bell will fold laundry together, and I'll sweep the kitchen floor.
We do an all family house clean on one of our weekend days. Everyone gets 1 job and we all clean together.
Here is our 6th grade curriculum for the year:
Extra-Curricular Activities: