Good morning! It's full on summer for us over here, and the last thing I want to think about it is cooking. If you saw my last post, you'll know that I have big plans for some relaxed warm summer days!
To aid in my relaxation process, I have my June 2015 Monthly Meal Plan ready to go!
I hope these help you get your meals planned, so you can hang out and relax, maybe play some games with the family!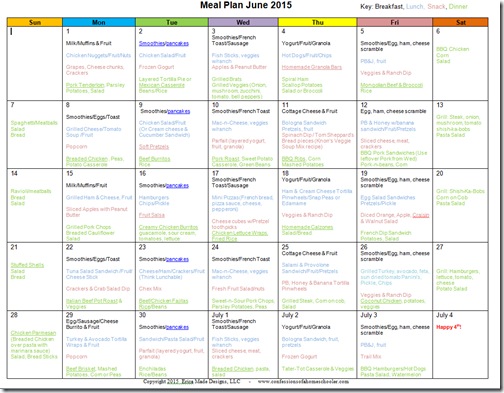 Download the 2015 May Monthly Meal Plan:
If you haven't already used this before, you can click on any of the underlined menu items to get to a recipe. And since it's summer here, there are a lot more grilling type recipes, rather than wintery soups and such. Because who wants to be cooking when it's hot outside?
If you live where it's cold right now, you might want to check out some of my winter month meal plans so it fits better with your neck of the woods!
Since you always ask, here are some of our smoothie recipes:
Click on the image below to see our latest, and delicious if I say so myself, green smoothie recipe!