Hi everyone! I hope you're school year is getting off to a good start. Unless you're year round homeschoolers, in which case I hope it's going well too! Today I have a fun giveaway for you all, it's from the Friends & Heroes Bible Curriculum. They wanted to do a fun promotion to kick off the year, and so today I have a free copy of their Homeschool Unit Study #1 for you!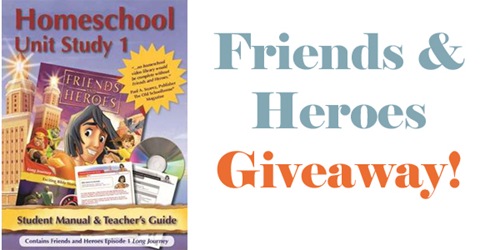 We've enjoyed the Friends and Heroes DVDs in the past and have used their unit study as well. Here are some of the things included in the curriculum.
Homeschool Unit Study 1 Includes:
Each DVD features two themed Bible stories (usually one Old and New Testament).
CD-ROM printables that can be used with multiple children.
Parent's/Teacher's Lesson Guide including answer keys and certificates of completion.
Student Workbook of activities
Friends and Heroes DVD containing a full length adventure episode.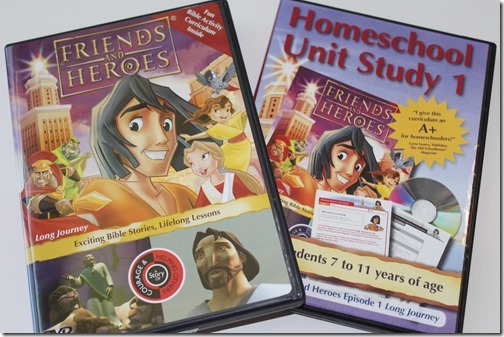 Each unit study contains a lesson pack with hands-on, fun worksheets to go along with the DVD. Students will watch a fun DVD lesson then complete the resources that accompany each unit. The units include topics such as history, geography, science (creation-based), creative writing, Bible study, crafts, and discipleship.
The friends and Heroes website also has a fun interactive children's area at www.friendsandheroes.tv that is loaded with video clips, games, Bible stories, historical background information for the series and downloadable worksheets too. And the best part is it is all FREE!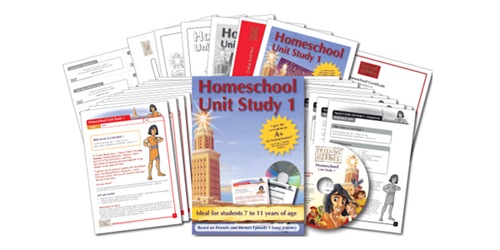 Want more information? You can check out my previous Friends & Heroes review here!
They also have a Friends & Heroes Summer Promotion going on through August 31, 2015 for anyone interested in grabbing some of their products now. You can save up to 20% so make sure to check it out!
Win It!
And since you all know how I love to give stuff away, I of course have a free copy of the Homeschool Unit Study #1 for you to help you in your homeschooling journey! Whoo hoo!
Ready to win? Just fill out the rafflecopter below!
Disclosure: Some of the links contained in this post are affiliate links. That means that I may receive a small contribution if you purchase any items through links on my site. That said, all opinions given on my website are mine and were not influenced by any free product received or by the company that was kind enough to send me cool stuff to review.