Bon jour! Welcome to our Expedition Earth week on France!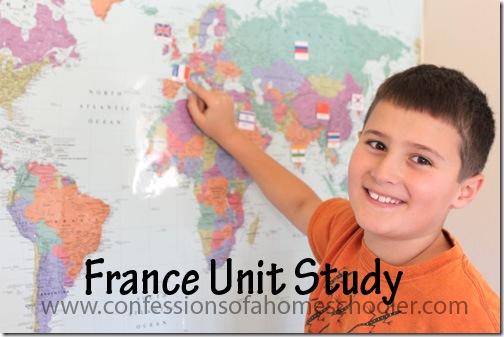 Here are some of the things we covered this week:
Located France on the map, and found the Bay of Biscay
How to say "Hello" in French – Bonjour!
Prayed for the French people
Learned a French Song
Completed a lapbook activity
Learned about and classified 6 animals of France
Learned about the Eiffel Tower and made a small scale replica of the Eiffel Tower using a 3D Puzzle we found.
Read: Geography from A-Z Pg 12 Cliff, Cave, Pg 40 Sea Cave/Arch
Learned about Children in France
Made homemade soap!
We started off our week by locating France on our wall map and we also added a laminated French flag as well to show that we've been there!
We also add our flag and entry date to our passport.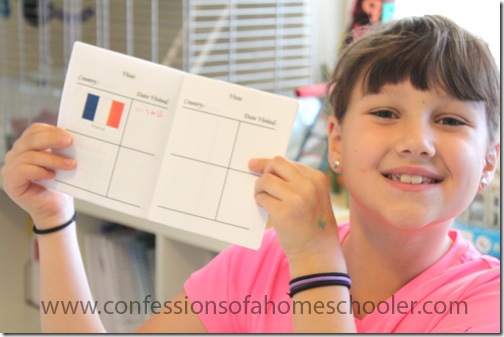 Next we learned a few facts about France, including it's capital city, language, currency, government, and major landmarks.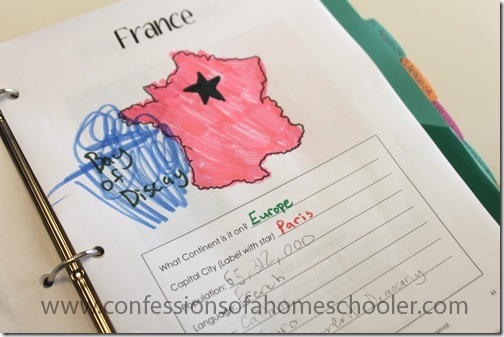 We learned all about the flag of France, and what the colors mean.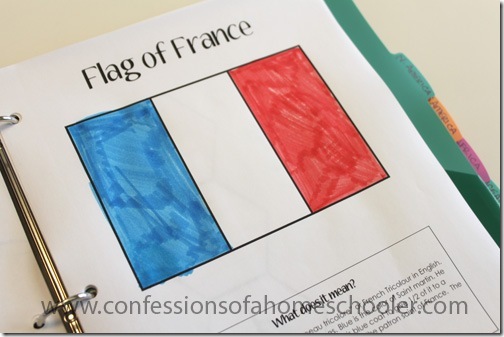 We learned how to greet one another in French…Bon jour!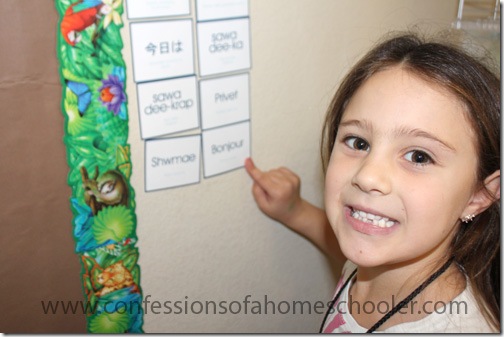 We also learned about the beautiful White Cliffs of Normandy, also known as the Alabaster Coast. This coast spans about 80 miles between Dieppe and Etretat in upper Normandy. It is known for its amazing cliffs and natural arches including the pointed needle you see in the photo below.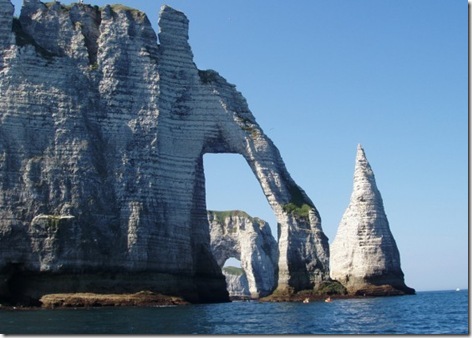 Photo credit: Christella/fotolia.com
I also pulled out a few pages from my French Daily Learning Notebook and we learned some of the basic terms.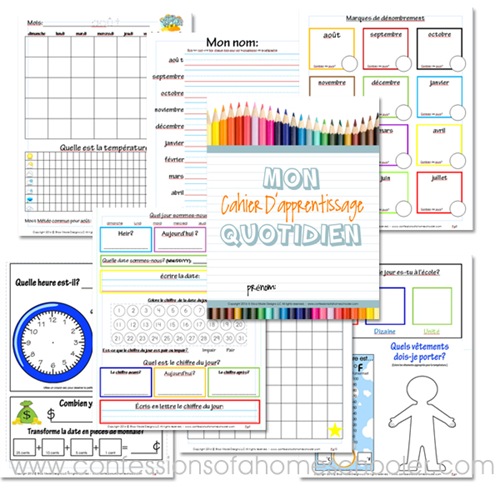 We also learned about some of the cool animals found in France and every picked their favorites.
We made a fun post card to send back to friends and family…I love Strawberry Shortcake's beret LOL!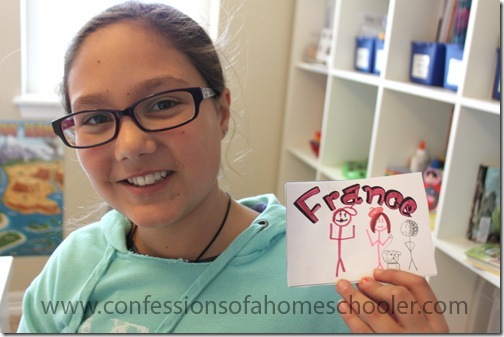 We also added our France mini-book into our world lapbook. Inside they all write their favorite fun fact as well as the basic France info like the capital city, currency, and language.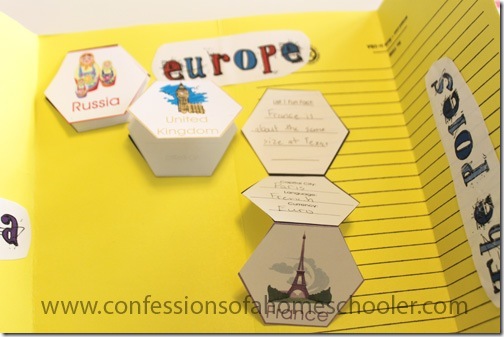 Did you know that it wasn't until a French scientist discovered how to make soap inexpensively that everyone began to buy it and use it? Me neither, don't you just love homeschooling! It gives me a chance to learn all that stuff I didn't pay attention to when I was a kid.
The French are famous for soap that is made into pretty fancy shapes scented with lovely fragrances. This craft was one of the easier one's we've done, so easy in fact that our soap may become Christmas presents for family!
Click here for directions on how to make your own homemade soap!
TBT 2010!
It wouldn't be a trip to France without the Eiffel Tower, so we took a fun virtual tour online then made our own replica using this fairly easy 3D Puzzle. Here's a post on how we created our Eiffel Tower model!
We had a cheese tasting day complete with French Soda!
And as usual we found a small French Cafe to close out our week. My husband told the kids they could have French water to drink and when it came they all were amazed that it tasted the same as US water! LOL! Oh he's awful!
Click here if you'd like to follow along with our Expedition Earth Geography Curriculum Journey!
Expedition Earth is a hands on world geography curriculum that covers 31 countries across the world. It is designed primarily for K-5th grade students. Students will learn the continents, oceans, people, cultures, animals, climates, try new foods, crafts and more, all through hands-on activities!