Hi everyone! I don't know about you, but I always get excited around the 20th of each month because I know that my Fat Quarter Shop Sew Sampler Box is on the way!
Today I'm showing you what all came in the September Sew Sampler Box. It's too late to get this exact box, but if you sign up before October 18th you can get the October box!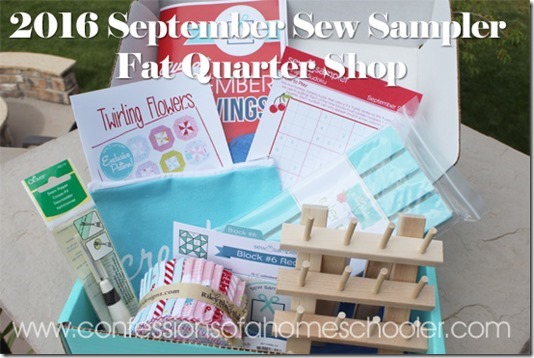 What is a Sew Sampler Box?
The Sew Sampler Box is a monthly subscription quilting box that delivers surprise goodies right to your door! It's $24.95/month and the boxes ship on the 20th of each month.
There are at least 5 specially chosen items which may include fabric, notions, patterns, thread, and anything else full of quilty goodness! You'll also receive a Block Recipe card each month with three size options. These can be put together for a super cute sampler quilt! You can see previous recipe cards here.
If you're new to sewing or quilting these are a great way to build up your stash of fabrics, patterns, and notions. Especially if you're unsure of what to get to start out. I've been sewing and quilting for about a year and a half now and I think the Sew Sampler boxes are really fun and have thus far been packed with super cute and helpful tools!
Let's take a look into the September 2016 Sew Sampler shall we?
I'm always amazed at how much fun stuff that Fat Quarter Shop stuffs into their Sew Sampler boxes!They also put in a product card along with a total box value each month so you can see what you're getting. I definitely think it's a great deal, and this month's box was worth $53.89!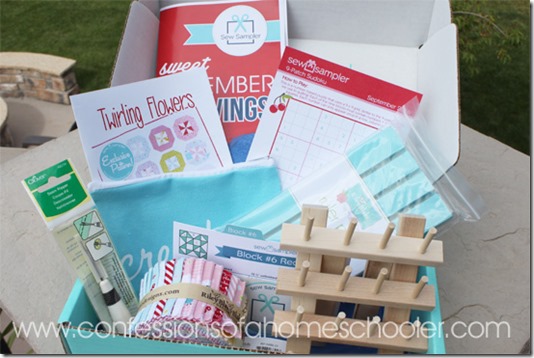 Notions:
This months box included some of my favorite notions! I've been thinking about getting one of the Clover White Seam Rippers for a while now and was super excited to see it included in my box this month! I have to say that I really like how it fits in my hand, and I love the rubber gripper which helps hold it better. It's also nice and sharp! The only thing I don't love is the plastic cover over the pointy end. I can see that getting ripped or lost quickly. But still love the seam ripper as a whole.
The next item had me so excited! It's a ruler pal from my friend Jodi at Pleasant Home etsy shop. Her products have recently been picked up by Riley Blake Designs which is super cool. She makes my favorite magnetic pin bowls, and the ruler pals are a great way to store your rulers!
And they even included another fun notion, it's this super cute spool holder. I have a larger version of this in my sewing room, but it's full, so I was excited to see this smaller version. It's a great way to store your thread so it's easily accessible! I think I'll use this one for all of my white thread. Yes, I have a lot of white thread LOL!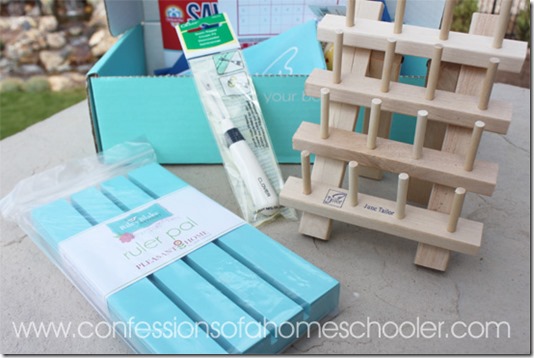 Fabric & Patterns:
Of course one of the most fun parts of the Sew Sampler boxes is the fabric right!? This month came with the Sweet Orchard Rolie Polie by Down Grapevine Lane for Riley Blake Designs. It's a fun floral and fruity collection with some basic stripes, dots, as well as text prints. In case you are new to quilting the Rolie Polies are 2.5" by WOF strips all rolled in to this cute little bundle. The hardest part about using up these cuties is opening them up!
There is also a super cute Fat Quarter Shop exclusive pattern included called Twirling Flowers. It's a really cute and easy pattern, great for beginners! And of course it's Rolie Polie friendly!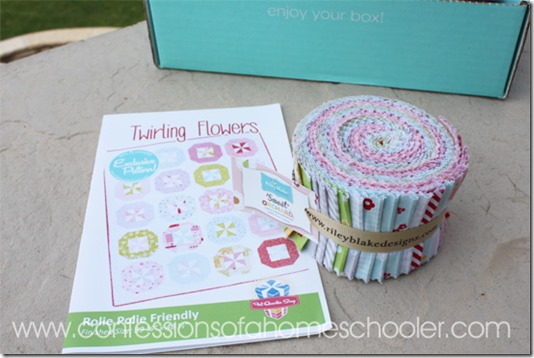 Bonus Items and Recipe Cards:
This month's box also included a super cute Create Zipper Bag as their bonus gift. Who can't use an extra zipper bag right!? It's made of canvas and just so happens to be one of my favorite colors.
They always include a coupon code for a special item, but this month's box has SIX coupons for all kinds of goodies. I'd show you the inside, but then I'd be giving away the coupon codes. So you'll just have to take my word for it that they're great codes!
And of course there is the recipe card for block number 6 included, along with a fun sticker and 9-patch Sudoku game just for fun!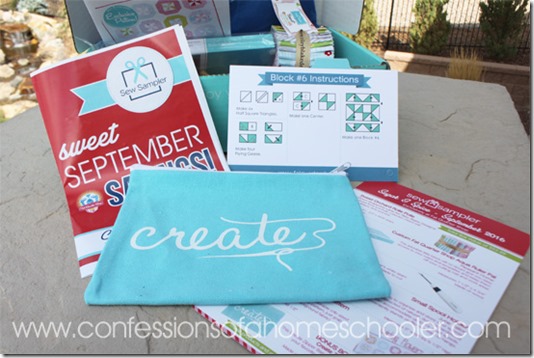 My Thoughts:
This is my 3rd Sew Sampler box and I have to say that I'm usually not that into monthly subscription boxes because you never know what you're going to get. But I've honestly really liked all of the items that I've received in the boxes and Fat Quarter Shop is very generous in what they put in them! I have not been disappointed in a box yet, and I definitely feel like I'm getting my money's worth!
Plus it's fun to get a little happy mail each month too!
Interested in signing up? Click the image below to sign up for your Sew Sampler box too!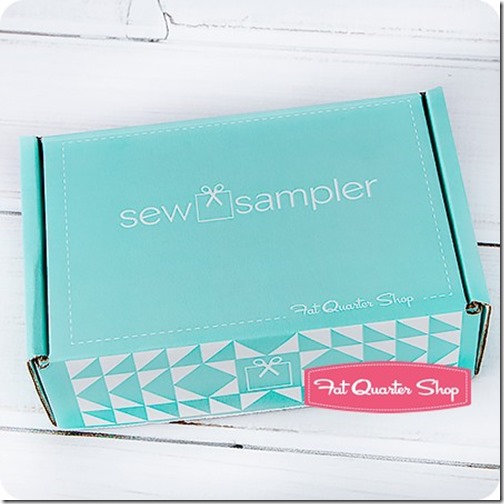 And don't forget to follow Fat Quarter Shop's social media to keep up with all of their fun projects!
Disclosure: I received this box free for review on my blog. The opinions expressed in my post are my own and were not influenced by the company or free product provided.