Hi friends! As most of you know we're trying out a new history curriculum this year. So today I'll be sharing our review of the Story of the World homeschool history curriculum. The Story of the World is a classical based curriculum written by Susan Wise Bauer. It is considered a read-aloud style curriculum meant to be used with elementary students and includes several hands-on projects and activities as well. You can also use it with grades 5-8 as an independent study as well.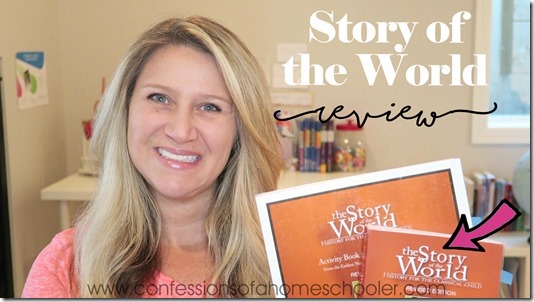 Watch my video review for the Story of the World history curriculum here:
Where to buy:
Of course you can purchase the Story of the World just about anywhere. I tend to buy online and used if possible. You'll want to get the student reading text (available in print or on kindle for less!) along with the accompanying activity book. This does include the student workbook pages as well. There are also audio versions available which are nice too!
Current versions available are:

Our thoughts:
So far we are really enjoying this curriculum. We're currently doing it as a read-a-loud since I'm using it with three of my kiddos. It would also be great as an independent study for older kids grades 5-8. Then you could just ask them the questions after they've read. Like I mention in the video with the ages of my kids, we're finding the student activity pack to be way too easy and so we skip it most days.
The curriculum is also full of fun projects as well. We do some here and there, but you definitely have to read ahead to make sure you have supplies on hand for any projects that you're interested in doing.
One of my favorite things about this curriculum is that if we're short on time we can just read the section for the day and call it good. It's definitely not an open and go program if you plan to do the accompanying projects, but if you just want to keep it simple you can just read through the text and do the review questions.
There aren't really any quizzes or tests that I've found, but they do have some great review flashcards in the back of the activity book that we use to review the main events/people that we're learning about.
For more curriculum reviews make sure to check out my Curriculum Reviews here!
If you have a certain curriculum you would like a review on please leave a comment below.
Happy Homeschooling

Disclosure: Some of the links above may be affiliate links which means I get a small percentage if you purchase through my link. Please know that any opinions expressed on my blog are my own and not influenced by the affiliate link in anyway. I only review and recommend products that we love and use! Thank you so much for helping support my blog in this way!