Hey guys! I have a new vlog up on YouTube! Today I'm taking you on a few fun adventures as well as unboxing the new treVolo S Wireless Bluetooth speaker and trying it out!
Check out my COAH Vlog: Horseback Riding & treVolo S Speaker Review here:
I've been looking for a good Bluetooth speaker for a little while now for my kitchen, and something to have in our homeschool room. We like to listen to music while doing school. So far I haven't been super happy with the ones I have tried. They either weren't loud enough, or if they did have good volume, they had a bit of distortion/static to them.
So I was happy to try out the treVolo S when they contacted me.
–>> I also have a special discount for my viewers as well, use coupon code: 10N61OR1 to get 10% off the treVolo S Wireless Bluetooth speaker (The coupon code will expire 6/12/18.)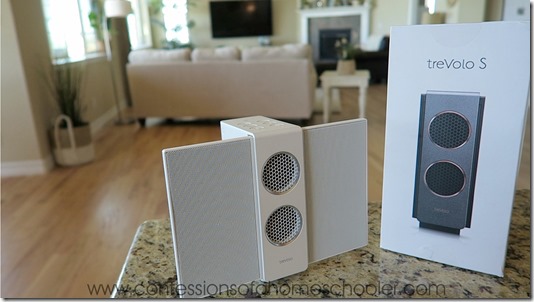 The treVolo S Wireless Bluetooth speaker is only about 6" high, 2.5" wide, and 3.5" deep so it's fairly compact in size. I really like that it can fold up to fit nicely into a bag if you're on the go. I also like the sleek look it has. It blends in nicely with my décor and is hardly noticeable unless the speaker flaps are out.
You can use it via Bluetooth wireless, or you can also hook it up via USB. The device also has a special 3D Stereo Mode specifically for watching movies and TV.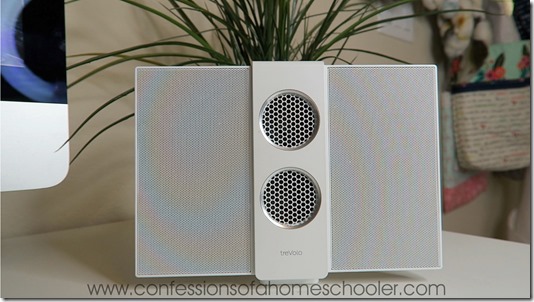 But looks don't really matter much if the sound is bad. Thankfully I was also quite impressed with the output as well. The sound comes out of the front and back of the flaps, and there are dual woofers and dual amplifiers to improve deeper tones. There is also an output on both sides of the main speaker body so that you get decent sound no matter which way it's facing.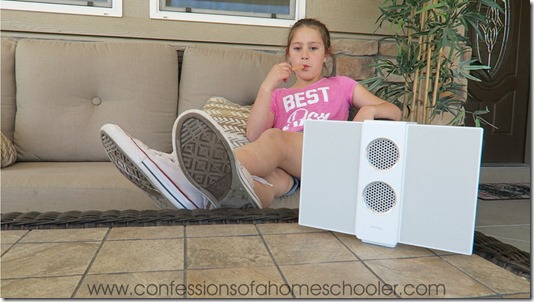 We took it outside to see how it would do in the open space and again I was pleasantly surprised. We put it on the front porch where there was quite a bit of noise and could still hear the tunes clearly.
I even went over to my neighbors house to talk to them and could still hear it quite clearly. I'm sure they're thrilled about that.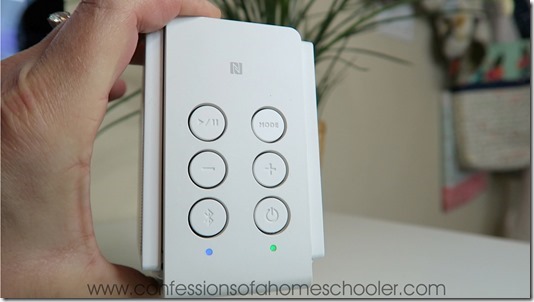 The buttons on top are very simple and easy to understand. And it was super easy to hook up to all of my devices. We basically had it up and running within minutes after unboxing.
I also felt like it did a pretty good job at providing a nice blend of richer bass sounds along with the higher tones without any distortion, even when turned all the way up.
I've also found that the battery lasts quite long. I charged it the first day we got it, and have moved it from the kitchen, to the school room, to my sewing room playing quite frequently. And it still hasn't run out of battery.
The website says it gives 18 hours of uninterrupted audio and while I haven't been great at keeping track of how long I've used it, like I said, I haven't had to recharge for a few days so I'm inclined to think they're accurate.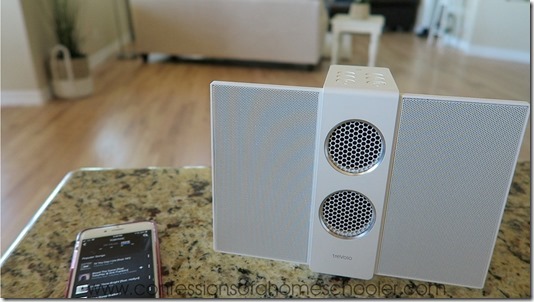 While I only have one speaker, you can also connect two of them for surround sound for parties and movie watching.
Overall I'm definitely pleased with this speaker and am excited to be able to use it both inside and outside. I think it will be great for summer BBQs, pool parties, and just relaxing with some nice tunes! We'll probably take it with us to the lake this summer as well!
If you'd like more info on the treVolo S Wireless Speaker click here!
–>> Don't forget to use coupon code: 10N61OR1 to get 10% off the treVolo S Wireless Bluetooth speaker (The coupon code will expire 6/12/18.)