Hi friends! It's springtime here in sunny Colorado and I'm super excited to be releasing my new quilt pattern that's perfect for this time of year!
It's called Vintage Spring and is so cute and cheery! I loved my Vintage Christmas trucks so much that I wanted to be able to enjoy them all year and so I added a little vintage spring to them!
–>>Psst! Giveaway at bottom of this post for the Quilt Pattern and Quilt Kit to make this quilt! YAY!!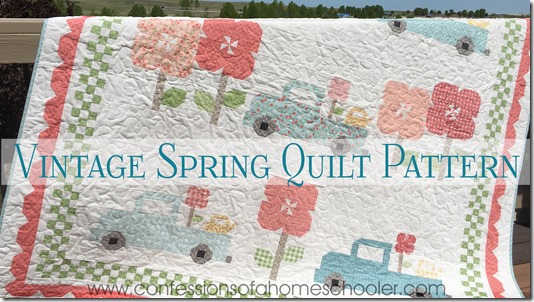 –>>Get the Vintage Spring Quilt Pattern here!
I used the Nest fabric line by LellaBoutique for Moda, but I think it would look wonderful in any fun spring colors you like!
I used a variety of FQs and F8s for the trucks and flowers so they look scrappy, and a little yardage for the background and borders.
Vintage Spring Quilt Kit! Keri at Catching Stitches is putting together a fun kit for this quilt for me! YAY! So if you'd like to get it already made up for you, make sure to head over to her Etsy shop!
Tell her I sent you and you'd love the Vintage Spring Quilt Kit!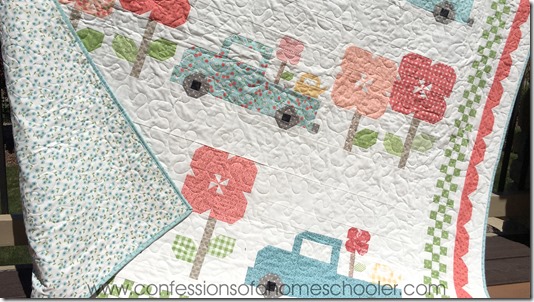 When I think of spring time, I think of lots of pretty flowers coming up after a long white winter! So I wanted to make sure to add some flower joy to this quilt, and I think these are so cute!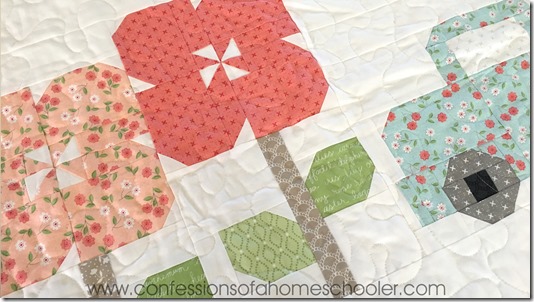 And what would flowers be without a few new ones coming home from the garden center and a cherry little watering can?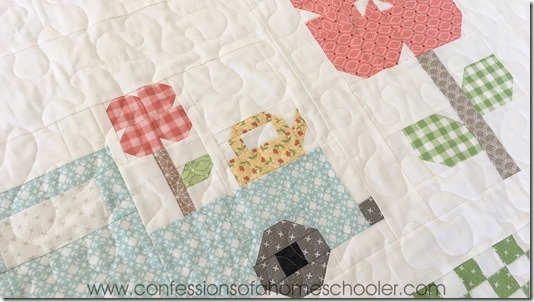 I also wanted to add some fun borders to this quilt so I chose a cute gingham and scallop border. Of course if you're not up for making your own gingham like in the pattern, you could always find a fun gingham print and save yourself some time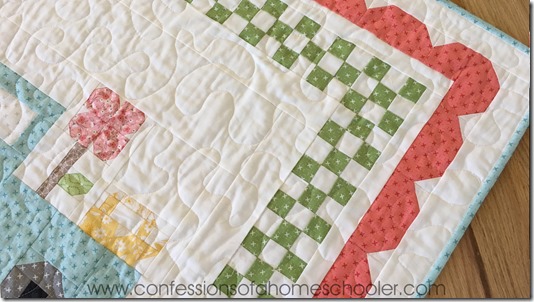 For the binding, I chose the light blue cross print from the Nest line. It's super sweet and compliments the green and pink border nicely.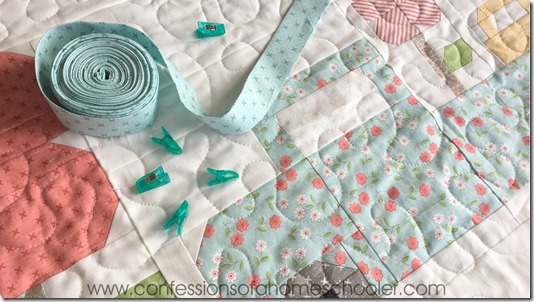 For the backing I chose this sweet white print with tiny blue flowers. It's so fun and cheery don't you think?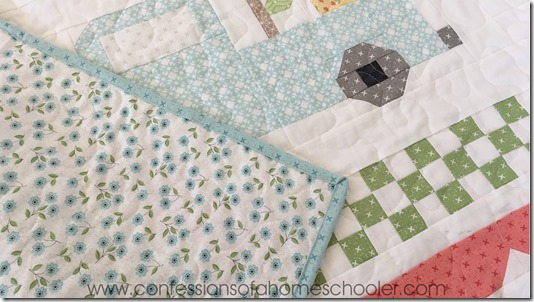 I love that it's the first thing I see when I come in the door! It's just so happy!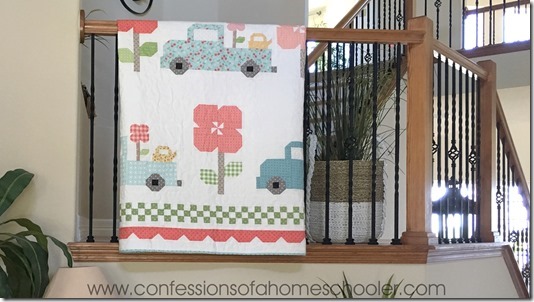 I absolutely love this quit! It's so happy and fun for spring time!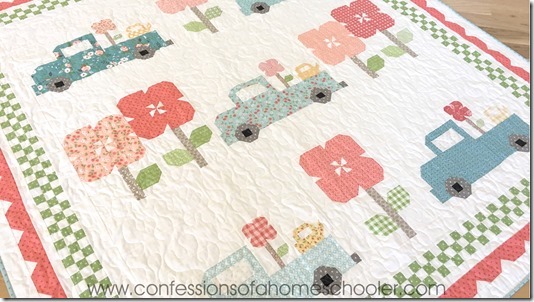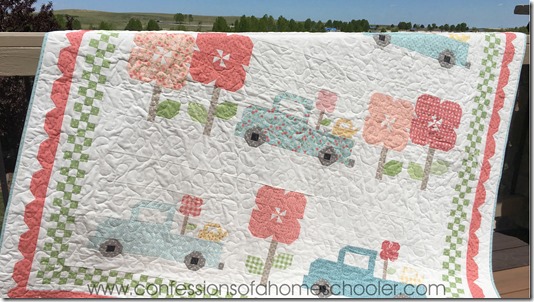 The finished quilt measures 73" x 76" so it's perfect for front porch lounging with a little afternoon iced tea!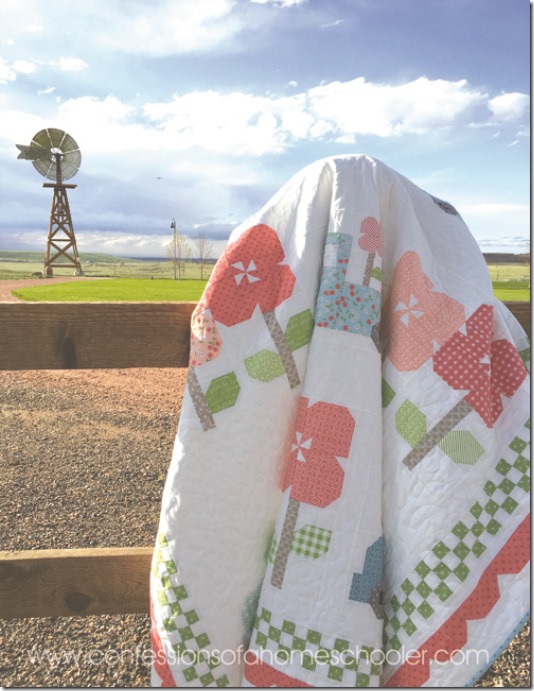 –>>Get the Vintage Spring Quilt Pattern here!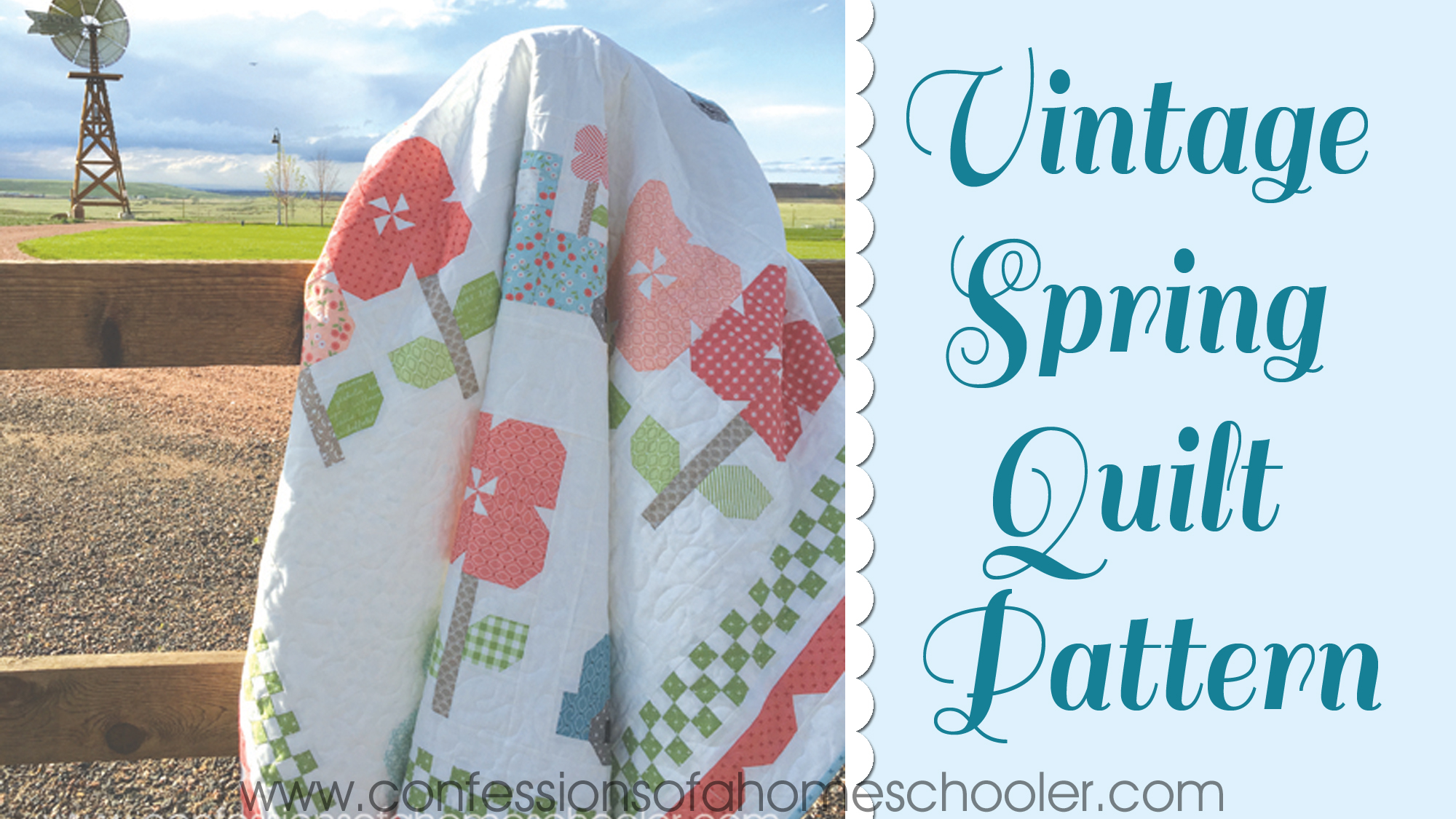 And yes…I do have plans for a Vintage Summer quilt pattern and Vintage Fall quilt pattern coming soon hopefully! So stay tuned!
Until then…I'll be relaxing on my porch watching, the kids play, enjoying the weather and snuggling with my cheery Vintage Spring quilt!
GIVEAWAY!!
I'm giving away one copy of my Vintage Spring PDF quilt pattern and a Quilt Kit to make this exact version thanks to Keri at Catching Stitches!
Enter to win below! US Only please.