One of my favorite things to do for encouragement is to attend homeschooling conferences and one of my favorite's is the Great Homeschool Conventions! All across the country, families can travel to attend one of their seven, huge regional conventions! Some moms gather friends and make it a fun, getaway weekend.

2019 – GHC Regional Homeschool Convention Dates:
TEXAS Homeschool Convention, Fort Worth Convention Center, Fort Worth, TX – March 7-9, 2019
SOUTHEAST Homeschool Convention, TD Convention Center, Greenville, SC, March 21-23, 2019
MISSOURI Homeschool Convention, St. Charles Convention Center, St. Charles, MO, March 28 – 30, 2019
MIDWEST Homeschool Convention, Duke Energy Convention Center, Cincinnati, OH, April 25-27, 2019
CALIFORNIA Homeschool Convention, Ontario Convention Center, Ontario, CA, June 13 -1 5, 2019
NEW YORK Homeschool Convention, Joseph A. Floreano Rochester Riverside Conv. Center, Rochester, NY, August 1 – 3, 2019
FLORIDA Homeschool Convention, The Prime F. Osborn III Convention Center, Jacksonville, FL, August 8 -10, 2019
In today's world many families are looking to home educate for a variety of reasons. Attending a GHC conference is a great way to encourage, equip and educate your family in all seasons of your homeschooling journey.
Why do I like GHC?
Great Homeschool Conventions structures a fantastic speaker roster. Many speakers come from years of personal homeschooling experience. Check their website to see the speakers for this year!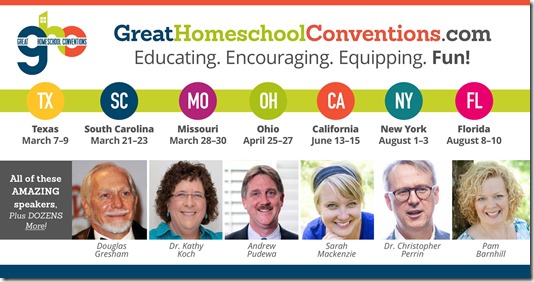 Dozens of speakers covering more than 230 speaking sessions are offered for each event! The variety of topics covered is incredible, from how to different ages at the same time to how to homeschool a gifted or special needs child.
Fun Happenings!
Great Homeschool Conventions has some fun events happening. Check out Rabbit Room on the Road! Christian authors, Andrew Peterson and associates are hosting a panel get-together for a fun and interactive discussion of the love of writing and how to integrate that into your children's everyday education.
Special Track Sessions Focused on Homeschooling Trouble Spots
Specially-focused tracks presented by true experts in their fields will address homeschooling trouble spots. Homeschooling isn't easy. Parenting can be harder. Behavioral issues in the home, strong-willed children, and disrespect for parental guidance can make homeschooling a terrible experience for both parents and children to the point of giving up. Great encouragement and parenting tips can be found by attending their Parenting Track.
Special needs topics are addressed in the Special Needs / Gifted Track. How do you teach a child effectively with ADD, ADHD, Asperger's, or Dyslexia? Find answers by attending this awesome track which will leave you uplifted and with a new appreciation for your child's challenge.
Shopping their huge exhibit hall gives you the opportunity to seek and find curriculum that best fits your children's learning styles. Meet many of the authors of popular curricula and engage in conversation to find out how their curriculum can help you reach your child's full potential. I also love a chance to get a hands-on look at homeschooling resources. LOTS of exhibitors have already signed up!
Anyway, I hope you get a chance to attend one of these conferences near you, I think you'll find them encouraging to your homeschooling journey!
Stop by Great Homeschool Conventions for more info!