Hi friends! It's time for the November Monthly Meal Plan! It actually snowed today, so I'm starting to feel all of those winter vibes which means it's time for warm and yummy comfort food!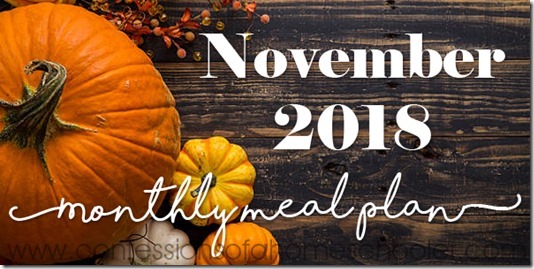 So let's see what we have in store for November shall we? If you've never downloaded them, my monthly meal plans include breakfast, lunch, dinner and snack ideas for every day in the month!
Download the November 2018 Monthly Meal Plan below:
NEW LUNCH IDEAS!!
Speaking of which, I've been sharing our daily lunch ideas on my Instagram, and I'll have them up on YouTube soon as well! So make sure to subscribe there if you want to have some more fun kid friendly lunch ideas!
–>> For more fun recipes, visit my Recipes Page! If you haven't already used this before, you can click on any of the underlined menu items to get to the recipe. I like to shop once a week, so I just make a list off of my menu plan and head to the store. I find that I spend less when I shop off of a list, then flying by the seat of my pants. I also end up with ingredients that will actually go together instead of a bunch of random items that don't amount to anything.
Also, feel free to modify these menus to fit your needs, if you know you'll have leftovers, than maybe skip one or two of the meals. It'll save you time and money!
Busy Mom's Guide to Home-cooked Meals
Do you wish there was something that included monthly meal plans, recipes, grocery shopping lists, as well as a customizable meal plan to fit your families needs? Look no further! Check out my Busy Mom's Guide to Home-cooked Meals! Details: This book is available as an 8.5×11 PDF download that you can print and have spiral bound. As well as a Paperback full color hard copy on Amazon. This book has 99 pages. I suggest printing in color, then spiral binding it at a local office supply store.
Click below to get your copy today!