Hi everyone! It's January and no one here wants to go back to school! That means it's time for my annual January Homeschool Blahs post! Honestly I do this annually now, not only to motivate me, but hopefully also motivate some of you as well!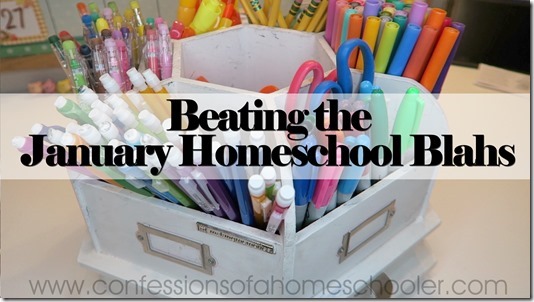 I figured if we're having a hard time getting back into the swing of things some of you might be as well,  so if you are, don't worry friends, you are NOT alone! We've been homeschooling for about 11 years now, and honestly the new year is always kind of a let down after the fun holiday break. Everyone is tired, and no one really wants to do school, including me!
So today I'm sharing our tips on getting back into the homeschooling groove after the holidays.
Check out my Beating the January Homeschool Blahs video below for some helpful tips and tricks to get your students motivated to get back into learning!
Click here if you'd like to see more ideas for beating the January Homeschool Blahs!!