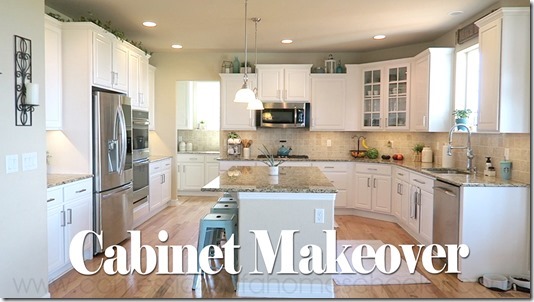 Hi everyone! I know this video has been a long time coming, but I finally had time to sit down and edit our Kitchen Cabinet Makeover! We updated our flooring to all hardwoods last year which was amazing.
Then at the beginning of this year my brother-in-law came and painted our kitchen cabinets for us! Little did he know, we'd end up repainting ALL of the cabinets in our house. He ended up doing our laundry room, all of the bathrooms, our butlers pantry, and the kitchen!
He did a great job and I'm so happy with how it all turned out. It has really brightened up our kitchen quite a bit and it definitely goes with the rest of our home much better now.
Check out our Kitchen Cabinet Makeover video here to see the transformation!
For those of you curious about details…
Paint: Sherwin Williams Bright White (This matched our trim the best so we just went with it.)
Method: He removed all of the doors and hardware, then taped the rest of the cabinets. He then sanded everything down and sprayed on primer first. Then he did two layers of paint, then a layer of a satin/low gloss clear coat for durability and to make cleaning them easier. So far they've been very easy to wipe off and keep clean! I'm happy we decided to spray them, the finish is super smooth and looks great!
Blue Bar Stools
Drawer Knobs
Drawer Pulls
LG Refrigerator
Kohler Faucet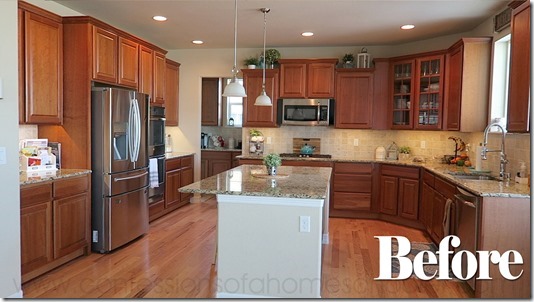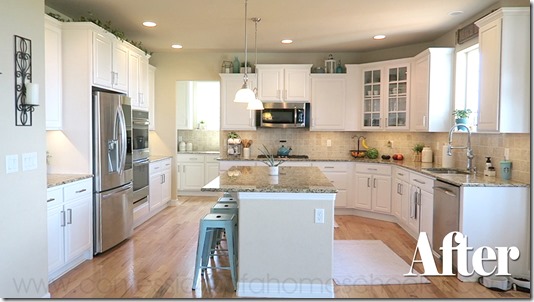 And that's it! I hope you enjoyed our kitchen cabinet makeover!