Hi everyone! Back by popular demand is my What's in the Box Wednesday! I've had a few emails asking what happened to this series, and so I thought I'd share another sample of a day of work in the Confessions house:
Today I'm sharing Strawberry Shortcake's workboxes…in case you've just found my blog, she's in 3rd Grade this year: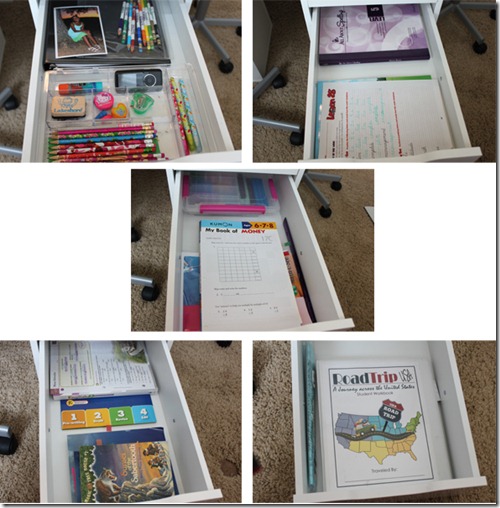 Drawer 1:
Bible: Grapevine Studies, and her pencil bag full of special colored pencils for our Bible study. She also has a supply tray with girlie pens and pencils, sharpeners, erasers, glue, a fake ipod? …and a picture of her penpal, Kayla who she would love to meet some day!
Drawer 2:
Phonics/Spelling: All About Spelling workbook, and usually a dry-erase marker and whiteboard. Also in this drawer is A Reason For Handwriting.
Drawer 3:
Math: Math U See Gamma, her math blocks, and a Kumon Dollars & Cents and Kumon Telling Time book. Along with her math worksheet, I have her do one worksheet from each Kumon book.
Drawer 4:
English/Grammar/Reading: BJU Press Level 3, Writing: Write Shop Primary, and her current reading book. Normally we do the standard BJU reading book, but every now and then I'll let her pick a 'fun' book to do. Right now she's reading Mr. Popper's Penguins, a Magic Treehouse book "Sunset of the Sabertooth".
Drawer 5:
Geography/History: In here is her Road Trip USA binder which includes everything she needs for the year. We do this in the afternoon usually as a group, so I just have everyone pull out their binders and turn to whatever state page we're on for the day.
Not included in his workboxes: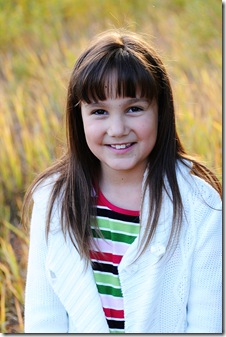 Once Strawberry Shortcake is done with her work, she's free to go play. It's usually time for lunch then we do Time for Fitness PE as kind of a recess/break for them since its so fun! Then we come back inside for Road Trip USA and art or science depending on the day.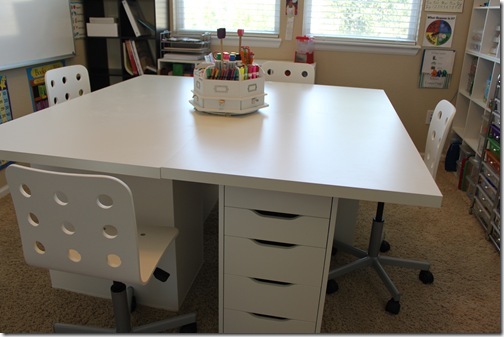 If you're wondering why I only have 5 drawers right now its because my kiddos have talked me into letting them use the Ikea drawers instead of my JoAnn's 10 drawer carts this year. I honestly prefer the JoAnn's drawers just because with the Ikea ones I have to put two subjects in a couple drawers, but sometimes a little change is good, and it seemed to make them happy. I still have the other carts, and maybe we'll put them back in action next year for a little update.
Haven't heard of the workbox system yet?
Make sure to visit my post to see how to make workboxes work for your homeschool.
Have some workboxes to share?
Make sure to link up below and share your ideas!