Hello friends!
Today we're doing another quilt trunk show, this time I'm showing all of my own quilt patterns! I have so many fun quilts to share, so grab a cup of tea and join me for my 2022 Erica's Quilt Trunk Show Pt. 1! I have a lot of quilts to share, so I've broken the trunk show up into two parts, so stay tuned for part 2 next week!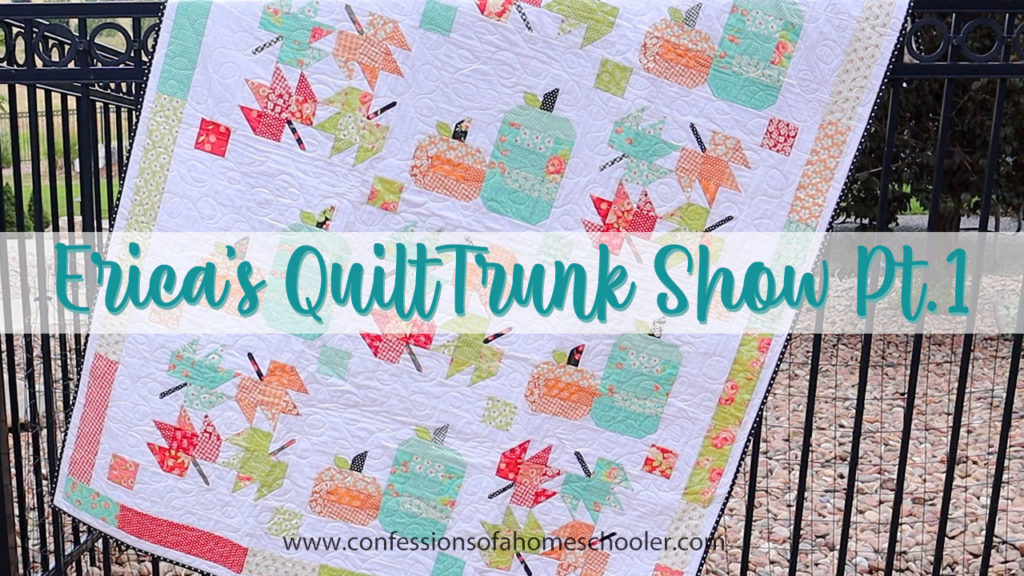 Even though this video didn't end the way I expected, watch until the end to see why, it was so fun to go through all of the quilt patterns I have released over the years! I hope you all enjoy them as much as I have!
Watch Erica's Beginner Friendly Quilt Patterns Pt. 1 here!
All patterns are available in MY STORE, search for the pattern name when you get there!

***BUNDLES***
Vintage QUILTY Truck of the Month
Vintage STITCHY Truck of the Month
***SPRING***
New Chicks
Sweet Hearts
Sweet Pea
Vintage Spring
***PATRIOTIC***
Vintage Glory
Freedom
Valor (You can learn more at quilts of valor at https://www.qovf.org)
Stars and Stripes
Jellyroll Jam FQ Friendly
Jellyroll Jam Jellyroll Friendly
***SUMMER***
Cherberry
Vintage Summer
Garden Party
TradeWinds (Curved piecing tutorial:
Happy Granny
***FALL***
Vintage Fall
Farmhouse Fall
Cozy Cabin