Hello friends!
Today we're doing another quilt trunk show, this time I'm showing all of my own quilt patterns! I have so many fun quilts to share, so grab a cup of tea and join me for my 2022 Erica's Quilt Trunk Show Pt. 2! This is Part 2 of my Quilty Trunk Show, make sure to watch Erica's Trunk Show Part 1 here!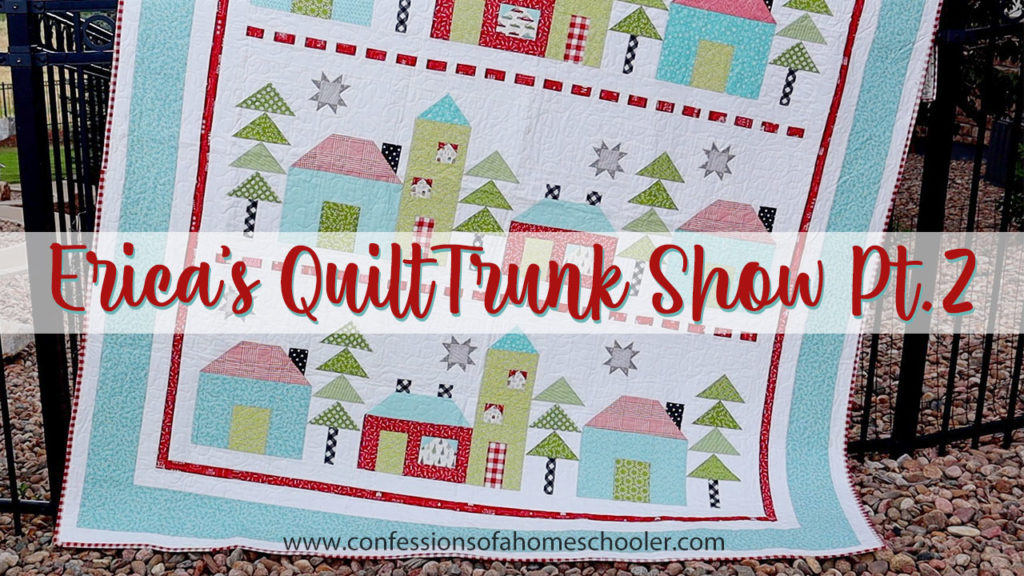 Even though this video didn't end the way I expected, watch until the end to see why, it was so fun to go through all of the quilt patterns I have released over the years! I hope you all enjoy them as much as I have!
Watch Erica's Quilt Trunk Show Pt. 2 (Christmas version) here!
All patterns are available in MY STORE, search for the pattern name when you get there!

CHRISTMAS QUILTS
12 Days of Quilty Ornaments
12 Days of Stitchy Ornaments
Christmasville
Merry Noel
Peppermint Pines
Snowy Day
Vintage Christmas
Vintage Christmas 2
Winterberry
CHRISTMAS SMALL PROJECTS
Christmas Cheer Stockings
Patchwork Pillow
Christmasville Runner
Christmasville Tree Skirt
JOY Pillow
Vintage Christmas Truck Pillow
Vintage Pines Pillow
Wonderland Advent
Wonderland Pot Holders