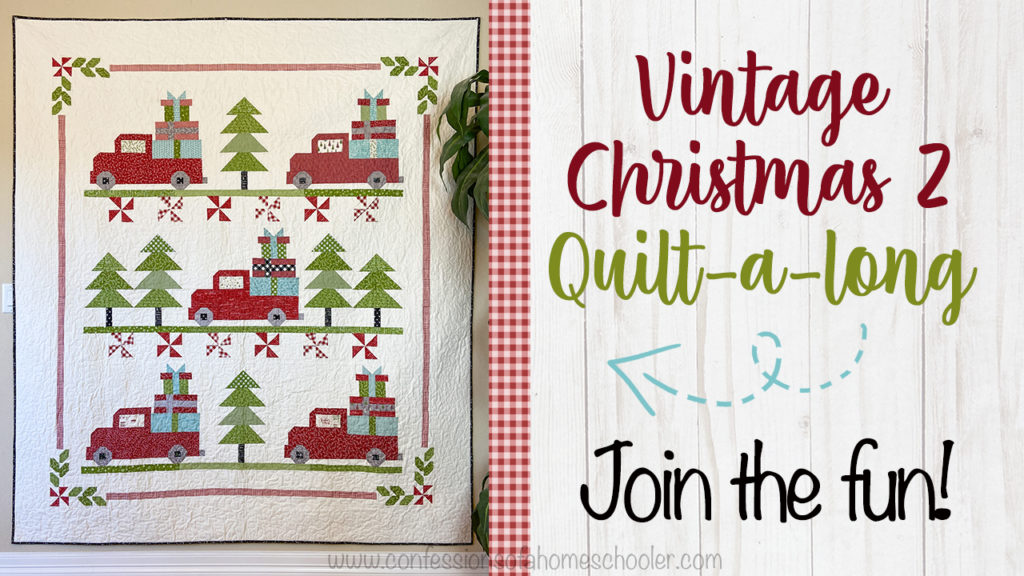 Welcome to Week 5 of our Vintage Christmas 2 quilt-a-long!
This is our last week, and I hope you have all had sew much fun! Don't worry if you got behind, this is all just for fun, and you can go at your own pace! Make sure to share your progress pictures using #vintagechristmas2qal so we can all see your work!
I'll be posting my progress regularly on Instagram and Facebook so make sure to follow along with me there. And I'll share little tips as we go in my IG and FB stories, so make sure to check each day for updates!
Week 5 Schedule:
Monday- Tuesday: Assemble Quilt Center and Borders
Wednesday: Prepare your backing, and Baste your quilt top!
Thursday-Friday: Quilt your quilt top. Don't be afraid, to do this step on your own! I have had so much fun quilting my own projects, and knowing I made it from star to finish is so gratifying! I have video tutorials for free motion and straight line quilting, so I encourage you to give it a try!!
Saturday: Bind your quilt, and don't forget to add a label after all of your hard work! Need help binding? Check out my video tutorial below!
Tip: Give yourself a little grace to not be perfect! I love the handmade aspect of quilting, and if I messed up along the way, I just consider it part of the process when learning something new, it's the journey that's important. And hey, done is better than perfect any day!
And that's it friends! I'm so glad you've all joined me for this fun quilt-a-long, I hope you have enjoyed it, and I can't wait to see pictures of your finished quilts!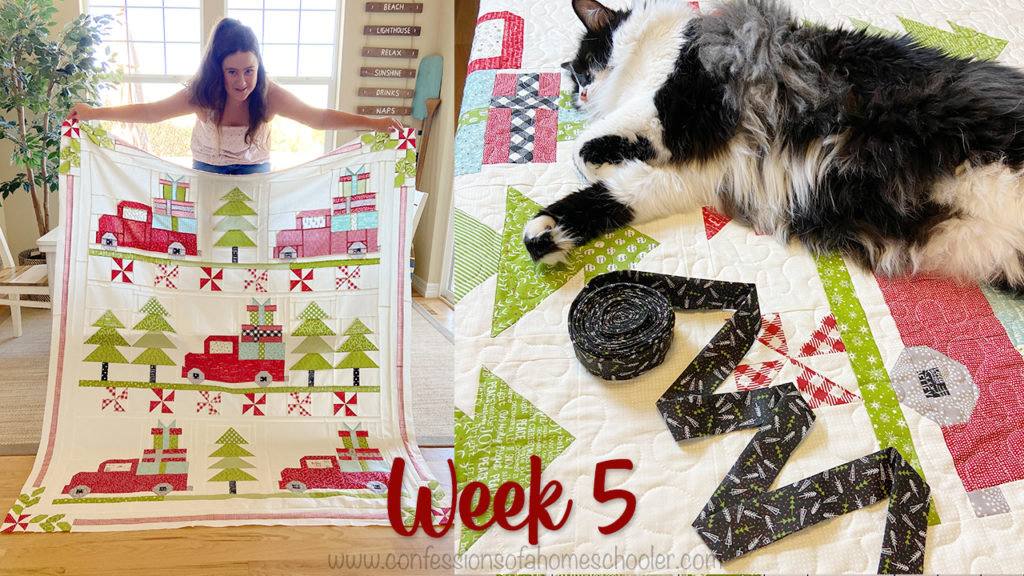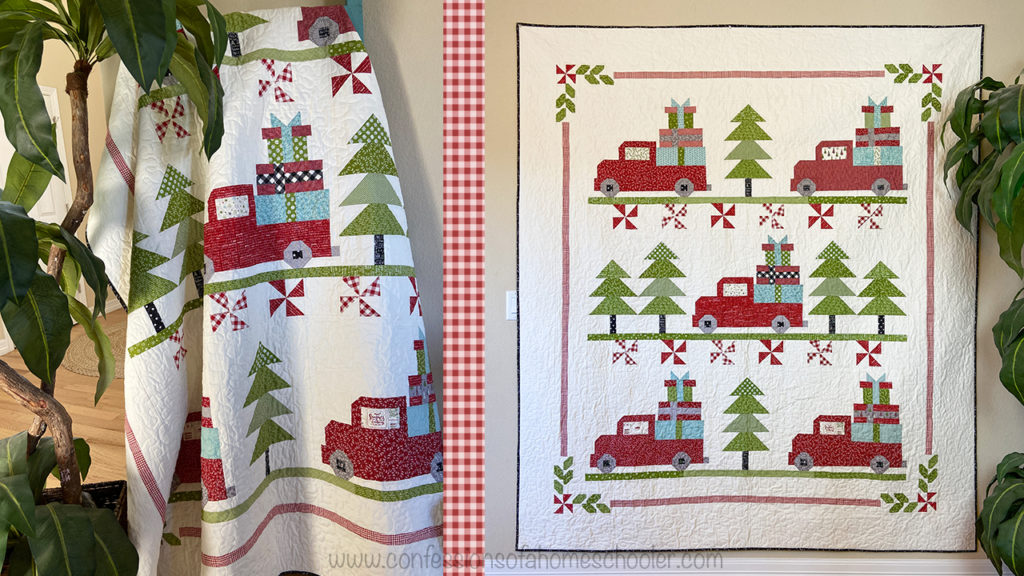 Quilt-a-Long Schedule:
November 1: Tree Blocks
November 8: Truck Blocks
November 15: Pinwheels and Holly
November 22: Sashing and borders
November 29: Assemble Top, Baste, Quilt, & Bind!
Supplies:
You will need:
4-1/2 yards – white (background)
Red (Trucks): 8 FQs or 2 yards red
Grey: 1 FQ or 1/4 yard
Black: 1 F8 or 1/8 yard
Low Vol. (window): 1 F8 or 1/8 yard
Green: 6 FQs or 1-1/2 yards
Aqua: 2 F8s or 1/4 yard
Red (Border): 1/4 yard
Binding (Black): 3/4 yard
Backing/Batting: 5-1/2 yards
Finished Size: 74″ x 83″
Fabric used: I used a mix of Sweetwater Christmas Prints for Moda, their new line, Red Barn Christmas, is perfect for this project!
Pattern Level: Beginner-Intermediate
This entire quilt is traditionally pieced! It does have several pieces, so I think it's a beginner-intermediate level pattern. However, the pattern does include step-by-step graphic illustrations and written instructions, and you're welcome to email me if you have any questions at all!
So I say if you like it, go for it!
To join in, just follow me on Instagram and Facebook and post any progress pics using #vintagechristmas2qal