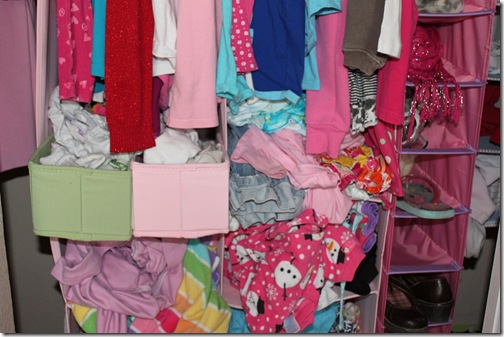 In the words of the Teeny Tot "Oh my goodness!" For those of you who know me by now, you know that I'm so NOT A CLUTTER person.
For those of you who don't know me…I'm not a clutter person.
Clutter and homeschooling seems to go hand in hand, and apparently girls and clothes clutter also go hand in hand.
Just not my hand.
Because I'm not a clutter person.
So when I walked into my girls room and saw this mess…"OH MY GOODNESS!" Something had to be done. And fast. Like right now.
So the first thing we did was remove anything that didn't fit anymore. Since there are 3 little girlies in this house the old clothes usually get stored in a Rubbermaid bin for the next lucky girl: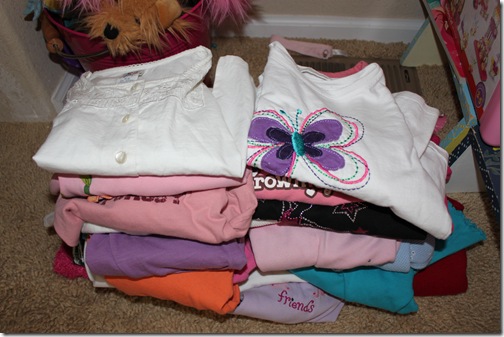 Then we removed all those pesky shoes that lost their match, along with clothing that was damaged beyond repair and not fit for the next lucky girl.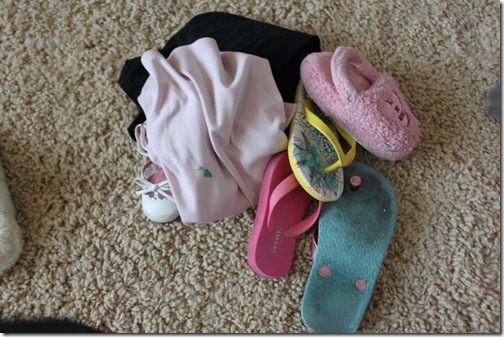 Finally, and this is a pet-peeve of mine, we got rid of all those hangers. Those stray-non-matching-hangers. You know the one's, the kind you get to take home from the store, that don't match the size of any of the other hangers, that have those "handy tabs" on top that actually rip holes in the clothes when little girls pull them off the hangers. The ones you find all over the floor, half hooked, hanging off, stuck in the laundry. I hate those pesky hangers! It's okay…just let them go. You'll thank me.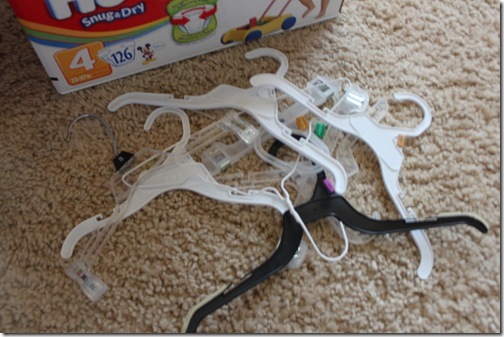 Next, we re-folded clothes, grabbed a few canvas closet totes for socks and undergarments, and sorted hanging clothes by t-shirts and dresses (we got all these organizers at Babies R US). And this my clutter-despising friends is the result: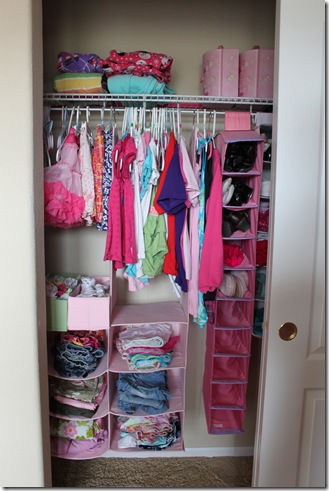 Be still my heart.
Here it is again, the beast….and the beauty.
Before……………………………………………………….After
I applied this same cleanout to the other side of this closet where Tinker Bell lives and voila:
Before horror……………………………………………After Bliss
There now, isn't that so much better? Now…no one gets to wear anything but what they've got on their bodies. I'm going to put plexi-glass up on the closet so you can look but not touch ;o) I'm kidding. Kind of.
Happy Organizing!