Welcome to another day with the Teeny Tot ! If you missed it, click here to read last weeks post on keeping your toddler busy during school time. In all honesty, I can't say I have all the answers for you. Frankly I've been amazed at how much interest in school The Teeny Tot has had this year! Last year she was always into things, creating messes and general chaos all through the day, but this year she wants to be included. She wants to do her own school, so I'm just going with it.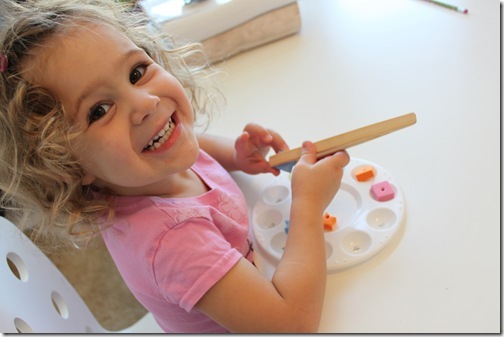 Before reading further, I like to make it clear that I'm not a slave driver, and I'm not SO into academic achievement that I REQUIRE my Teeny Tot to do these activities but rather SHE asks for them. And I honestly believe that the main reason for her interest is due to her older siblings school time. When my oldest was 2.5 we hadn't even started doing any type of school at all, but since we're all doing school together these days, the Teeny Tot is simply included in our day.
Please, whatever you do, do NOT feel inadequate in your own endeavors with your toddler! Especially if they are your oldest child! I really think the whole trend towards Tot School is a debatable topic, and while I do see progress in my toddler, I in no way feel it is necessary for a 2 year old to be doing these activities. At this age, let your child be your guide, if they're showing interest then foster that, if not, then let them just play and have fun! Okay, off my soap box and onto a bunch of activities that can help keep your toddler occupied during school time! If they're so inclined that is… ;o)
If you've been following her, you know that The Teeny Tot has her own set of workboxes, just like the big kids. I put random activities in them so she can choose something fun to do on her own.
Here are some of her boxes for the day: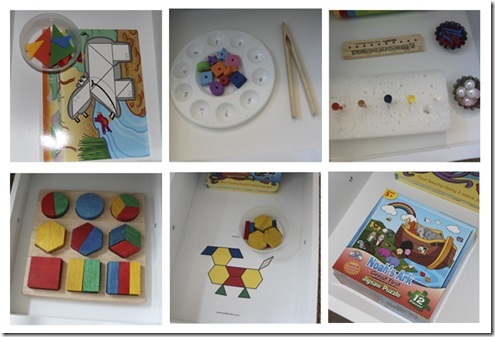 (Tangram Cards, Transferring tray, Styrafoam with Golf Tees and Marbles, Guidecraft Fractions Board, Pattern Blocks, Alphabet Alley Noah's Ark Puzzle)
This activity was a huge hit. I just grabbed a block of styrafoam from some packing we had laying around and gave her golf tees. I instructed her to push the tees into the styrafoam. I had to help her out to straighten them. Then I had her balance the marbles on the tees. It's great for hand eye coordination, plus its fun!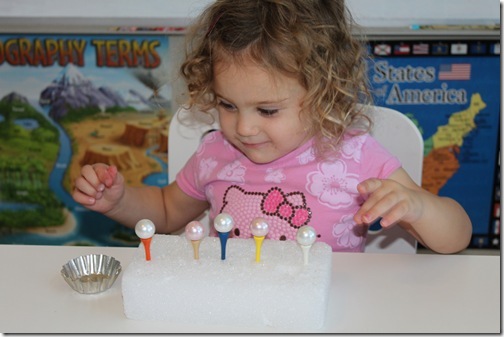 One of her favorite boxes is a cutting activity. It is great for fine-motor skills and dexterity. I simply draw some black lines on a piece of colored construction paper then let her have at it.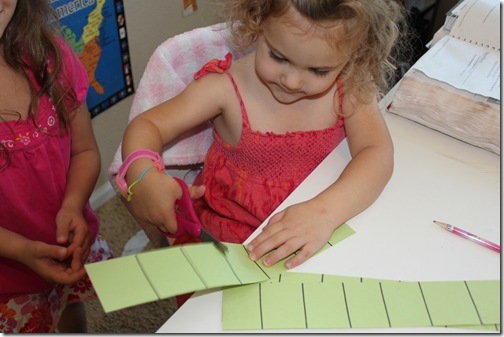 Colorful Link-N-Learn Links are another favorite. She loves to sit and link up the chains, another great motor-skill activity. If I have time, I'll guide her a little by saying "put a blue one on next, now add a red one, how about a green one next, let's add a yellow one…" etc.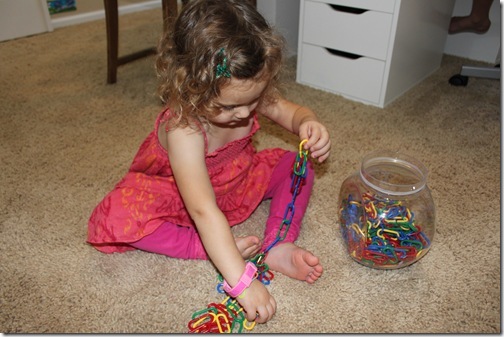 I found these Solid Wood Teaser games at Michael's craft store in their dollar bin. While the games have actual rules, the Teeny Tot just uses them to practice putting tee's into the little holes. Good for one-to-one correspondence and coordination.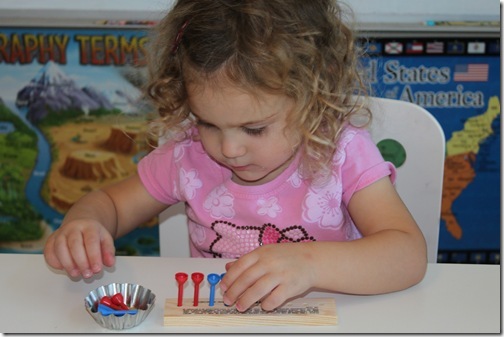 The transferring activities are another favorite. I found some bamboo toast tongs at Bed, Bath and Beyond and knew they would be great for this activity! Below she is using some foam lacing beads and a painters palette from Michael's. I had all the beads in the center then instructed her to place one bead in each paint hole. Once she did that, I had her put them back into the center.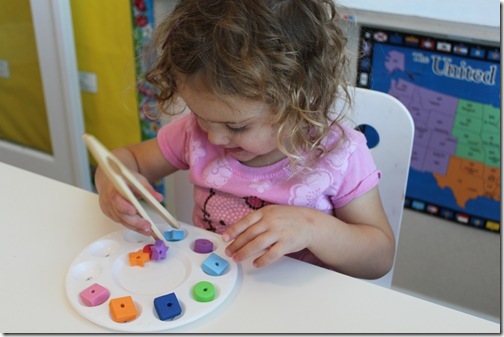 I wasn't sure how this would go, but I gave her one of our Tangram activity cards from Lakeshore Learning. This activity was a little too hard for her, but I helped her get the pieces, and I figure with some practice she'll start to figure it out.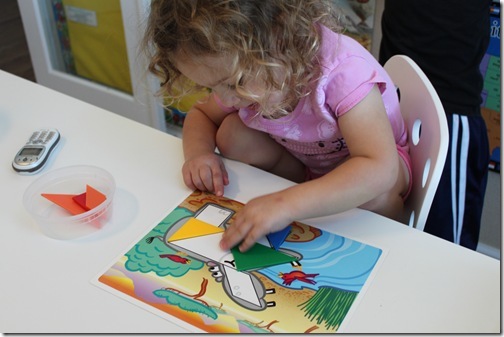 We used these fun Beads & Lacing Cards by Learning Resources. The set came with pattern cards that you can copy, but I don't think she's quite ready, maybe I'll give it a shot and see! She did do a great job lacing several beads before giving up on the activity. And looking at the picture, I guess she was having a good time!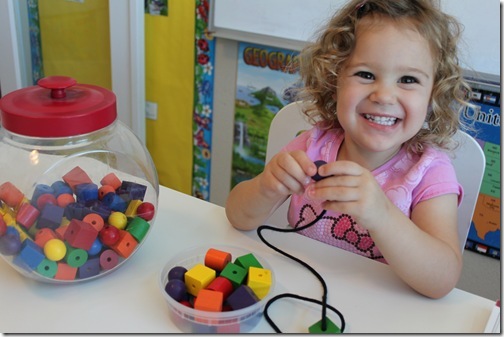 The Teeny Tot does at least one worksheet per day, sometimes more depending on how much she's scribbling that day. Since she sees the other kids doing worksheets, she insists on having some of her own. I gave her an old preschool activity book to use, and so she pulls it out and typically colors over the pictures until the page is covered.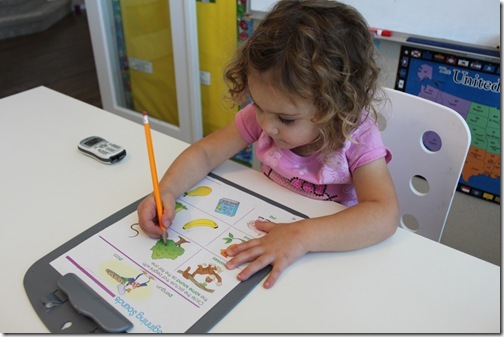 After a long day of work she usually grabs her favorite blankie and chills in our new AHH Products bean bag chair.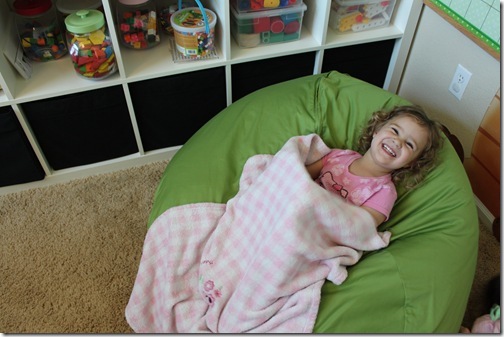 That's it for the Teeny Tot today, time for her nap…and time for me to come up with something new and exciting to put in her boxes for tomorrow!