Welcome to Teeny Tot Tuesday! This week I wasn't as organized as I like to be, so I was grabbing at things kind of randomly this week. The Teeny Tot didn't seem to care as long as it looked fun she was game.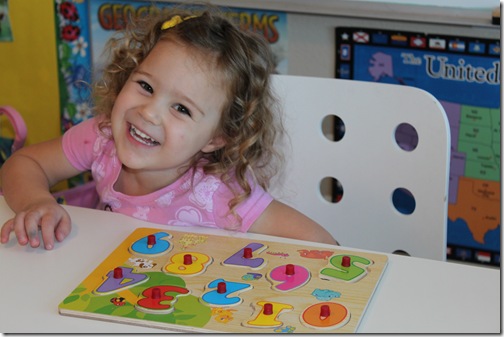 This is a wooden number puzzle I purchased from Target a few years back. I couldn't find the exact link for you, but found one similar on Amazon.
Whenever possible we let her participate in our group activities. Here she is adding the state bird to our Road Trip USA animal wall.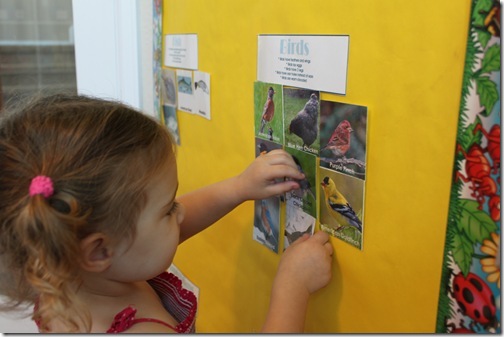 Rush Hour Jr.: The Teeny Tot pulled this game out herself. Although she doesn't exactly play it by the rules, she loves to figure out how to get all the cars on the board. I figure it's like a 3-D puzzle for her right now, some day she'll learn that it has another purpose!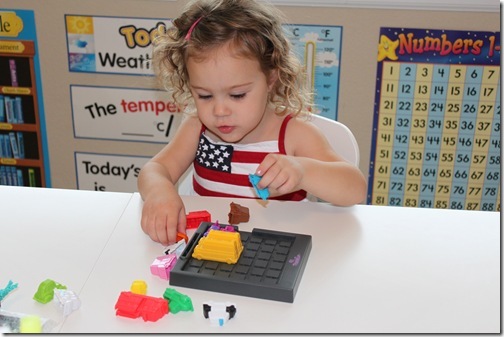 Small Spaces: This game is an oldie, but a goodie! I used an empty plastic toddler snack jar and punched holes in the top with my hole punch. Then handed her a handful of counting straws and let her put the straws into the holes. It's great for motor-skills and dexterity.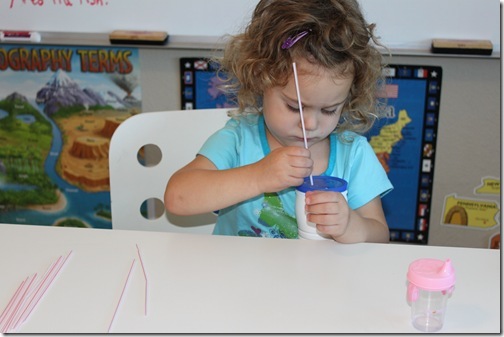 She loves to do "handwriting" like the big kids, so I pulled out one of my Letter A Pre-writing pages for her to work on. As you can see she kind of scribbles on it still, but at least she's very focused!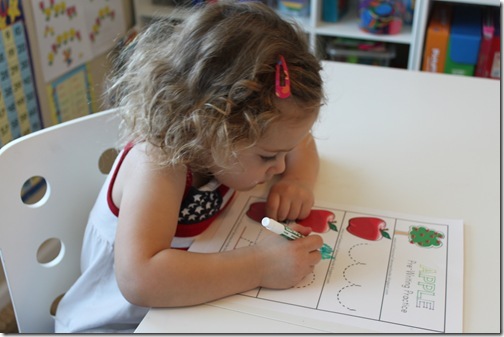 Since Tinker Bell was doing a floor number game, the Teeny Tot wanted in on the action. I took a few of our Lakeshore Learning Counting Kids and set them out for her. Then Turbo told her which number to hop on. She loved it, didn't really hop on the correct numbers, but loved it!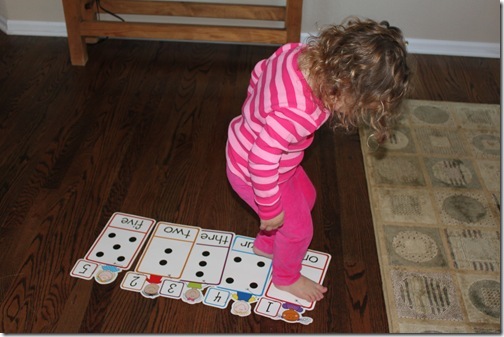 When all else fails, I always pull out my trump card…the iPad 2. This always perks her interest, and there are tons of games on there for her to get into. This one is a favorite, it's called FirstWords App by Learning Touch and I shared it back on my iPad Educational Apps post. She loves matching the letters and I've been amazed at how well she does.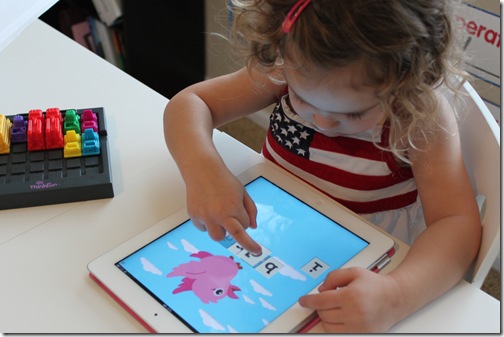 As you can see, you don't have to be all "uber organized" to pull out some activities for your toddler! One thing I've learned from my kids is that they're very forgiving! They don't know if you've spent all night putting together a fabulous day of activities, or if you just pulled them out of a hat.  As long as they're getting your attention and doing something fun, it's all good to them!