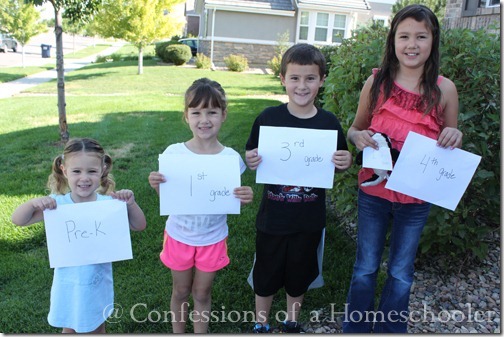 Hello fellow teachers! While we officially started school two weeks ago, this week is the iHomeschool Network "Not" back-to-School blog hop! And this week is all about those super cute student photos that we all love and adore! They show us how big our little guys are getting. I'm not sure about you all, but that first grade sign in front of Tinker Bell got me a little teary eyed this morning! I'm also thankful for this fun blog hop because as a homeschooler, sometimes I forget to take those famous "First day of school pictures"! Now I can just look back on my blog!
So here they are, all my kiddos as they enter into a new grade! This year I have a fourth grader (who is almost as tall as me!), a third grader whose excited to be one of the big kids this year…
My little Tink who is in first grade this year…sniff…and of course the Teeny Tot who has entered full on preschool! She's a ticket let me tell you so I have no doubt that this year will be….uhem… "lots of fun" if you get my drift!
If you missed them, here are my other iHomeschool Network "Not" Back-to-School posts
This week is Student Photo Week with the iHomeschool Network Back-ToSchool Blog Hop! Make sure to stop by and see all of the other fun pictures!