Hi everyone! I'm gearing up for science this year and have a fun printable to share with you today! It's a Human Body Anatomy Puzzle and life size organs!
We're going to work on the Human Body a little bit this year, so I created a human body skeleton and organs puzzle along with some life size organs that you can use with a simple outline tracing of your students body!
Here is a sample of the puzzle, I used a Xyron 900 9″ Creative Station with the Magnetic/Laminate insert to make my puzzle magnetic. But you can also just simply laminate for durability.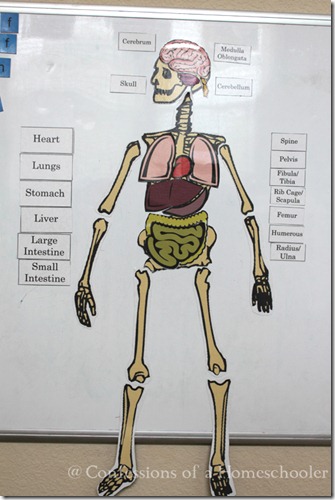 –> Download the Human Anatomy Printables <–
The puzzle is about 2 feet tall, and includes the skeleton pieces, all of the major organs, and word labels. Here is a closer view of the puzzle so you can see the labels, and pieces. There is also teacher's manual for this part that includes the body organ functions along with a guide for proper organ placement.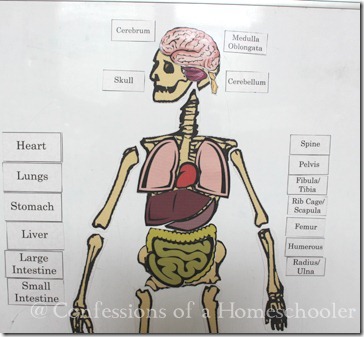 For fun I also created printable color and black and white organ printables. Use a piece of butcher paper to trace your student, then have them put the organ pieces on their body outline. The pieces have flaps on them, so you can glue them on, then flip them up to reveal what the major function of that organ is.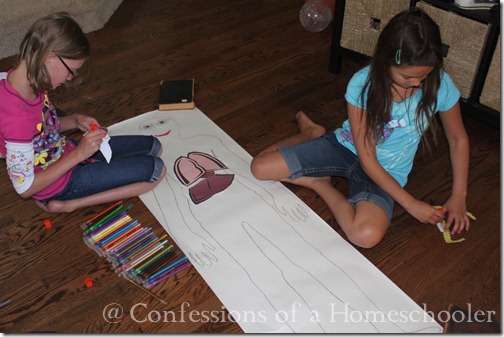 Here is our finished girl, and the proud designers.
They even went so far as to make a shirt and shorts for her. There is a brain printable for the model, but the girls though it messed up her face, so they refused to add it!
I hope you enjoy using the Human Body Anatomy Puzzle to help teach your students all about the human body!