Hi everyone! I know it's been awhile since I've done a Teeny Tot Tuesday post, so I wanted to put up one to show you what she's been working on lately!
This week she is on the letter M and so we are using my Letter M for M&M Letter of the Week curriculum. (I also have Letter M for Monkey if you don't want to do the whole chocolate thing.)
Letter M Memory Verse:
"My sheep listen to my voice; I know them, and they follow me." John 10-27
Play a game of "follow the Shepherd", blind fold your kids and have them follow your voice!
Read Chicka Chicka Boom Boom and put up the letter M on our Alphabet Tree! You can download my small alphabet letters here.
I thought I'd share her boxes as well, so for today she has the following items in her workboxes.
1. Daily Learning Notebook and M&M Lacing Card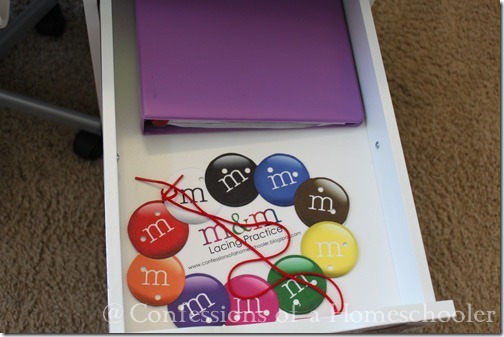 She's using this with a colored shoestring. The plastic tips help her to guide the lace through the holes. She's doing a pattern going in then out, then in then out…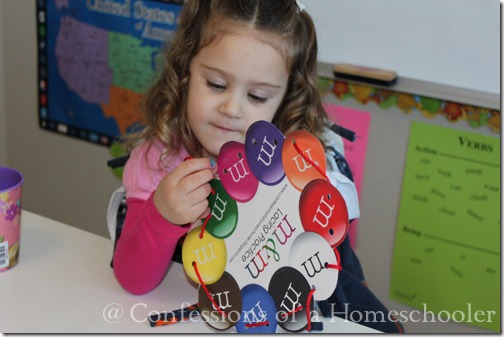 2. M&M Graphing: To use this, I have her count the M&Ms on the card, then place one button per graph square to match the amount of M&Ms on the card.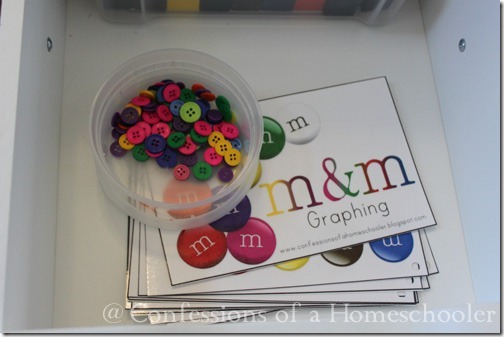 Here she is doing the graphing with buttons. When TinkerBell did this activity she got to use actual M&Ms, guess I'm getting lazy haha! As you can see she's matching one button for each M&M on the page. It's great for pre-math one-to-one correspondence and counting.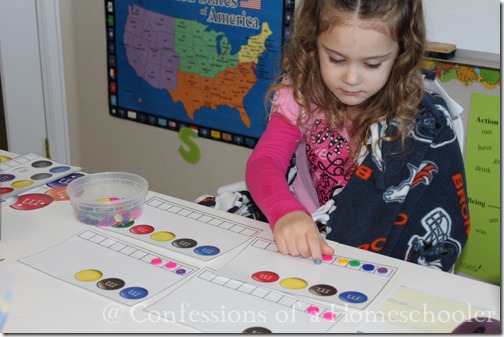 3. Capital and Lowercase M cards with 1" Color Cubes. For this activity, I have her lay out the letters, then use the blocks to make a colored pattern on them.  I laminate the letter cards and then hole punch every inch or so. Click here to download the A-Z large Letter Lacers.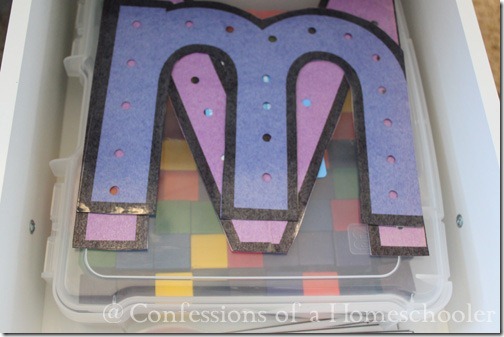 Strawberry Shortcake was helping show her how to do the pattern. This day she insisted on matching the color to the letter instead.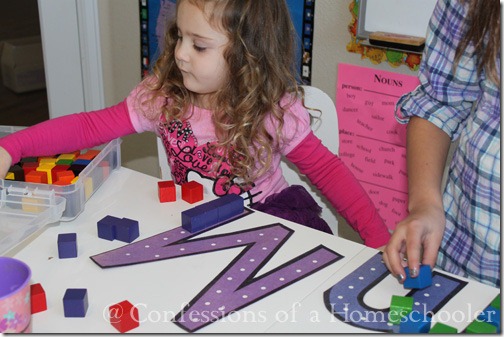 4. Letter M Counting Practice. These cards have pictures of M&Ms on them from 1-10. The Teeny Tot counts the items on each card, then puts the correct number card on it.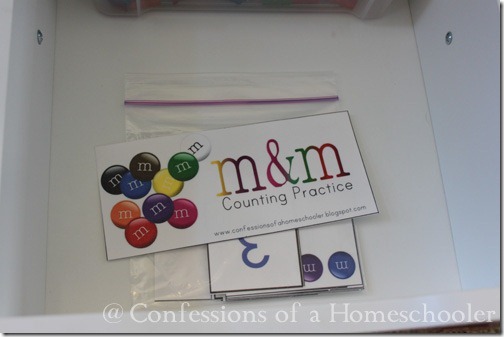 5. Letter M Pre-Writing Practice: We laminate these and then use this with a dry-erase marker. They have several different shapes on the cards to help work on fine-motor skills needed for handwriting next year!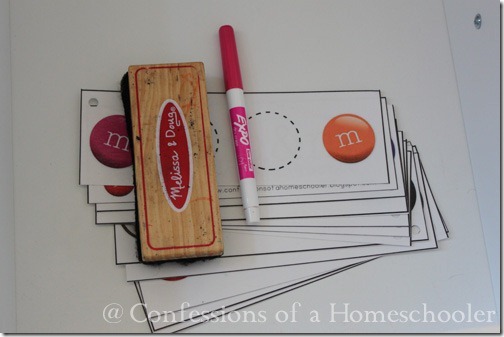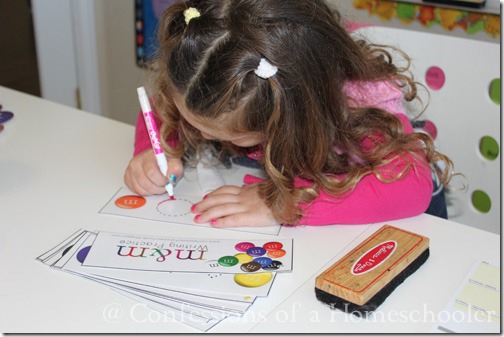 6. There are cutting guidelines on this puzzle to make a fairly simple 6 piece puzzle.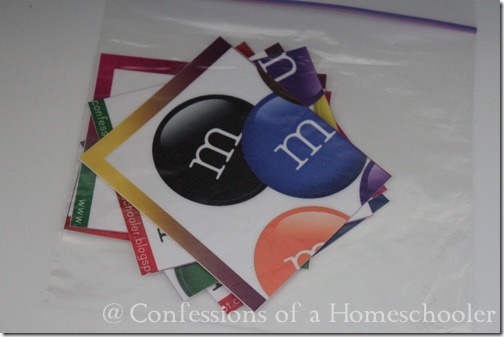 Here is her completed puzzle.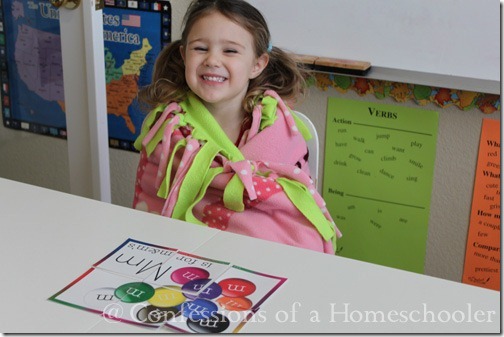 The letter M poke page was not in her box, but was requested by the Teeny Tot. She loves this activity.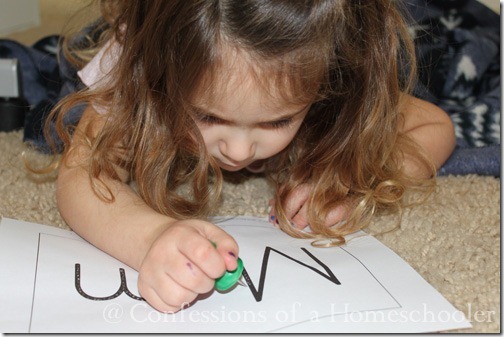 11 x 11 Pin Geoboard: We use the geoboard and some colorful rubber bands to make letters, numbers, and shapes.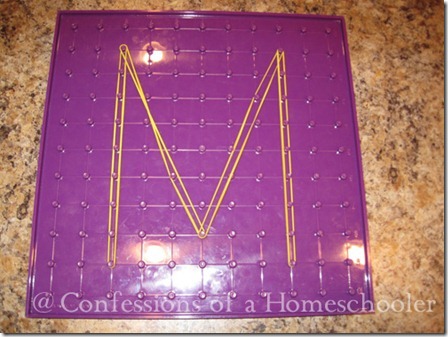 Family Fun Night:
Moose Munch Moose Munch can be anything you like. When I make it, I just pop some popcorn and mix it with other things that the kids like. You can use M & M's, nuts, pretzels, etc. Put it into baggies and the kids will think it is real Moose Munch. (If you want to try some grown-up Moose Munch, you have got to try Harry and David's Moose Munch.)
Movie Night Ideas:
Click here to download all of the Letter M for M&M activities, or check out my Letter of the Week preschool curriculum to get the entire alphabet all at once!