I have to confess that the first time I walked into a Lush store, I immediately Moonwalked right back out! If you've never been to one, it can be a little…shall we say…overwhelming?
All of the scents, all of the colorful products, and all of the giant soap wheels that you wonder how you'll ever fit in your shower, and all of mysterious products that you can't tell exactly what they're for. It can be quite intimidating! But the good news is that the Lush people are super friendly and helpful as well. They're more than happy to give you a free hand-treatment, or explain to you all of those mysterious scents you smell and how to use them.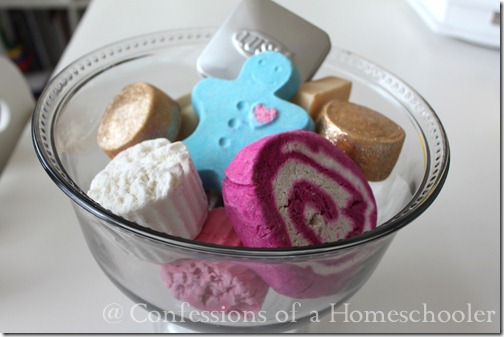 For those of you who don't know what Lush is, they are a hair and beauty products company who are dedicated to using fresh, all-natural ingredients. Another thing I like about them, is that Lush does not conduct or condone testing on animals.
Before you continue reading, please know that this is not a paid advertisement, nor am I affiliated with Lush in anyway. I just have been enjoying using more natural products on my skin lately and wanted to share!
So onto the eye-candy! Yes, most of the Lush products look good enough to eat! Something I'd suggest telling your kiddos prior to taking them into a store so they don't accidentally bite one. Although since they're all natural, it might be okay? Hmmm…something to ask the folks at Lush I suppose?
When you first walk into the store, you'll probably walk right into the Bath Bomb Bar. It's a huge table full of fun, colorful bath bombs that create a lovely scent when placed in your bath! Some of them even have fun little surprises hidden inside them, so I'd ask a Lush assistant for details.
TIP: One thing to know is that most of the bath products are quite large. There is no reason to use one whole bath product all up at once. I always break off a small chunk with a knife, or some will even crumble in your hand, then just add the pieces to your bath. They are still very effective, and can be used multiple times!
This was the Teeny Tot's pick. It's called the Ex-Factor and he is super cute, and smells great! I would definitely purchase this one again! Also, it gives your water a light blue tint which is always fun.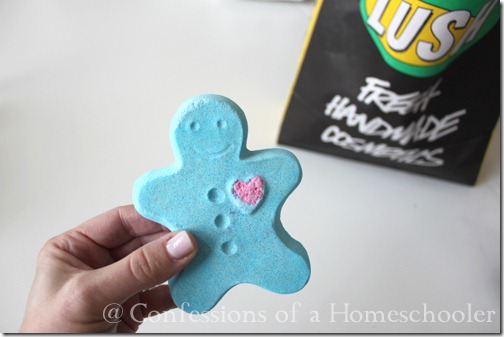 Some other favorite bath bombs that I didn't get photos of are the Honey Bee, Pink Bath Bomb, and Twilight
Bath Melts: Bath melts provide a lovely scent as well as moisturizing essential oils into your bath for an added treat! One of my favorites that I didn't get a photo of is the Happy Blooming bar. Oh my goodness, it's just a light lovely scent that I absolutely love! It has softening cocoa butter and the scent of sweet cherries.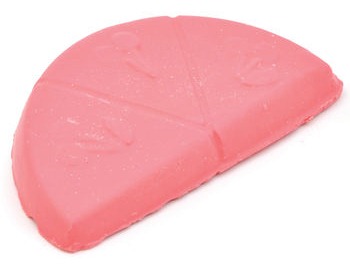 Another of my favorites is the MMM Melting Marshmallow Moment. This one melts into a fluffy bath full of moisturizing cocoa butter. It looks like a pink cupcake and is made with real marshmallow herb with a sweet marigold scent.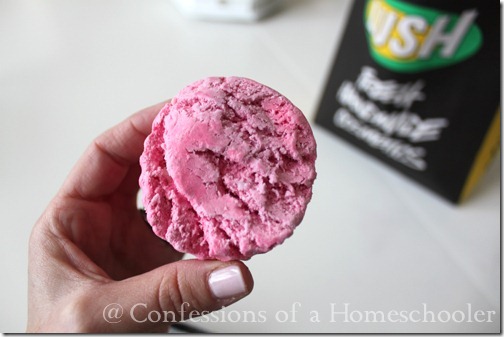 Another favorite of mine is the Floating Island. I can't describe the way this smells other than its just soft and yummy and you'll have to go smell it for yourself!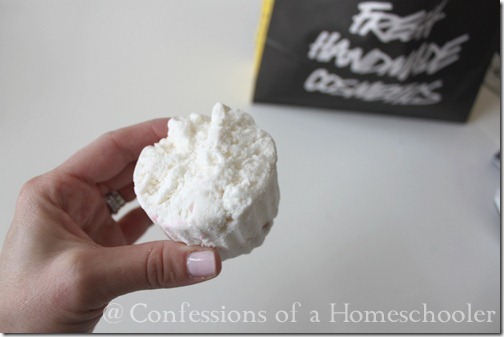 Bubble Bars: The Bubble Bars do exactly what they say, create bubbles. I mean a LOT of bubbles. And they're not fragile bubbles that evaporate right away, but sturdy bubbles that hang around long after your bath is over. I even had a hard time getting rid of them LOL!
Another favorite, I know I've said that a lot just recently, but it's true…is the Comforter. And it really does just that, provides a bit of comfort to your bath. This one smells good enough to eat, as do most of their products. This one makes your bath water a light plum color with creamy comforting bubbles. This bar is huge as you can see from the photo below, and so I just crumble a little off in my hand and then crumble it under the running water. You really don't need much, you'll see right away the bubbles forming and so you don't want to use this bad-boy all at once lest you be engulfed in bubbles!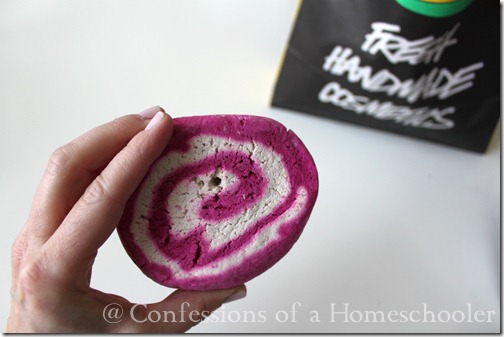 Here is another one the kids all begged to try. It's the Sunny Side bar and it smells good, a refreshing citrus scent, that also creates a ton of bubbles and a slight golden tone to the water. As you'll notice in the photo below it also has quite a bit of glitter on it. This glitter tends to be a bit messy and settles to the bottom of your tub after the bath is over. I don't like it as much due to the mess and probably wouldn't re-purchase for that reason.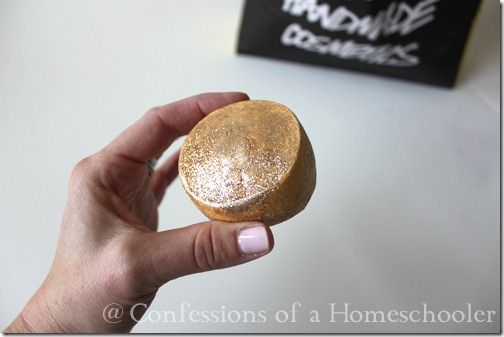 Some other Bubble Bars I like, but don't have photos of are the Blue Skies & Fluffy White Clouds bar, the Dorothy, and the Magic Mushroom.
Onto Body Products:
This is the Mange Too massage bar. This bar smells a little of chocolate and honey combined, and has bananas along with Shea and cocoa butter in it. Most of the Lush massage bars melt immediately upon the warm touch of your skin, so I'd highly recommend keeping them in a bag, or a tin that you can get from Lush to keep them from melting. I like the fragrance of this bar, but thought it only fitting to tell you that the rest of my family does NOT!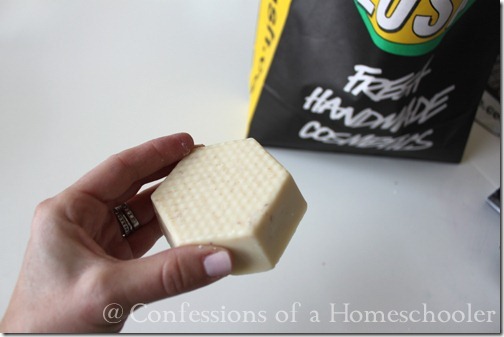 Another product I am currently trying is the Almond Coconut Smoothie. This shower wash is a creamy mixture of almond oil and coconut oil. It's really hydrating and I've recently been using it in the shower to shave as well as wash. So far I am not sure about the scent although it doesn't stay with you once your shower is over, and it is a light scent. It definitely leaves your skin feeling soft and smooth. You can try it out at one of the stores to see for yourself!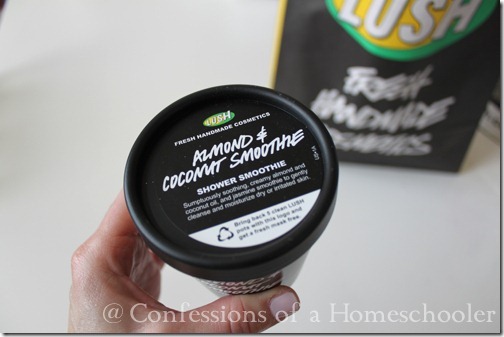 The Lush body soaps are displayed as large chunks which can be kind of intimidating. My best advice would be to talk to one of the Lush associates and have them help you here. You can tell them about how much you'd like to spend and they'll cut off a chunk that fits your budget.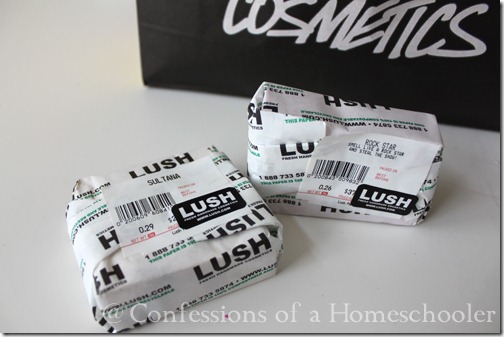 One of my favorite bars is the Honey I Washed the Kids soap. It is very buttery when wet and has a sweet caramel fragrance.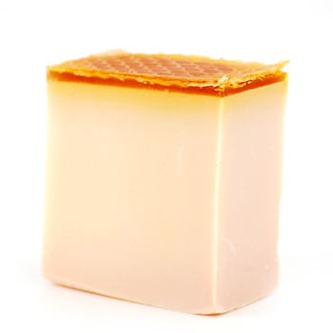 I asked for something that smells good and is moisturizing and they suggested these to me. The Sultana of Soap is a moisturizing soap that is topped with fruits. it creates a creamy lather in the shower and has a soft scent that isn't too overwhelming.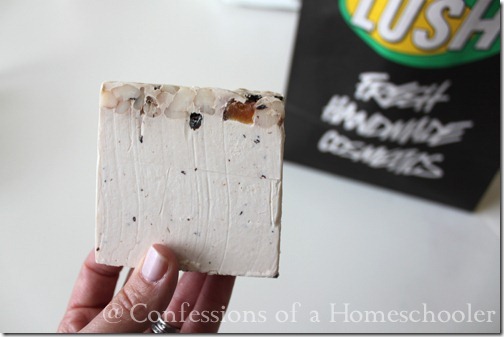 Another one I like, just for the scent is the Rock Star soap. This one is a bit more fragrant than the others with a vanilla-scent, and well…it's pink. 'Nuff said.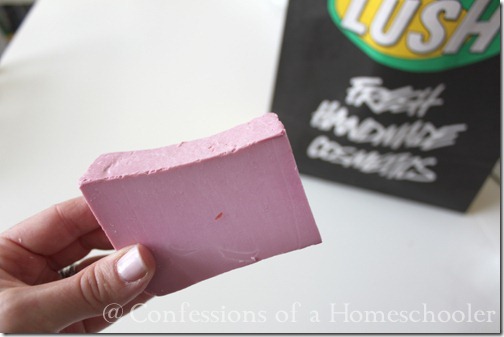 Lip Products: I have to admit that I love the Sweet lips Lip Scrub. Since your lips are the only part of your body that doesn't naturally exfoliate, it's nice to have something sweet and edible to help that process along. They have other flavors, but this one is my favorite tasting like brown sugar a bit. It has vanilla extract and jojoba oil to help keep lips moist and exfoliated.
I am so-so over their lip balm, but the Honey Trap is probably my favorite scent. My main complaint with this is that it is very hard, and so you have to rub  your finger in the pot quite a bit to get some out and onto your lips. But I do like the fact that I'm not putting petroleum on my lips so…next week I'll show you how we made our own lip balm!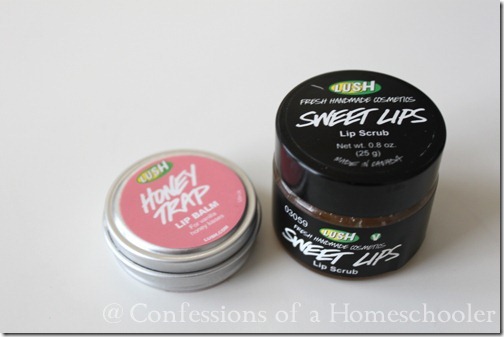 And finally I tried a few of their face products. I tend to break out around 'that' time of the month, and wanted to try something more natural to see if I could help my skin stay under control a bit more. Lush has plenty of different products that address a variety of skin issues, so I would highly recommend talking to a Lush associate to get the right products for your needs.
Since my face can be combination they suggested both the Angels on Bare skin and Herbalism. Since I couldn't decide I just got some small samples of each.
Now I know these look a little weird, and well, they are. They also have that kind of "natural" smell to them that I'm not totally in love with, but I gave them a try anyway.
This one is the Angels on Bare Skin cleanser. It is marketed as helping those with combination skin. It is also a mild exfoliator. It includes Kaolin clay, ground almonds, and rose and lavender scent. To use this product you simply pinch off a bit of the product and place it in your palm. with your other hand get just a bit of water on your finger tips and then gently massage the product in your palm until you create a paste. Then gently massage the paste on your face and wash off with warm water. After getting used to the weird consistency, I have to say that I am actually enjoying this cleanser. My skin is definitely clearing up and if I do get blemishes I've noticed that they tend to be small and go away quite quickly, which was not the case prior to using it.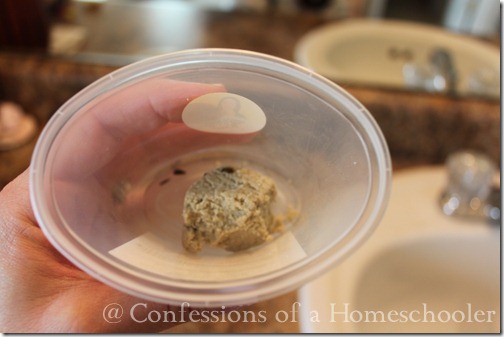 This is the Herbalism cleanser. This cleanser is marketed to help oily blemish prone skin. You will use it the same was as the previous one. I've only used this a couple times, and so far it is okay, but I can't say that it's clearing my skin as much as the Angels on Bare skin has.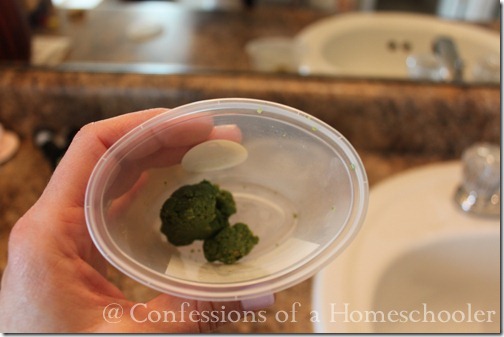 With all of these cleansers its important not to get them wet (they will mold), so take off your chunk using dry hands, then put the lid back on before using.
Finally I am trying the Vanishing Cream face moisturizer. I actually like this, it is lightly scented and also a light moisturizer. I don't feel like it is greasy or drying to my skin, and as I mentioned before since using the Lush face products I have definitely noticed a difference in my skin being clearer as well as more evenly balanced. I will provide an update after using them for a bit longer, it's been about a month of consistent use.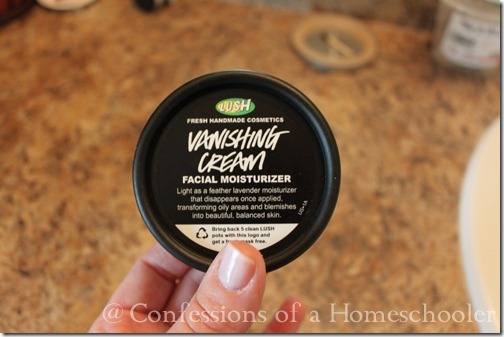 Some other products that I like but didn't get photos of:
SAVE SOME $$!!
I recently did an order from Lush UK and the cost of products is almost half what it is in the U.S. including shipping!
Final Thoughts:
Overall I'm happy I've tried the Lush products, and it just makes me feel better knowing I'm not putting a ton of chemicals on my skin. I'm still getting used to some of the scents, but loving the results!
Have a favorite Lush product to share? Make sure to leave a comment with the product name and why you love it!