Hi everyone! I wanted to share a yummy recipe with you today, they're my homemade tortillas. I actually have 2 recipes to share, one is for white flour tortillas, and the other is for whole wheat tor tortillas.
Either way my kids devour these! They eat them as snacks all by themselves, with peanut butter and jelly, cheese, or with salsa. Not only are they better for you than store bought tortillas, but they're less expensive and sooooooo good!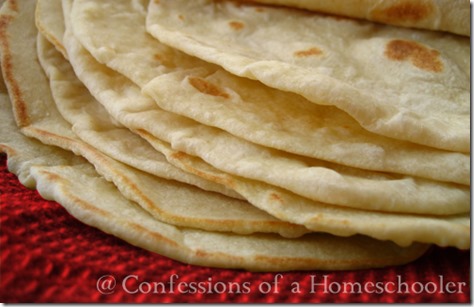 Ingredients:
3 1/2 C. all purpose flour (Can use all purpose white flour or whole wheat flour, or you can even do half and half.)
2 teaspoons salt
3/4 C. Vegetable Shortening (Or Lard) Yes, I know it's awful but Lard is really the key to good flour tortillas. Sorry. You can substitute with 1/2 c olive oil, but really they are much denser, and not as good.)
1  cups lukewarm water
Optional: I highly recommend a Tortilla Maker for this. Rolling them out by hand is difficult and the tortillas don't get as thin and flat. Or at least I can't get them thin enough! Instead I use the Villaware Tortilla Maker, and it's amazing!
Directions:
In medium sized bowl, mix dry ingredients together. Next cut in shortening until well blended into flour mixture. Slowly add water mixing well with your hands until you work it into a sticky dough.
Turn dough out onto a floured surface and knead vigorously for about 2 minutes, or until the dough is no longer sticky.
Return the dough into your bowl and cover with a damp cloth and allow it to rest for about 10-20 minutes. This will make it easier to roll.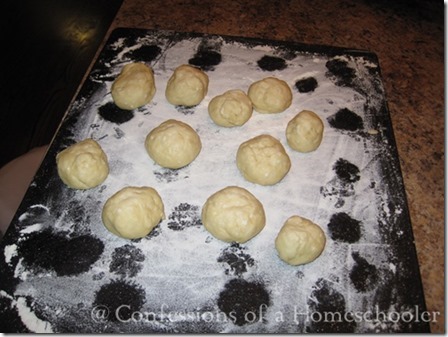 Shape dough into egg size balls and place them on a floured board so they do not touch. Cover with wax paper or a kitchen towel so they don't dry out while you're baking them.
Pre-heat a skillet or griddle to a medium heat.
To Hand Roll:
Dust a clean surface with flour and one at a time press the dough balls into a 5" circle. Using a floured rolling pin carefully roll tortillas into a nice round shape about 1/8" thick or as thin as you can get them, and about a 7" circle.
Carefully transfer the tortilla one at a time to a dry pre-heated skillet. Flip with kitchen tongs and cook the other side. I cook them just about a 30 seconds to 1 minute on each side or until your tortillas start bubbling up a bit and lightly browning.
Remove the tortilla and place it on a clean paper towel and loosely cover with foil. Repeat process for the remaining dough balls.
Tortillas freeze well too! Wrap tightly in plastic, removing any air pockets. Then place them into a gallon freezer bag and freeze for several weeks. To serve, thaw at room temperature, then wrap in foil and heat in a warm oven.
To Use a Tortilla Maker:
If you use the Villaware Tortilla Maker, simply place the dough ball into the center of your tortilla maker, then carefully press down the top lid until it is flat. Wait for a few seconds, then open the tortilla maker to make sure it's flattened out well. Continue cooking the tortilla for about 30 seconds, then flip with kitchen tongs and cook the other side.  The tortilla will be golden, but not over cooked.
And despite young Strawberry Shortcake, you do NOT want to touch this with your fingers, hot!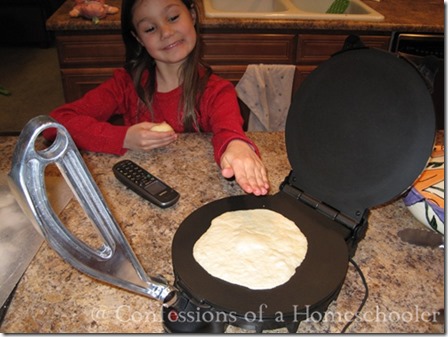 Whole Wheat Tortillas:
2 cups whole wheat flour (Can substitute regular flour)
1/2 tsp salt
1/4 cup vegetable oil
2/3 cup warm water
Directions: Mix together dry I ingredients, then add vegetable oil and water, mixing by hand. Knead dough about 2 minutes, then place in a covered bowl for about 30 minutes.
Roll dough into golf ball sized balls, then continue with steps as shown above in the flour tortilla directions.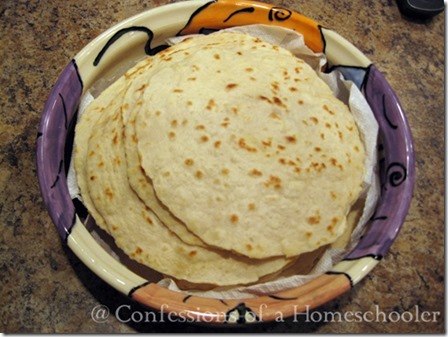 And that's it! Tortillas are actually super easy to make and the homemade taste is well worth the effort!
Hope you enjoy!