They've done it again! Grapevine has come up with an awesome new version of their Esther Study! As you all know the Teeny Tot likes to get involved in whatever we are doing, so the new grapevine traceable study sheets are a perfect addition for her!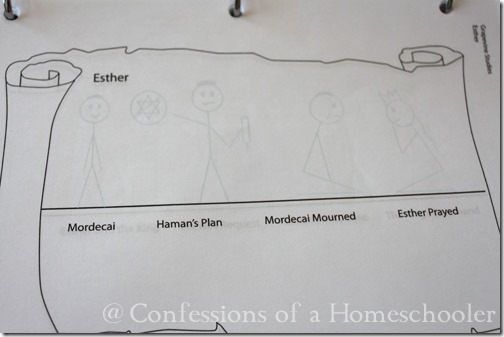 As you can see above the student workbook comes with very light gray marks to help younger students draw the images. I have to say that the Teeny Tot is absolutely LOVES these pages. She's so excited to be able to do the study along with us and have her own binder.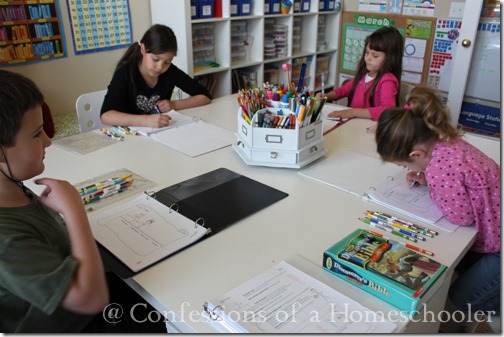 I used the regular blank version for my older students so they can draw their own pictures. I think it will depend on your child's age and skill level as to which you will want. We always use the multi-level units since I have four different grade levels.
What's Esther all about?
Travel back in time with your children and teens as they study the book of Esther. Bible students will begin their in the ancient Persian Empire, as King Ahasuersus banishes Queen Vashti and begins a search for a new queen. Watch as a beautiful young Jewish woman named Esther becomes the new queen.
Learn how God used the courage of Esther to save her people from an evil plot to kill them all. Discover how God used the creativity of Mordecai and Queen Esther to defend the Jews from Haman's destruction. Finally, teach your students how the celebration of Purim became a yearly holiday!
What's Included?
King Ahausers
Queen Vashti
Mordecai
Esther
Haman
The Jews
9 Weekly Lessons or 32 Daily Lessons
You'll need the Teacher book and Student book to complete this lesson. I always pick the multi-level versions just so I can teach it with everyone all together. So far it's been very successful in helping my kids to retain the events of the bible. They can easily flip back through their notebooks and tell me what was happening at that time.
Here's a sample of the teacher's page, the words in green are what you say to your students along with the assigned reading and a sample of the image you can draw. I also like to use this with the NIrV Discoverer's Bible for Young Readers. I find it is a bit easier for them to read and understand. (I think they have a new cover now if you click the link above, mine is a few years old.)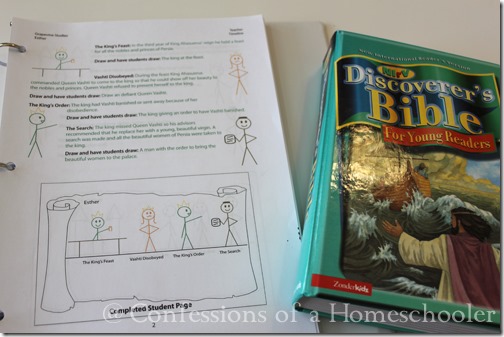 It's also fun to draw everything as we go, and when we're done with a page everyone shares their pictures. Although ours aren't totally stick figures anymore, they've started appearing with colorful outfits, fancy carriages and other surprising additions.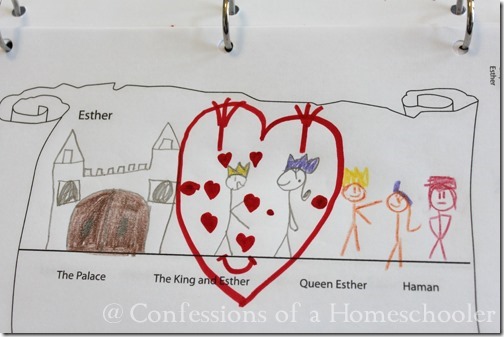 I like to use them with erasable colored pencils so if they make a mistake it's not a total crisis.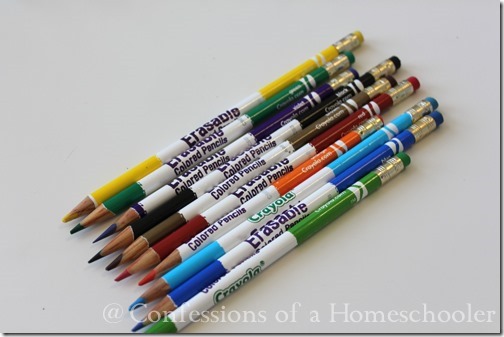 Here is Strawberry Shortcake working on her page…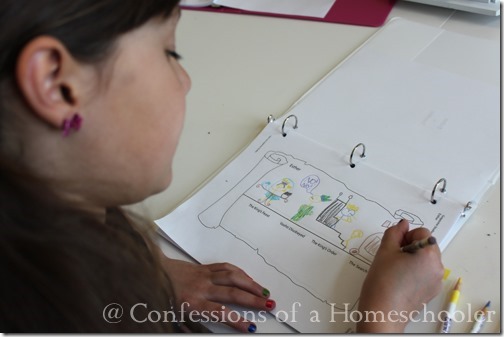 And here's the final page. She likes to add in a bit of drama to her pictures…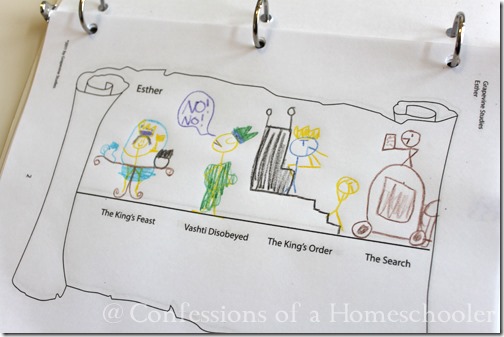 Here is a close up of the Teeny Tot working on her Esther worksheet…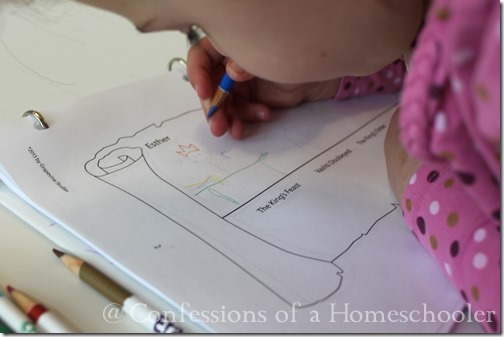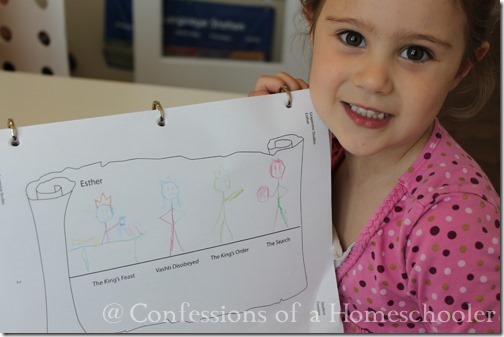 So there you have it, we're finishing up the Esther study now and will move on to another fun study by Grapevine. I am really loving these units. I like that my children can remember what they've learned since they are drawing it, and my kiddos absolutely love the Grapevine studies too which makes for a win-win.
Want more info? Visit any of the below links!
You can see my other reviews of Grapevine products here:
CAN'T WAIT??
Grapevine has set up a special coupon code for my readers!
Just use Coupon Code: ESTHER at check out to receive 20% off all Esther studies, and 20% off all traceable studies!
WIN IT!!
Grapevine is offering one free set of the Esther study (traceable or regular) to one of my readers!
Simply fill out the rafflecopter below to enter!