Welcome to our preschool Letter T week of activities. This week the Teeny Tot is delving into the wonderful world of Turtles!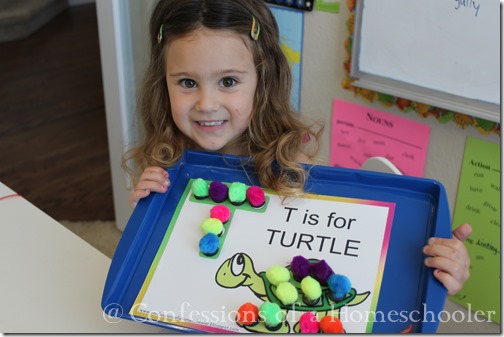 Letter T Memory Verse: "Thou God seest me" Genesis 16:13 "Therefore, if anyone is in Christ, he is a new creation; the old has gone, the new has come!" 2 Cor 5:17 For our verses and accompanying games/stories we use the following books: ABC Memory Verses & My ABC Bible Verses
Read Chicka Chicka Boom Boom and put up the letter T on our Alphabet Tree! You can download my small alphabet letters here.
Song time: Hide 'Em in Your Heart Vol 1 Hide 'Em In Your Heart Songs – Vol 2
We made the letter t with our bodies: This is by far a favorite in our house, the only trouble is getting them to stop, I think they made the entire alphabet one day! At one point the Teeny Tot was the dot on a j.
Letter T Cut & Paste: I added this later so don't have it as an individual download, but it is part of my Letter of the Week curriculum. So the goal is to have your student cut out the turtle body parts then glue them accordingly onto a separate background like construction paper…or not…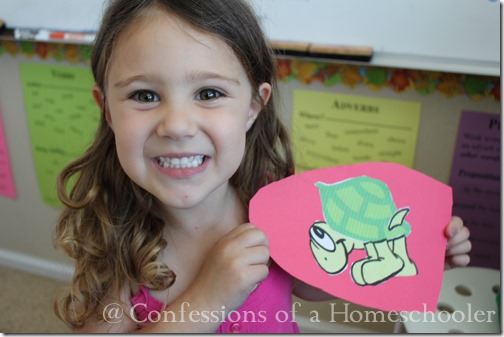 Letter T Tracing: I laminate this and use with Expo Dry Erase Markers for pre-writing practice skills.
Letter Tt Do-A-Dot Page: We use Do-a-Dot Art Markers with this!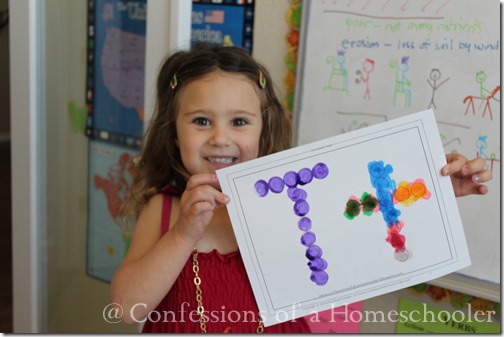 Turtle counting: Tip: To save on lamination (if you have a Xyron, and use sticky laminate instead of heat laminate) you can put 2 pages back to back and laminate. When you cut them apart the lamination is on the front, but not on the back, but who cares eh? You can download the turtle counting game here! If your looking for more than matching, you can have them write the numbers in the blank spaces too if you laminate!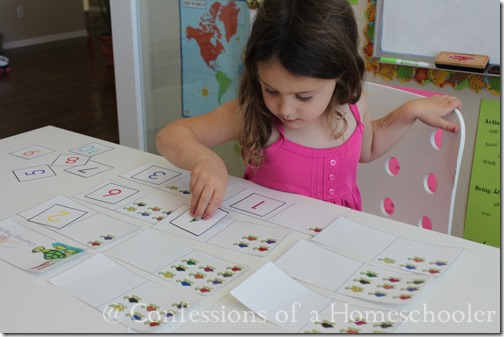 Turtle Lacing card, you can download him here!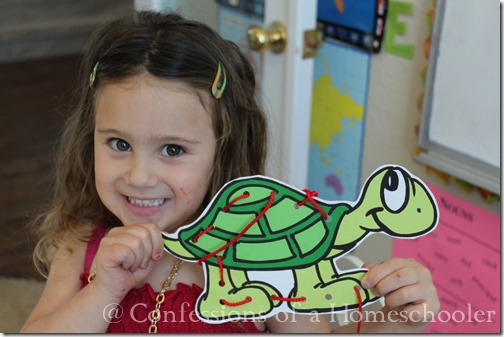 Turtle Clip Cards, I punched a small hole in the corner of the card for her to attach math-links to, you could also use paperclips, mini-clothespins, etc.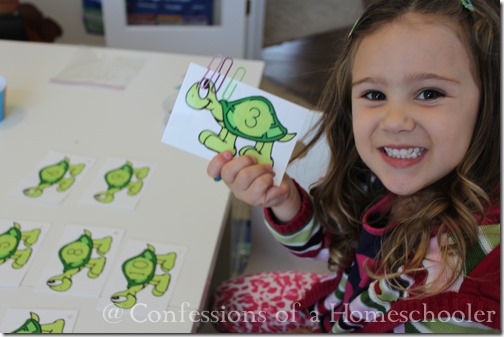 The cool thing about the chain links is that you can also have them do patterns while you're at it! And you know how I feel about 2 for 1′s! Yipee!
Letter T Poke Page: Using a toothpick, place the print out on a soft carpet and have your student poke holes along the letter. Once done hold your paper up to the window to see your letter shine through.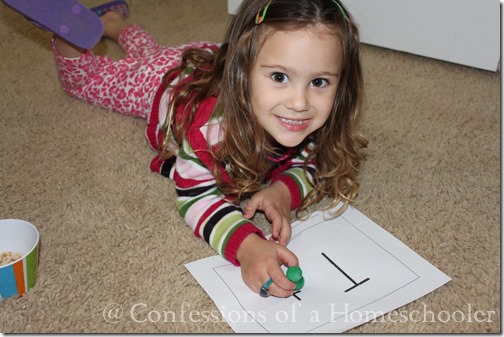 Turtle Pattern Activity. Download here. Have your student use the pieces to complete the started pattern.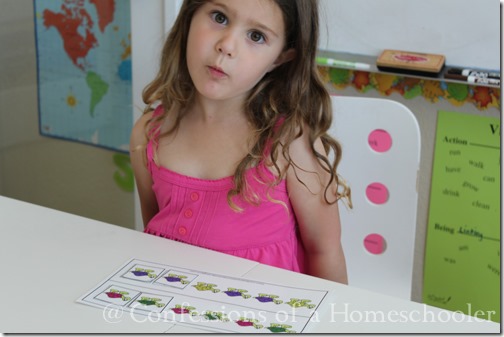 Turtle Size sorting…I might have to change this game up a bit, it's getting too easy for her…you can download it here!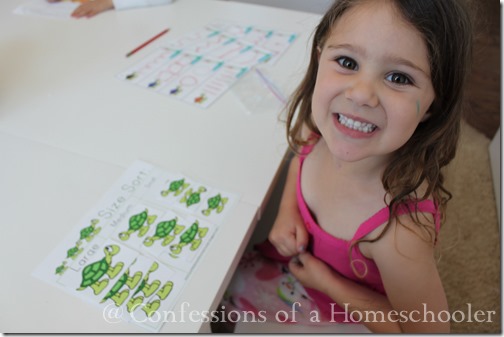 Turtle Color Matching: The color puzzles were too easy for her, so I'm going to try something new, word matching. She can't read yet, but I made the words the correct color, so I'm hoping she'll start to recognize them as she practices. Put the correct color turtle on the square with the word on it…If you're not ready for that, you could always just print page 2 of this document, and cut the turtles in half for a color matching game as well…You can download it here!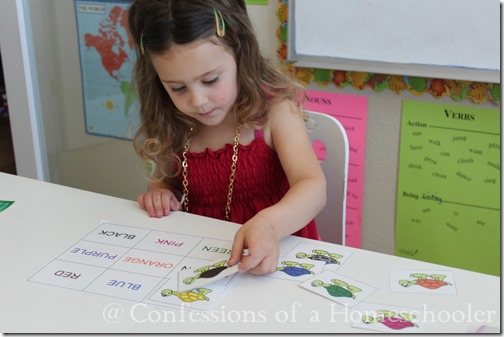 Capital T Lowercase t sorting game, you can download it here!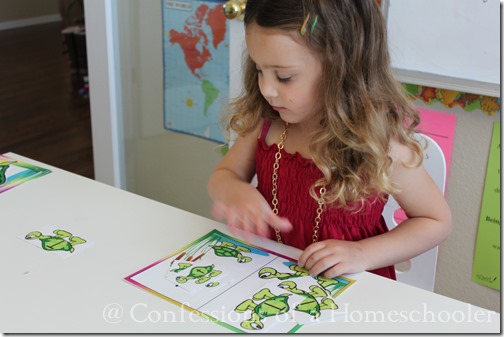 Letter T scavenger hunt. I put this card in her box and she has to go around and fill her box with things that start with the Letter T. Like a Toy, Tiger, Toothbrush, Towel, etc. You can download the card here!
Turtle Pre-Writing Practice: I usually cut these into smaller cards, but didn't feel like it and thought I'd try leaving it as a large page to see if writing was easier her, she was fighting with flipping the cards last time with the Letter B pre-writing…I'll update this post if it is. You can download it here, and do it like this, or cut along the lines and put on a ring alike a mini-book. You can also print on plain copy paper and use for cutting practice too! 2 for 1!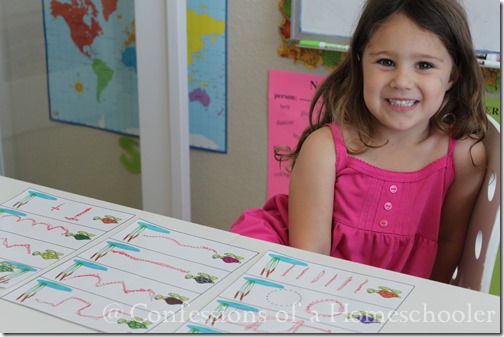 Turtle Graphing Cards: Fun and easy! Count the turtles on the card and color in the correct amount of boxes on the grid. You could also use little buttons to place on the grid as well if you don't want them coloring. I laminate and use Dry-erase markers since everyone loves those! You can download it here!
Turtle Bottlecap Letter Matching! This is a fun letter matching activity, that practices both upper and lowercase letters recognition! If you're looking for more challenge, use the uppercase card with the lowercase letter disks or visa versa! (The download includes upper and lowercase letter disks and activity cards) Click here to see the process of making the letters.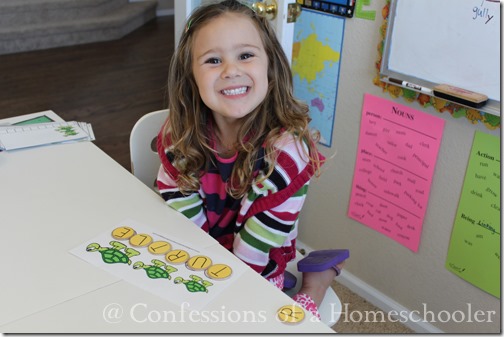 Large Floor Numbers: This is a favorite in our house, I lay them all out on the floor (in order for now, once she needs a challenge I'll mix them up). Then call out a number and she has to hop to that number! You can download the cards here!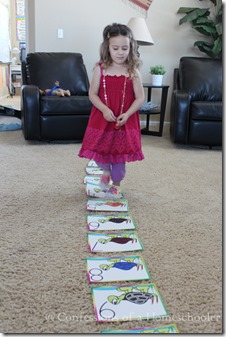 Turtle Puzzle: I cut the puzzle in 6 pieces, I'm finding that's about all she can handle right now, and then let her figure it out. I usually show her what it's supposed to look like before she starts (I put it in her box like it is below). When she's pulling the pieces out of the box they get mixed up, so it works for us. You can download the puzzle here!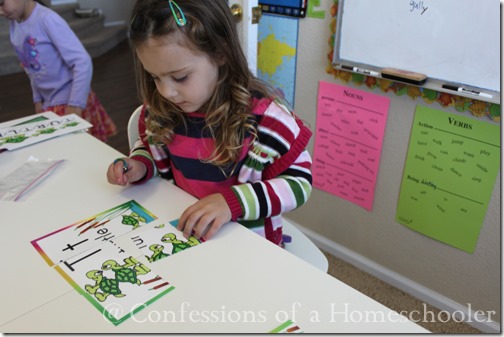 Turtle coloring page, I also put on dashed font if they want to practice writing the letters or words! You can download it here!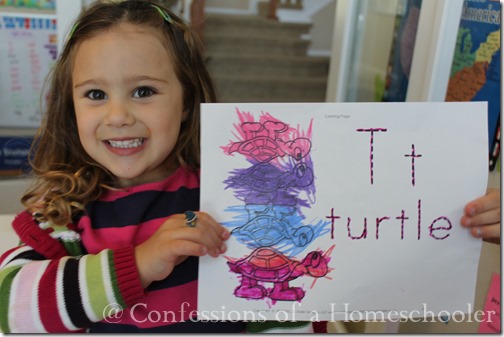 Turtle magnet page: Have your students put one magnet on each circle. We are using our DIY pom-pom magnets. You can  download it here!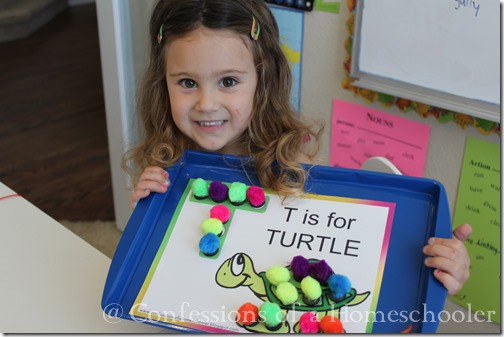 Tt lacing cards, if you don't like the turtle or are wanting something more letter shaped, you can download my Large Alphabet Lacing cards here! I also like to use these with 1" color cubes and have the Teeny Tot make a pattern of blocks on the letter shape.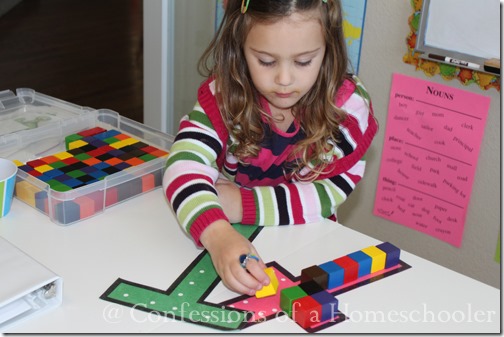 This didn't have anything to do with the letter T really, but the Teeny Tot wanted to play with our Guidecraft Nesting Blocks. They're great for size and color sorting, as well as spatial reasoning skills.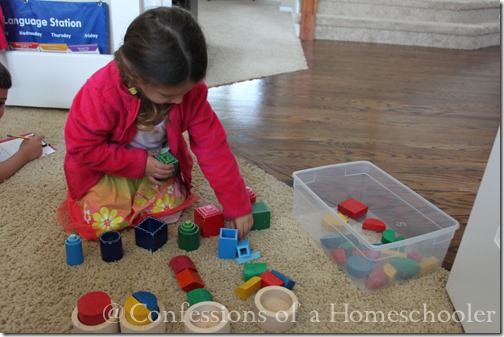 Kumon Easy Mazes: I just dig through the book and find something that starts with the letter we are working on!
Foam Letter Builders: I cut the shapes from foam and let her use them to make the letters. You could also use my Magnetic Letter Builders as well!
Letter Collage Worksheets: The download includes letters A-Z as well as a collage idea sheet. We use the collage items as objects to decorate our letters for an alphabet book. We also color, paint, and stamp them. Since we use both upper and lowercase, I have provided both for you! Click here to download the Letter Collages: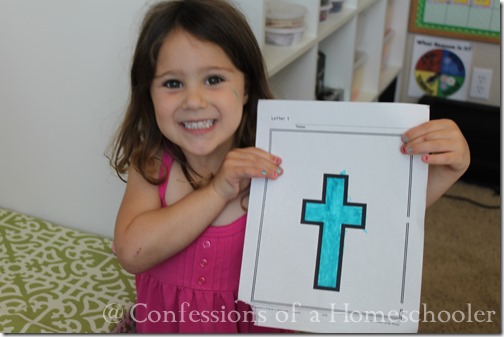 Family Fun Night: Have some Cranberry Turkey Breast and watch The Penguins of Madagascar
Have some fun Letter T Preschool Ideas to share? Make sure to leave a comment below!
So those are just some of what I managed to capture via photos this week, but you can click here to download all of the Letter T preschool activities, or check out my Letter of the Week preschool curriculum to get the entire alphabet all at once!
Is my Letter of the Week Curriculum too easy for your student? If your student is ready to move on to Kindergarten, make sure to check out my K4 Kindergarten Curriculum!