Good morning readers! I'm still on my crochet hat kick, and this time I've had fun with a cute crochet flower beanie for the girls!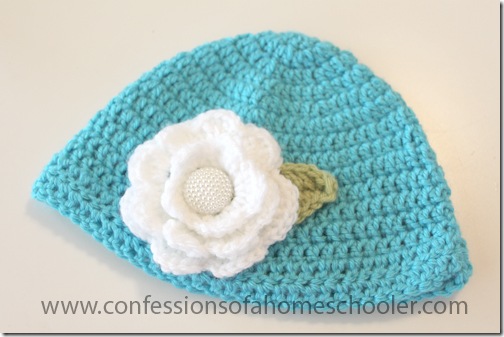 This is super easy to make, and you can knock one out in an evening while watching your favorite TV show or movie.
Except that you have to pay attention.
Because there is counting involved.
On second thought, maybe you shouldn't distract yourself with a movie.
And after you make one, I guarantee you'll be a hat making fool just like me.
Ready to get started?
Supplies:
Medium Worsted Weight Yarn (You'll need one color for the hat, one for the flower, and a nice green for the leaf. I'm using teal, white, and olive skeins.)
5mm Crochet hook
Button for center of flower (optional)
Some abbreviations you'll need to know to follow the pattern:
ch – chain
SC – Single Crochet
DC – Double Crochet
Basic Rules:
Start your rounds in the same stitch as your chain.
Join your rounds to the first DC, NOT the chain.
Do NOT count the chain 2 as a stitch.
For newbie's like myself…if you haven't crocheted much I would encourage you to look up video tutorials on those stitches prior to beginning. There are plenty of them to choose from on YouTube and I found them really helpful when starting the pattern.
You'll also want to watch the below video tutorial on creating a magic ring to help get your hat started. I found this DC Corochet Magic Circle Tutorial that starts with a Double Crochet and it helped greatly! Thanks Rebecca From ChemKnits!
Size: Child/Adult
(This fit Strawberry Shortcake – 10 years old, and me – … um, let's just say "I'm an adult.")
Start with Magic Ring, Chain 2, 9 DC in magic ring, join to first DC, ch 2
Round 2: 2 DC in each around, join to first DC, ch 2 (18 DC)
Round 3: 2 DC in first stitch, DC in next, repeat around, join, ch 2 (27 DC)
Round 4: 2 DC in first stitch, DC in next 2, repeat around, join, ch 2 (36 DC)
Round 5: 2 DC in first stitch, DC in next 3, repeat around, join, ch 2 (45 DC)
Round 6: 2 DC in first stitch, DC in next 4, repeat around, join, ch 2 (54 DC)
Round 7: DC around (54 DC)
Round 8: 2 Dc in first stitch, DC in next 8, repeat around, join, ch 2 (60 DC)
Round 9: 2 DC, DC in next 29, repeat around (62 DC)
Round 10-17: DC around (62 DC) join and ch 2
Round 18: SC around (62 SC) and fasten off. (Try hat on child and if needed repeat row 18 a few more times to make hat a bit taller.)
** Pattern Credit: For rounds 1-9 I followed the basic top half of the pattern from Repeat Crafter Me's owl hat since I was familiar with it. Then I improvised for the remaining rounds.
Now on to the flower!
These are so fun, you'll want to make a whole bouquet! I followed this video tutorial for my flowers, I think they were the cutest ones I found. But you're welcome to experiment and try other flower variations as you like.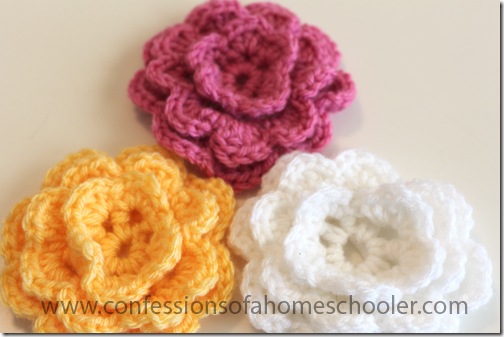 Next up is the cute little leaf.
Adding a little leaf is optional but it definitely makes it cute! I followed this crochet leaf tutorial on YouTube because it was easy, but they have some fancier ones as well.
Finally it's time to put all of your pieces together!
First stitch your leaf onto the hat using the tail of your leaf or a fresh piece of green yarn. I folded my hat in half with the seam in the back to figure out where to place my flower and leaf. Once positioned, I sewed on the leaf.
Next sew the flower onto the hat. I sewed using a darning needle and just went along the backside of the flower all the way around.
And finally, add a button accent to the center of the flower and voila!  you have your own super cute and trendy crochet flower hat!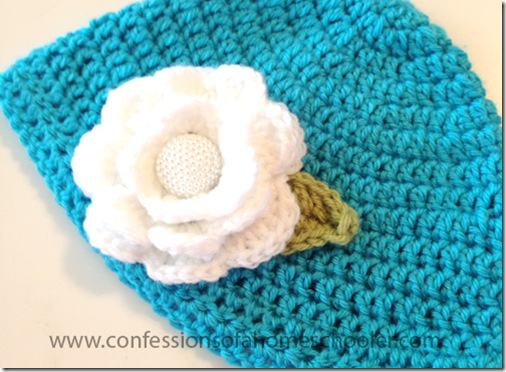 Actually they were so cute, that their friends have requested one too, so now I'm like a hat making ninja trying to get them all done!
Happy crocheting friends!