Hi all! Looking for some kindergarten worksheets and activities for your 4-5 year old? Look no further! The Teeny Tot is well into our K4 Kindergarten curriculum and I wanted to share some of her day with you all!
Right now she does a mix of activities to work on a variety of skills each day. Everything you'll see in this post comes with my K4 Kindergarten curriculum unless otherwise indicated. I also have a bunch of freebies on my Kindergarten Worksheets page too!
Beginning Sounds:
In this activity she is working on her beginning sounds and lowercase letters. The curriculum comes with both upper and lowercase worksheets for her to practice. She says the sound that the letter on each line makes, then circles the pictures that also begin with that same letter sound.
Shapes:
She's also building a shapes booklet where she displays all of her shapes and traces over the written version of each shape as well. Sometimes she decorates them with crayon, marker, stickers, etc. When she's done she'll have a whole book of all of her shapes!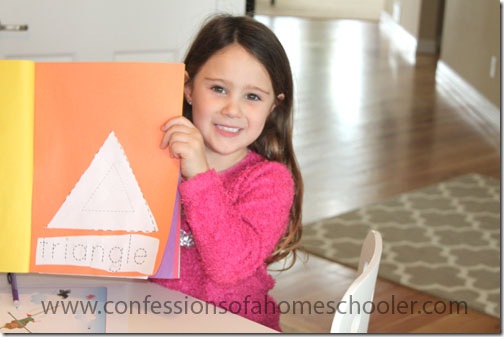 Sight Word Search:
In this activity she is doing a Sight Word Search Worksheet from my kindergarten curriculum. The word she's searching for is at the top of the page, and she just circles or do-a-dot's each time she sees that word on her worksheet.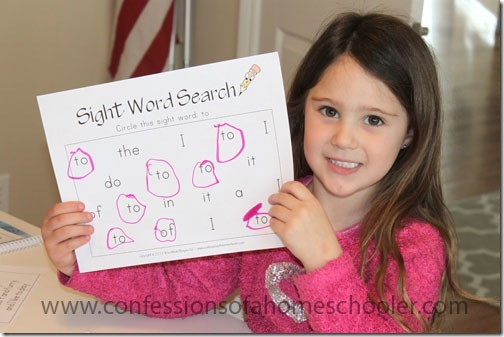 Number Writing:
This is one of our kindergarten number writing worksheets. She first does some warm-up exercises, then traces over the number and finally writes her own on the bottom line. Later on in the year she'll do one that is a little more challenging.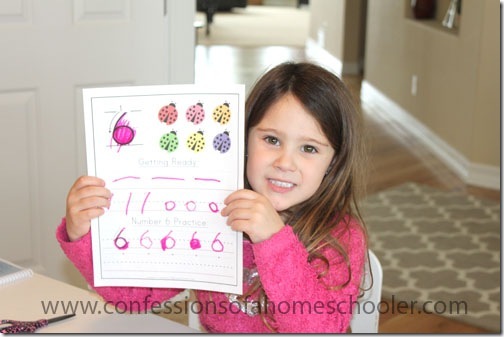 Number Dot-to-Dot:
This is a number dot to dot page from the Kumon My Book of Number Games 1-70. They have some great supplemental activity books to offer.  Here she's doing a beginning dot-to-dot game that will help her with her counting skills and number recognition as well. The backside has a color by number game which is also a great way to practice number recognition!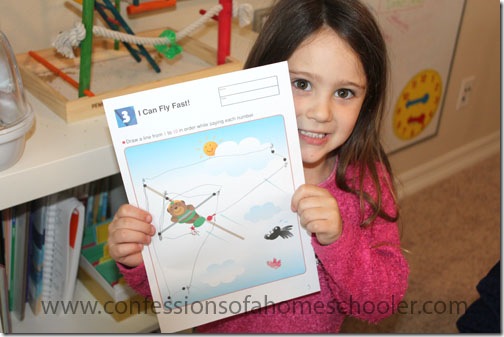 Number Do-A-Dot Worksheet:
Here she's working on a number do-a-dot worksheet from my K4 kindergarten curriculum. Normally I would have her use a do-a-dot marker and count the items on each card, then place a dot in each circle to represent the number of items on each card. But today she wanted to put stickers on her page.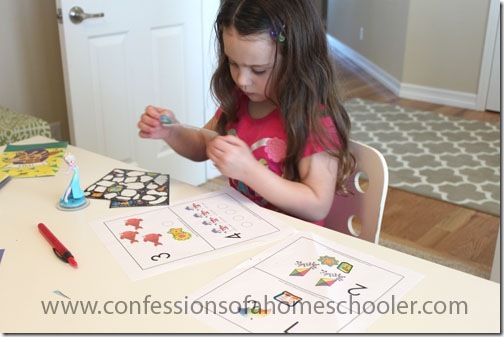 Daily Calendar Practice:
For kindergarten she writes the date on her calendar each day to practice writing numbers, counting, and learning her days of the week and months of the year.
Scissor Skills:
Here she is practicing her fine-motor skills to keep them fresh! She loves to work on these Kumon My First Book of Cutting pages to hone her skills.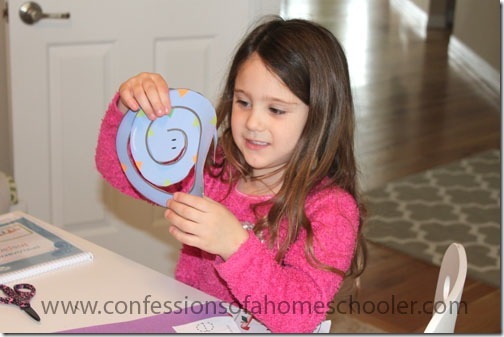 Missing Numbers Worksheet:
To help with number recognition and number order she's working on one of these fun worksheets! It has missing numbers on it and she cuts out the numbers then glues them to the correct square as she counts each line.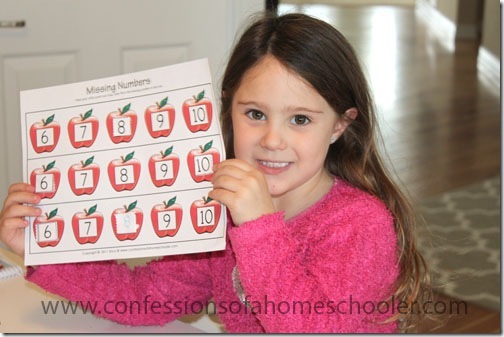 Reading:
Of course we always practice a little reading each day. Here she's working on reading one of her beginning readers from Abeka. She says the name of each letter and the sound it makes. On other pages are some beginning blending as well.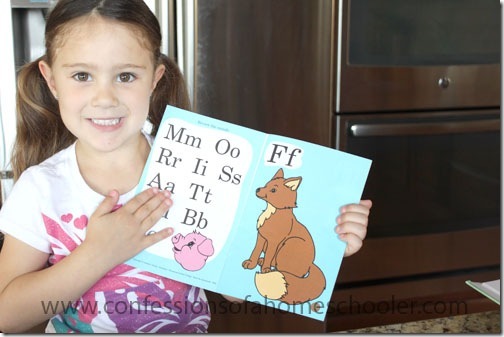 And that's what the Teeny Tot has been working on lately! I'll be sharing more of her kindergarten adventures as we go, but I hope you enjoy this little snippet of her in action!
If you'd like more information on all of these fun activities, visit my Kindergarten Worksheets page or check out my K4 Kindergarten Curriculum!
Is the Letter of the Week Preschool preschool curriculum too easy for your student? Are you ready for something a little more challenging? Then the K4 Kindergarten Curriculum is for you! The K4 Curriculum is geared towards kids ages 4-5 who are kindergarten ready and want a fun hands-on kindergarten curriculum. All of the items you see in this post, plus a ton of extras including lesson plans are included in the K4 Kindergarten curriculum.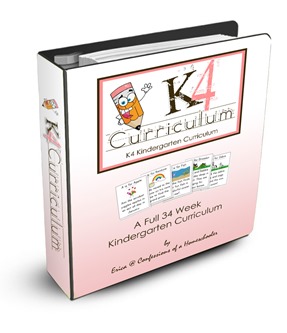 Have fun kindergarten activities to share or using my K4 Kindergarten curriculum? Make sure to leave a comment below!