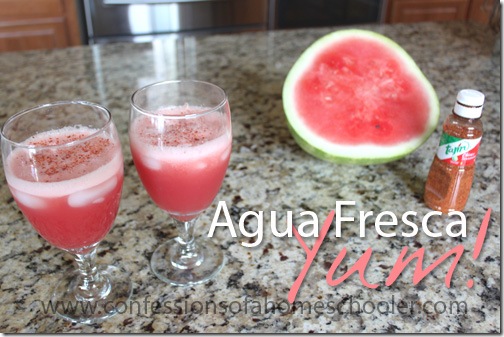 Okay, this has to be the absolute yummiest most refreshing summer drink I've tried in a long time!
And not only that but it's also one of the easiest recipes I've made too!
It's my totally awesome Watermelon Agua Fresca recipe!
Let's get started with the deliciousness shall we?
Ingredients:
4 cups cubed seeded watermelon (I just buy mine seedless and throw it in, didn't really measure it.)
1/2 cup water
Tajin Seasoning (You can find this in the produce section)
ice cubes
Optional: Pinch of sugar to sweeten it up. We didn't add sugar, ours was sweet enough as is!
Optional: Lime slices to garnish. You can also squeeze in a little if you like!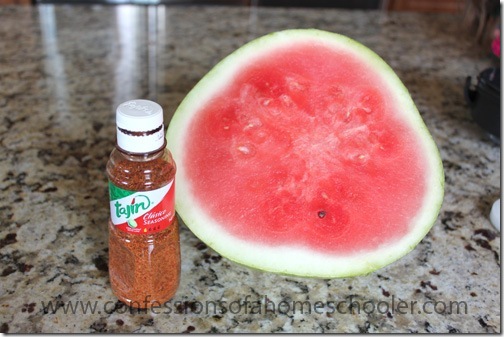 Directions:
Add watermelon and water in a blender and blend until smooth.
Pour over ice into a fancy cup and sprinkle with a little Tajin seasoning to give it some kick!
Add the lime to garnish then sit back and enjoy the warm summer afternoon!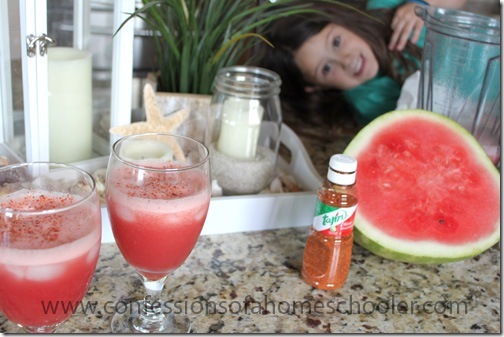 That's it! Seriously. I kid you not.
Side note: We tried to make them into popsicles too…but they didn't taste as good. Ours turned out really bland. So if you go that route, I would definitely add a little sugar to the mix before freezing.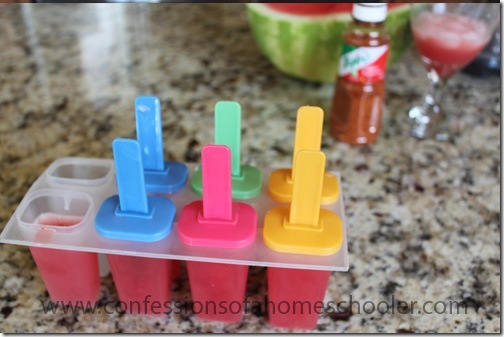 Hope you enjoy this simple but delicious recipe!