Hi all! I don't know what it is about fall, but it definitely brings out the inner crafter in me! And today I tried one of these super cute, and might I add extremely EASY, sashay scarves!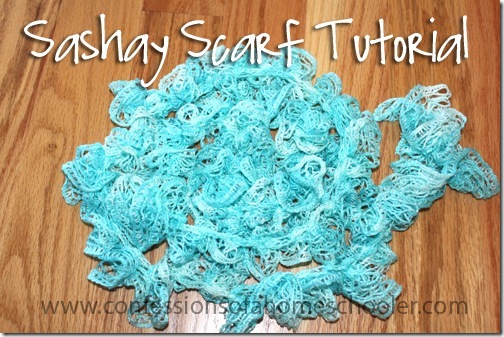 Supplies are simple:
1 ball Sashay Yarn: I used Red Heart Boutique Sashay mini since it was for my daughter. The regular sashay yarn is wider than the mini.
1 – 6mm or "J" crochet hook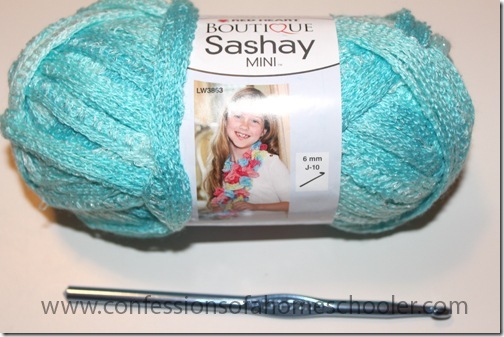 This would be a great project to take with you while you're sitting at soccer practice, swim lessons, or even watching TV in the evenings. And since it's sooooo easy, I also highly recommend it for a beginner student!
Pattern:
The Yarn: If you pull the netting apart you'll see one edge that looks finished and one that is plain with large hoops on it. That's the side you'll be working on.
Begin at the first loop on the plain side of the yarn.
**Place your hook through the first loop coming from the backside to the front side. Skip one loop, then pick up the next loop coming back to front again. Repeat until you have 5 loops picked up on your hook.
Skip the next loop, and pick up the 6th loop going front to back this time. Gather the other 5 stitches and pull the 6th loop through all 5 stitches so you have one loop (the 6th loop) remaining on your hook.
Repeat from ** until your scarf is the desired length.
Finish: Once your scarf is long enough you simply cut the end leaving about 3 inches. Pull the entire bundle of yarn through your last loop on your crochet hook. I tied mine in a single knot then cut off the excess. The ruffles hide the knot.
And since the material is so frilly, it also hides most mistakes as well. Get only 4 stitches on? No problem! Grab more than 5? No problem! The end result will still look amazing, so give it a try, you can't really mess it up!
The package also came with instructions inside, but as I've mentioned prior, I really don't follow patterns that well, so I followed this super easy Sashay Scarf tutorial from The Crochet Crowd.
And voila! You're done with a super cute scarf!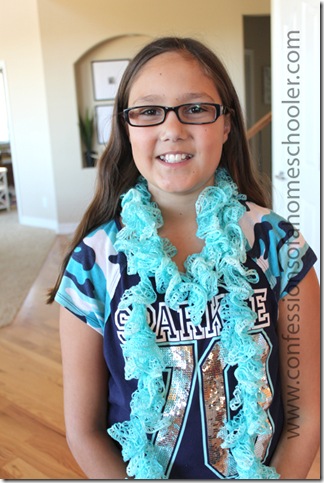 This project only took me about 40 minutes to complete, and was probably one of the easiest crochet crafts I've ever done! This would be a great project to start with a young learner.
If you decide to try this at home, make sure to comment below and let me know how it goes! This is a great beginner crochet craft. And I like that it goes along so quickly. It really makes younger kiddos feel like they've accomplished something!
Hope you enjoy!