Hi everyone! I hope you're enjoying my What's in the Workbox Wednesday series. Today we're taking a peek into the Teeny Tot's kindergarten workboxes. Right now it takes her about 2 hours to complete her work each day. Some days take a little bit longer because she sits in with us for Science and history. And no, I don't make her do any written work or tests for those, she just listens in and does crafts with us whenever possible.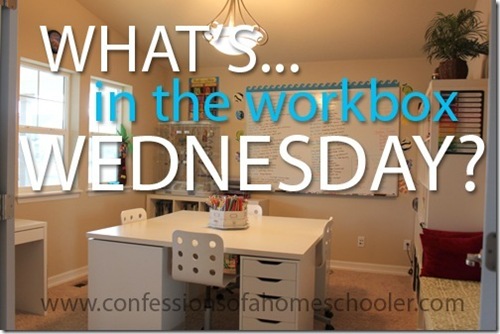 Drawer #1: Supplies, Daily Schedule, & Bible
1) Like everyone else, her top drawer houses our expandable drawer organizer and it holds all of the pencils, glue, erasers, scissors, and things she uses on a daily basis. It hangs on the drawer sides, so it can slide back and forth out of the way which is a nice feature. It also expands/contracts to fit most drawer sizes.
2) This drawer also holds our Picture Smart Bible student notebook, which is going great so far. This curriculum is great for elementary aged students. but we do this as a group including my kindergartener. For the kindergartener she is just coloring in the teacher pages, but the others have the traceable pages in their spiral notebook. You can read more about how we use this program here.
3) It also has her weekly assignment printout. I get a lot of questions on this, and it's just a report from www.homeschooltracker.com that I print and spiral bind for them. Granted a few things change over the year, so you might prefer to print this out on a weekly basis, but for the most part it works to help us keep track of our daily workload.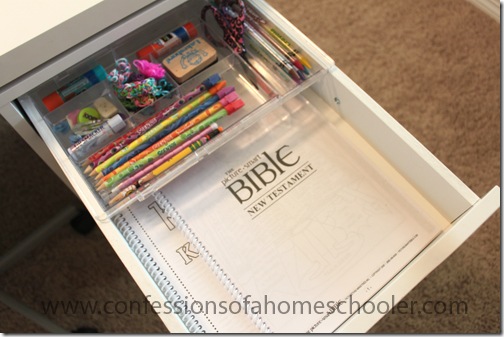 Drawer #2: Math
This drawer houses all of our math stuff. Teeny Tot is using Math U See Primer this year, so she has the student workbook, and DVD. I pull out her worksheet each day and lay it on top of the workbooks so she knows what to do.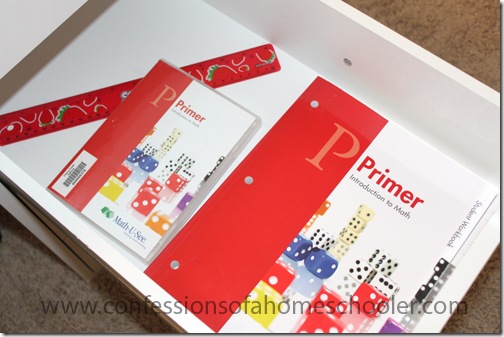 As you'll notice we don't have her blocks in this drawer this year. Math-U-See was kind enough to send us a wooden block case which makes it really nice to do math!
We've also been making great use of their downloadable math manipulatives app as well! The Teeny Tot loves figuring out her math using the iPad, and it's great for an alternative, or if you're doing math on the go as well.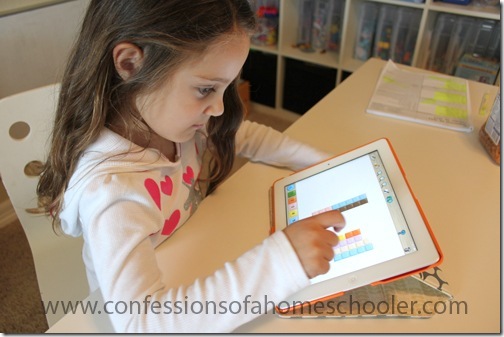 Drawer #3: Daily Learning Notebook & Handwriting
1) In her next drawer she has her elementary daily learning notebook. I actually did a combination of the preschool notebook, and the elementary notebook so she can still have practice tracing her calendar numbers. But you can use it however it works best for you.
2) Abeka Writing with Phonics K5 workbook. Since we're using the Abeka phonics program I just went ahead and used the Abeka handwriting workbook as well. We do manuscript until about 3rd grade, but they also offer this in cursive.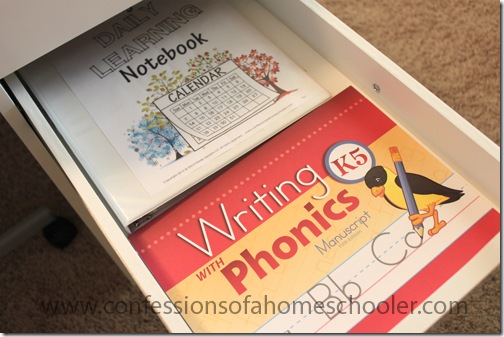 Drawer #4: Daily Learning Notebook & Handwriting
1) In her next drawer she has the Abeka Think and Learn K5 workbook. This is basically a fun little addition with some logical thinking games in it.
2) And she is also working through the Abeka Letters and Sounds K5 workbook. This is helping review her letters and sounds with fun worksheets. I am also adding in some of my harder K4 activities from last year that she wasn't quite ready for in this drawer. And yes, I do have the teacher's manual for the Kindergarten lessons that we use to teach her phonics before moving on to the Letters & Sounds workbook each day.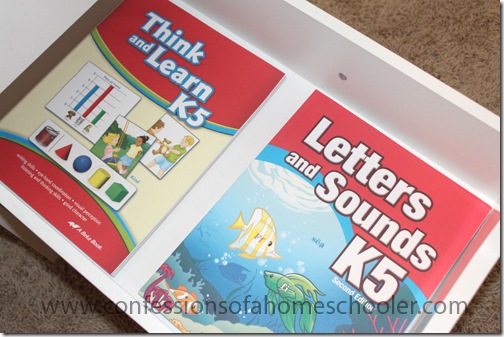 Drawer #5: Reading and Crafts
This last drawer kind of changes from day to day. Some days she has an art project pulled out from this OLD Abeka Art Projects K booklet that I've had in my basement. I also keep her reading books here, and I also put in Kindergarten Dot-to-dot worksheets, 1-20 number writing, and any other fun things that I want her to work on each day.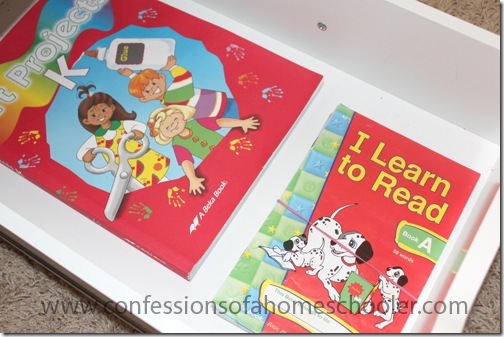 Here are some other things that the Teeny Tot is doing this year, but that aren't stored in her workboxes:
P.E.: Family Time Fitness
Science: Abeka Science 5 & one of my scientist units if we can fit it in! (Yes, she does sit in with our science class, I just don't give her tests or any written work!)
Craft time: The Teeny Tot specifically requests to do a craft almost every day, so I've been adding in random crafts as I come up with them. Some days I let her paint, play with play-doh, cutting and pasting projects, etc.
And that's what the Teeny Tot is up to this year! Have some fun things to share about what your kindergartener is doing? Make sure to leave a comment below!